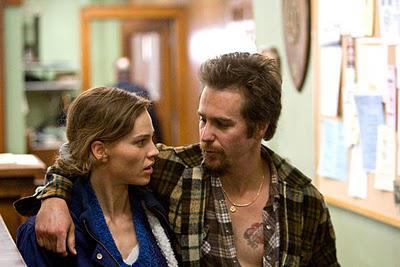 Kenny Waters has been unfairly sent up the river, but I don't think anyone would confuse him with Andy Dufresne. Kenny is crass and short tempered, though not unlikable, and I think it is to this movie's benefit that they present him in this fashion. Conviction is actually the story of his sister's long and arduous legal struggle to clear his name and release him from custody. I liked the way the film unfolded, jumping from past to present. 
Director Tony Goldwyn
 has made a fine looking film which contains some fine aerial shots of the Massachusetts landscape which are shown during the transitional scenes. 
Hilary Swank
 is effective though unremarkable as Betty Ann Waters and her dogged determination for her brother's cause comes off as both moving and a bit too much. 
Sam Rockwell
 once again shows why he is one of the most underappreciated actors, and makes Kenny's likability as well as his dark side shine through. 
Juliette Lewis
, 
Peter Gallagher
, and especially 
Melissa Leo
 shine through in supporting roles.