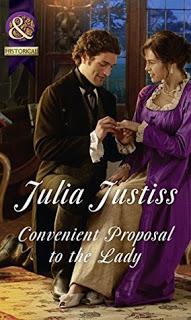 ABOUT THE BOOK:

'Duty can also be pleasure, Lady Alyssa...' When politician Benedict Tawny set out to save Lady Alyssa from a nefarious plot, he never expected to find himself trapped in a compromising situation with the alluring lady! Now duty demands he propose...and claim her as his bride! Tainted by his illegitimacy, Ben knows he can't give Alyssa the life of luxury she deserves. But if he can convince her to succumb to the undeniable heat between them, their convenient marriage might just lead to the love of a lifetime!
READ AN EXCERPT:
MY REVIEW: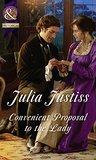 Convenient Proposal To The Lady (Mills & Boon Historical) by Julia Justiss
My rating: 4 of 5 stars
Convenient Proposal for a Lady by Julia Justiss is a 2017 Harlequin Historical publication.
I love the Hadley's Hellion series! While this is a traditional Regency romance, there are several dark themes explored which gives the story added depth and gives the characters more room to develop.
In this story, Lady Alyssa, wants nothing more than to pursue her career as an artist, after suffering a loss and heartbreak. But, when she is approached by Ben Tawny, a member of parliament, informing her she is being used as a pawn in a revenge plot against her brother, she attempts to control the situation to her advantage, only to have it all go horribly awry.
Ben grew up dealing with the stigma of illegitimacy, and understands the trauma associated with a ruined reputation a young lady might endure. Therefore, when he gets wind of the plot against Alyssa, he is compelled to come to her rescue. He never would have dreamed he would end up proposing marriage to save her reputation and give her a chance to pursue her dreams.
I cannot thank the author enough for writing a traditional Regency romance, but without a silly girl trying to tame a ne'er do well rake or rogue who is avoiding marriage at all cost. Instead, we meet Alyssa, a mature lady who is passionate about her work and is driven to achieve her own independence and success. Her story has dark undertones, which made me feel even better that Ben rescued Alyssa, and I enjoyed seeing her come out of her blossom and embrace her new life.
Ben, is not technically an aristocrat, but is a politician. He is damaged by his cruel childhood and is afraid of feeling too deeply after seeing the fate his mother endured. He's had his share of dalliances, but he is also an honorable gentleman, who does respect women and goes out of his way to see that Alyssa's dreams come to fruition.
Ben's story also touches on some delicate family issues and there are a few shocking revelations along the way.
I really liked both these characters and seeing them realize they have fallen in love was fun and satisfying. I loved the slow romantic build up, which was realistic and builds anticipation, but once they gave into to their desires, it was very passionate.
Each character made personal sacrifices so the other could achieve happiness, with is proof they are enjoying a true, deep and abiding love that took them by surprise and changed them for the better.
I really enjoyed this story, which has all the traditional regency elements, but the depth goes deeper and touches the emotions. Alyssa and Ben made a nice couple and it was nice to see them get their happy ever after.
Overall, this is a solid addition to the series and can be read as a stand alone. If you enjoy historical or regency era romance novels, this is one you should try.
GET YOUR COPY HERE:

https://www.amazon.com/Convenient-Proposal-Lady-Regency-Hellions-ebook/dp/B01KFEIR5K/


http://www.barnesandnoble.com/w/convenient-proposal-to-the-lady-julia-justiss/1124363191

ABOUT THE AUTHOR: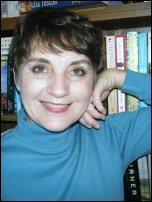 Julia Justiss grew up breathing the scent of sea air near the colonial town of Annapolis, Maryland, a fact responsible for two of her life-long passions: sailors and history! By age twelve she was a junior tour guide for Historic Annapolis, conducting visitors on walking tours through the city that was a hotbed of revolutionary fervor. (Annapolis hosted its own tea party, dispensing with the cargo aboard the "Peggy Stewart," and was briefly capital of the United States.) She also took tourists through Annapolis's other big attraction, the United States Naval Academy. After so many years of observing future naval officers at P-rade and chapel, it seemed almost inevitable that she eventually married one.
But long before embarking on romantic adventures of her own, she read about them, transporting herself to such favorite venues as ancient Egypt, World War II submarine patrols, the Old South and, of course, Regency England. Soon she was keeping notebooks for jotting down story ideas. From plotting adventures for her first favorite heroine Nancy Drew she went on to write poetry in high school and college, then worked as a business journalist doing speeches, sales promotion material and newsletter articles. After her marriage to a naval lieutenant took her overseas, she wrote the newsletter for the American Embassy in Tunis, Tunisia and traveled extensively throughout Europe. Before leaving Tunis, she fulfilled her first goal: completing a Regency novel.
Children intervened, and not until her husband left the Navy to return to his Texas homeland did she sit down to pen a second novel. The reply to her fan mail letter to a Regency author led her to Romance Writers of America. From the very first meeting, she knew she'd found a home among fellow writers--doubtless the largest group of people outside a mental institution who talk back to the voices in their heads.
Her second goal was achieved the day before her birthday in May, 1998 when Margaret Marbury of Harlequin Historicals offered to buy that second book, the Golden-Heart-Award winning novel that became THE WEDDING GAMBLE. Since then, she has gone on to write fourteen novels, three novellas and an on-line serial, along the way winning or finalling for historical awards from The Golden Quill, the National Reader's Choice, Romantic Times, and All About Romance's Favorite Book of the Year.
Julia now inhabits an English Georgian-style house she and her husband built in the East Texas countryside where, if she closes her eyes and ignores the summer thermometer, she can almost imagine she inhabits the landscape of "Pride and Prejudice." In between traveling to visit her three children (a naval officer son stationed in Washington, DC, a textiles and design major daughter who cheers for University of Texas at Austin, and a mechanical engineering major son also at UT Austin) keeping up with her science teacher husband and juggling a part-time day job as a high school French teacher, she pursues her first and dearest love--crafting stories.
To relax, she enjoys watching movies, reading (historical fiction, mystery, suspense) and puttering about in the garden trying to kill off more weeds than flowers.