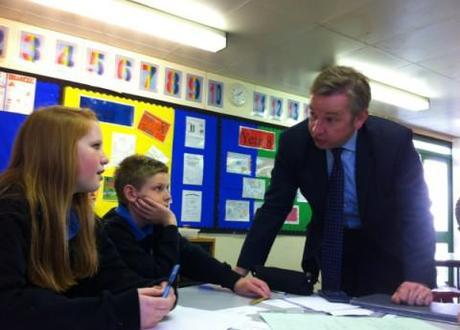 Education secretary Michael Gove. Exam results are down for the first time. Photocredit: Regional Cabinet.
The background
As 600,000 GCSE students across England, Wales and Northern Ireland open their results this week, some teachers are complaining that increased grade boundaries in English exams have left pupils with lower result than they had expected, reported Sky News. The problem lay particularly in grades on the C/D boundary, leaving many expecting Cs with Ds. Schools this year have to ensure that 40 per cent of their pupils gain at least 5 good grades, including English and Maths – up from 35 per cent last year. If schools fail then they can be closed or turned into academies.
The proportion of GCSEs awarded at least a C grade fell for the first time since GCSEs began, reported The Independent. 69.4 per cent received at least a C grade, which is down 0.4 per cent from last year. 7.3 per cent received an A*, which is down o.8 from last year; 22.4 per cent got an A, down 0.8 per cent. There was also a down turn in exams awarded at least a C in English, maths and science. Girls are still ahead of boys in the top brackets; the decline in modern languages appears to have slowed. Meanwhile, private schools are better than state schools in gaining top grades – close to two thirds of all entries from fee-paying schools were awarded an A or an A*, reported The Guardian.
As usual, battle lines are drawn up on an ideological basis: critics are saying that Michael Gove, the education secretary, brought in these boundary changes as a political motivation to sell off failing schools and turn them into academies; others say that these changes were known about for ages, so the blame lies with schools.
"We expected results to plateau because of the Government taking steps to peg them to previous levels, but we certainly didn't expect anything like this and schools have been taken by surprise," said Brian Lightman, general secretary of the Association of School and College Leaders, quoted on Sky.
Just down to winter sittings?
The Joint Council for Qualifications said that the drop in English results was partly because more candidates sat the exam earlier. There were also more people sitting science GCSE, and that the standard was more demanding – this is the first year that the harder science exam was taken.
Huge pressure on state schools
Graeme Paton, The Telegraph's Education Editor, said that these results are likely to put enormous pressure on state schools, which will be threatened with closure or being taken over if they fail to hit GCSE standards. This fall will also damage the standing of certain schools in the league tables.
Government makes no apologies
The Department of Education said that it was making "no apologies for setting high expectations and will not hesitate to step in where there is evidence of chronic underperformance. It is right that minimum expectations of schools should continue to rise," quoted on The Telegraph. The chief executive of Ofqual, Glenys Stacey, said that the grades were "right."
The problem lies with Gove
The community board on the Times Education Supplement was alight with angry comments from teachers complaining that the grade boundaries had been moved "on the sly" and that this was a "politically motivated move" by Michael Gove, the education secretary.
Hang on a minute – the problem lies with schools
The Scenes from the Battleground teaching blog said that there was a "distinct lack of serious thought about what schools should have been expected." It's "been on the cards for a while that the number of grades … would stay roughly the same." The fact is, you can't expect "results to improve." If you aimed for low Cs, then you're going to be "in trouble"; if you relied on "controlled assessments and coursework to get grade Cs (i.e. cheating)," then the "goalposts will have moved." Nobody's asked yet whether there's a "real problem with English beyond the failure of schools to realize the above."
I remember when GCSEs were hard, and Twitter was all just fields, and Michael Jackson was just an eccentric pop star who liked sleepovers

— Gareth (@thehandofbeadle) August 23, 2012