After painting a basic background on this new abstract painting commission, I began to mix the acrylic paint for colors that are not available straight from the tube.  My client likes a lot of texture in her paintings, so I also added a Liquitex gloss super heavy gel medium to the paint mixtures.
This painting is going to end up with many overlapping layers, so the important thing at this stage was to apply the colors in thick lines of varying lengths over the whole canvas.  The composition of the original painting was made up of vertical overlapping lines suggesting a thicket or forest in an abstract way.
I used a paint brush to apply the colors I mixed, filling in more of the blank spaces on the canvas (see previous post).  Some of these colors will be almost entirely covered over in future painting sessions.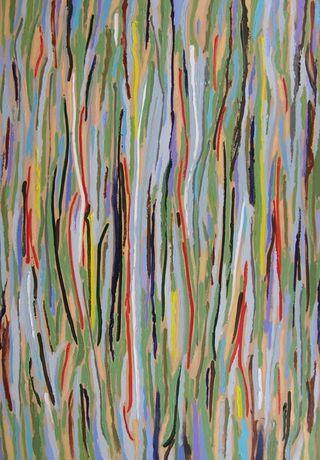 Painting Commission, 44" x 64" acrylic on canvas.