I ended up painting over most of the background on this new canvas, using softer colors like pale orange, blue, and aqua.  I blended everything with parchment to keep the colors soft.  I also used a pale lime green mixed with lots of water and gloss medium to blend the colors together. 
By painting with the side of the brush, I achieved line-like effects with phthalocyanine green to emphasize shapes and composition, moving the brush to let it make a thick or thin line as needed.  There are still remnants of the background, but most it has been covered over in this stage of the painting process.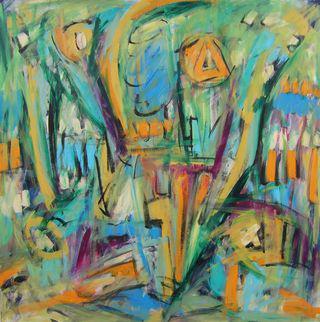 Canvas #132, 44" x 44" acrylic on canvas.