If you've seen
Into The Woods
 and are looking for more fairy tales with a twist, you might want to enter to win a pair of tickets to
Disenchanted!
It's a satirical musical about fairy tale princesses (leave the kids at home) playing at the Theatre at St. Clement's through January 25.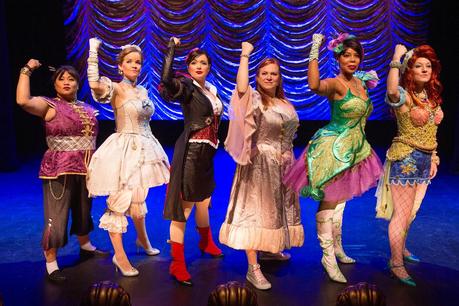 Lulu Picart, Becky Gulsvig, Michelle Knight, Jen Bechter, Soara-Joye Ross, and Alison Burns
Photo credit: Matthew Murphy
It's really easy to enter the contest. Just leave a comment on this post telling me your favorite fictional princess. (For the record, mine is Aurora from Disney's Sleeping Beauty, followed closely by Ariel from The Little Mermaid.)
 You can also tweet about the contest or retweet one of my tweets about it (if you enter this way, you must be following on Twitter to win). You can enter once each way for a total of two entries. I want to choose a winner quickly so that he/she has time to pick a date to see the show before closing, so I will pick a name at random from all the entries on Friday, January 9, at 4:00 p.m. Please include your e-mail address or Twitter handle in the comments so I have a way to contact you if you win. Good luck!