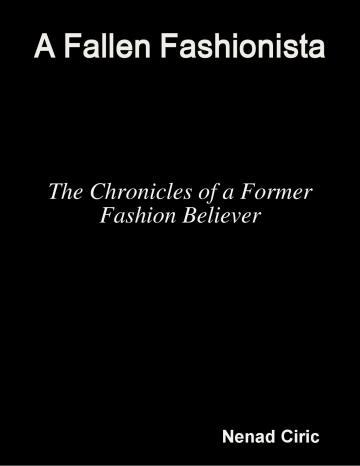 The perception of events always depends on the point of view we choose. That's what writing of my first book "A Fallen Fashionista: The Chronicles of a Former Fashion Believer" has helped me understand. Even unpleasant experiences can turn out to be positive if you learn from them, change for the better and realize what you really want from life…
Below you can find the table of contents, just to give you a sneak peek of what my book is about. You can buy/download the full version of the book from Lulu.com.
http://www.lulu.com/spotlight/nenadciric
………………………………………………………………………………………………………………………….
The Beginning
"Stories only happen to those who are able to tell
them."
Paul Auster, American novelist
"My stories are yet to happen."
Nenad Ciric
Contents
Introduction ……………………………………………………………………………………………………..3
When Job Interview for a Magazine is in a Hotel. Part I ………………………………………..5
Hello, Are You There? Vogue Calling! ………………………………………………………………….7
First Day at Vogue, Or, How Should I Dress? ……………………………………………………..10
Make Me Beautiful …………………………………………………………………………………………..12
When Job Interview for a Magazine is in a Hotel. Part II …………………………………….15
The Ultimate Dilemma: Steady Job Or Freelance Work? …………………………………….17
The Wicked Games of Human Resources, Part I ………………………………………………..20
The Wicked Games of Human Resources, Part II ………………………………………………22
Would You Rather Work for 13€ Or for Free? ……………………………………………………24
Useless Job Interview n°22929922 ………………………………………………………………….26
The Republic of Interns ………………………………………………………………………………….28
When Journalism Hits Rock Bottom ………………………………………………………………..31
Fashion Journalism, How It Once Was …………………………………………………………….33
Job Interview at Dolce & Gabbana …………………………………………………………………..35
Is Online Journalism Cheap? …………………………………………………………………………..37
Brand Extension, And, How Much Money Do They Really Need? ……………………….39
In God We Believe, in Dior We Trust ……………………………………………………………….41
Behold: The Best Job in the World is Just a Click Away! ……………………………………42
How Old is Too Old? ………………………………………………………………………………………44
Self Promotion is everything in fashion ……………………………………………………………46
Want this job? Renounce your privacy, or, Look for a job in another
country …………………………………………………………………………………………………………48
My Gucci Affaire ……………………………………………………………………………………………50
Sex, City & Bankruptcy …………………………………………………………………………………..52
Conclusion or The New Beginning …………………………………………………………………..54