Regardless of your good pictures or videos, your audiences will only get the desired information from the content you write to describe your product or service. We very well know that that content is the key to success for every blog. If your content is not up to the mark, then be prepared to get ignored by your own users. But all the digital marketers do not have enough time to write the content of their own website as there are other things to be done.
So, they either outsource their work to other freelance writers or try to write down something on their own.
To finish your work fast, you might end up writing crap which is not framed properly. Or the freelancers might give you plagiarised content or take up their projects if you do not give them regular work.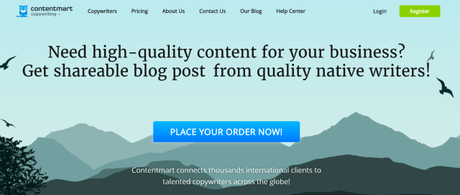 To solve this problem of good content writing, I have found a perfect solution through ContentMart. In this article, I will tell you how ContentMart will provide you with the best and qualified content writers for your website. I recently tried ContentMart services and I was surprised by how quickly and easily I was able to get content written for my campaigns. Check my ContentMart Review 2017 in detailed.
ContentMart is a place where you will get professional freelance writers who will provide you with quality work for your business. It links thousands of international clients to brilliant copywriters across the globe. It is a platform which is not only for writers but also for those who are in need of a perfect wordsmith.
With an easy to use interface and planned navigation arrangement, ContentMart has made it easy for both the parties (clients/parties) to find the suitable match for their work.
Also read: 14 Best Content Creation Tools For MarketersList Of Best Top Content Locker Ad Networks 2017
ContentMart is structured with a clear vision of providing top-notch quality content whether it is your business, blog, website, travelogues, or academic writing. The services are fully concentrated on providing content writers across the globe.

Contentmart offers you the following services:
Get in touch with thousands of competent copywriters
No fees charged by Contentmart. Pay your authors directly
Entirely registered & approved portal
Go through writer's reviews, portfolios and past work experience
100% money back guarantee if the content doesn't match your needs
Automatic disbursements
In-built verification for unique content
Rigid targets
Supportive team
Contentmart affiliates with the top companies like:
Process of getting writers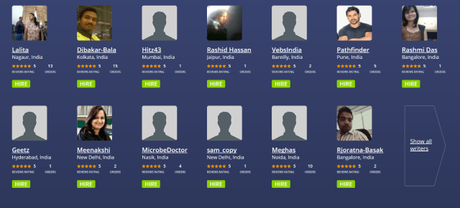 Put up your order as to what type of content you need
Generate a thorough explanation of your content requirements
Select a writer
Choice the top writer for the job at hand
Evaluate the content
Verify the written down content, send it back for corrections if required
Your work is done and you become one of the thousands of happy customers
How does Contentmart helps?
Contentmart give you freedom of choice to many factors like:
You can choose your genius
It provides all the clients with the choice of thousands of endowed content writers from across the globe. Each writer has its own unique set of skills and focusses in various fields of writing. So, it becomes easy for the client to choose from such a wide range of experts.
Excellence guaranteed
All the writings are checked with various plagiarism checking tools. Any piece of writing which is found irrelevant or copied or with grammatical errors is returned back for revision. If any of the client is not satisfied with the work done, an immediate refund is generated.
Totally free of charge service
Contentmart does not charge any registration amount or upgrades. A part of commission is charged from writers. You just need to place hassle-free orders on Contentmart and pay the writers on completion of work.
Therefore, Contentmart is a one-stop solution for every website owner's requirement of getting a great content.
About Contentmart Writers
Any writer who becomes the part of ContentMart, his profile and work is thoroughly checked and verified by team of experts. The writers have to go through severe writing tests before bidding for any project. This test shows that a writer is capable of handing his project well and has firm grasp over the language. All the Contentmart writers are tested on various aspects of content writing skills so that they can offer prompt services to their clients whenever they need.
All the versatile writers of Contentmart will be able to provide:
Copywriting web content
Articles and blog writing
SEO content
Testimonials
Product descriptions
Content for brochures
Press-release
Editing & proofreading
How to communicate with the writes on Contentmart?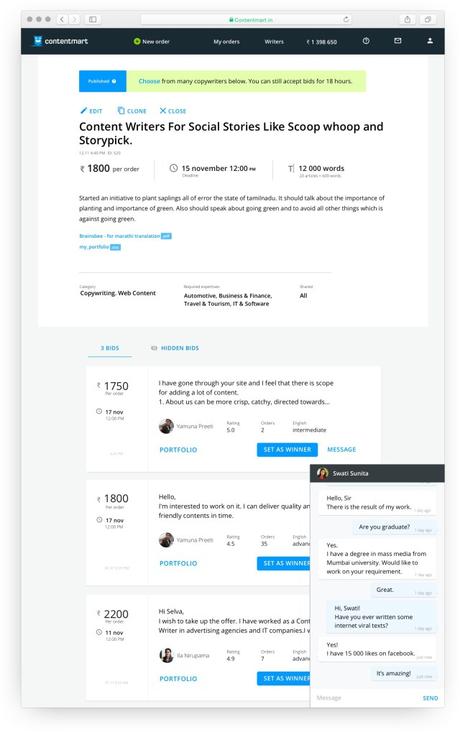 Contentmart has an in-built chat messenger, so that writers and clients can interact with each other quickly on the same platform. This enables both the parties to clarify their doubts before starting the project. Writers can send the updates on the work and clients can send any instructions directing the work. This simple method of communication is convenient for both the parties.
All doubts are cleared by direct interaction and hence smoothens the writing process.
Process to get started with Contentmart
Step 1- Register free on ContentMart (both client and writer can create their free account on the same page. After creating your account, you will get a verification link in your inbox. You just need to click on it to confirm that it's your account.
Step 2- Now you can create your order to outsource content writing work by clicking on "New Order". The details will be filled in few sections which are as follows:
The first section will deal with the order detail like title of the order and in-depth description (writing pattern, type of work) of the project. You can also attach files to explain your work further.
The next section will deal with the deadline, category of writing, skill required and language of the content.
In the last section you need to mention the amount of articles required, words per article, SEO needs and quality of work.
Step 3- After completing the above details, you need to wait for a while till the writers bid for your order. Once the writers start bidding, you can select any writer on the basis of their work quality, reviews, ratings, or price.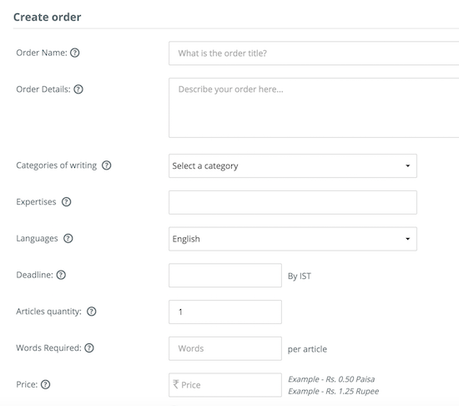 Step 4- After choosing your project writer, if you want to explain some additional guidelines, then you can take help of in-built messenger. Your work will be done and you can review it and process the payment. If you find any mistake and want some corrections to be doe, then you can let the writer know about it, so that he gives you finished work.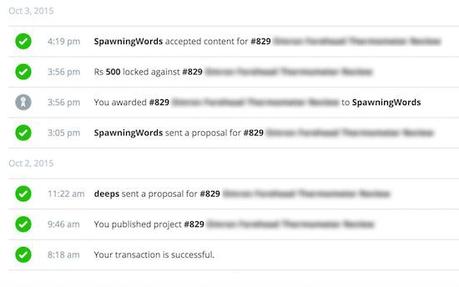 Before placing a project, you need to deposit money on ContentMart. For this, you have to click on "Balance" and add funds as per the work requirement.
Why to choose Contentmart?
The top reasons why you should choose ContentMart are:
It is a great replacement for Fiverr where you can find cheap but plagiarised content.
All work is checked by copyscape tools before going into final hands.
Thousands of writers are connected across the globe.
Direct dealing between client and the writer.
Great way to make money as a freelancer.
Easy payment through PayPal.
Writers can create content in any language.
Additional tip for both the parties
For the client
Before choosing any writer, make sure that he matches your desired criteria. Go through his rating and reviews before assigning work to him. Cross-check your work and ask him to do necessary corrections if required. The appropriate filters must be applied to get the work done for special countries in their native languages. So, it is also better to read the work sample of writers before placing an order.
For the writers
The writers must not indulge in making more money and deliver non-quality work. They must start with few projects and take time to research and deliver good quality work. The writers first have to get good ratings and then go for bulk projects. The content must be convincing and copyscape. The writers must keep on learning new things from the already established writers.
Also read:How to Spin Content Using Spin Rewriter 6.0 FREE BonusAmaSuite 5 Review 2017:Powerful Amazon Tools 100$ Discount
Final thoughts: Should You Try ContentMart ? YES
Content marketing is a field which will never lose its charm. It is and it will be the key to success for every website created online. It is the main source to drive more traffic and generate more profit. If your website lacks good content, the ContentMart is the best platform to fulfill that need.
The services offered by Contentmart are wide-ranging and will be suitable for all organisations that are looking for good writers. It is a great platform where both writers, as well as clients, can get their work done in the most convenient way.
So, why not try Contentmart to get your content writing work done.