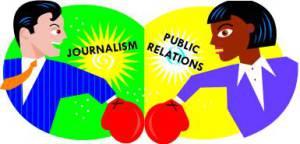 Content marketing is quickly becoming all the rage as the importance to communicate constantly and creatively has reached an all-time high.
The combination of great research and writing skills are necessary in order to achieve the best of both worlds, thus forming a valuable hybrid between journalists and PR specialists.
While traditional journalism and PR jobs may be on the decline, The B2B Marketing Mentor has created an insightful article with handy tips for journalists, PR people, and companies alike to ensure they don't get left behind in the ever-growing competitive job and business markets.
 Advice for Journalists
Uphold traditional journalistic principles, no matter where you work
Keep up with the times
Know your audience
Build your own brand
Do some soul-searching
Advice for PR People
Go directly to your audience
Grow your skill set
Tell your own story
Be quick on your feet
Don't (necessarily) stick to your guns
Advice for Companies
Hire people whose skills are up to speed
Leverage your relationships
Decide what story you want to tell
Build a content marketing department
Do you know of any journalists who are merging their skills into the world of PR and content marketing?
For more information on this topic, check out the article Content is King and You Can Be Too: The Convergence of PR and Journalism