It isn't necessary to have a contemporary home in order to hang contemporary abstract art, but it does provide a fantastic setting for large abstract paintings.  One of my favorite places to keep tabs on contemporary homes, interior design and furniture is the Contemporist website.
I always drool over the contemporary houses they feature, like this Suncrest Residence by Heliotrope Architects. This is a fabulous home on Orcas Island in Washington State. I also love the Split House by Superkul Architects in Toronto, Canada.  The "split" plan allows for a flood of light at the center of the house.
Here's one of my giclee prints on canvas hanging in a lovely contemporary home: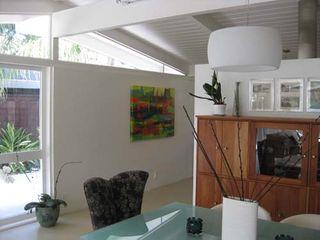 Fields Two in a contemporary home.