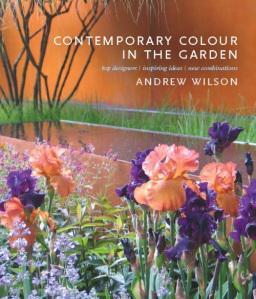 Contemporary Colour in the Garden by Andrew Wilson is not the sort of 'gardening' book I would normally rush out to buy.  I tend to shy away from design based horticulture books since I do not have a design background and if I am honest I would have said it was not something that interested me , I'm more of a plantsperson.
However, I have found this book fascinating although a little academic or shall we say dry in places.  At first glance you may think from the glossy photos of cutting edge design, show gardens etc that this was another coffee table book.  Not so, when you start to read the text you realise this is a book which sets out to explain how colour works particularly in a garden setting and particularly in a contemporary garden setting.
I made the mistake of reading Contemporary Colour in the Garden late at night after a long day in the office as this was my only reading time.  Since this book goes well beyond the notion of the colour wheel and opposite colours working together, in to the world of secondary, teritary colours  and beyond you need to be prepared to concentrate in order to get the most from it.  I will probably dip back into this book from time to time to wrestle with the ideas more but on a quickish first read I was fascinated to realise that if you want a plant to stand out from its neighbours then you don't put it with plants which have similar tones – you need a contrast but what really interested me was learning that the purer the colour the more intense and bright it was.  So undiluted primary colours will sing out in a border but if you start to add secondary colours to the mix the brightness will fade and even more so when you add teritary colours.  I probably haven't explained that very well which explains why Andrew's book feels a little dry in places since the concept he is explaining is quite hard to put into exciting prose.
Anyway enough of the complex colour dynamics what I really enjoyed about the book were the small but  powerful messages and ideas that appeared from time to time.  Andrew is critical of gardeners and their approach to populating their gardens.  He says that "In our efforts to populate our gardens with colour planting for winter, we lose the very character of that season and further more, the colour intensity that might climax at other times of the year is diluted."  I really related to this statement.  There is a pressure from media etc that a good garden has interest in it all year but for some reason gardeners think this means they need to have something in flower all year.  We should be celebrating the seasons for what they are. So in autumn we should be savouring the autumn colours and the fading shades of the perennials as they fade.  In winter we should be looking at shilouettes, plants that look stunning when frosted etc.   Andrew believes that the gardener's insatisable desire to obtain and collect new plants means that the "colour theroies, control and therefore impact or sensitivity go out of the window".  This is true, you see it time after time in domestic gardens – one of these, one of those – I have been guilty of it myself.  Whilst it is nice to have unusual plants to show off to your horticutural friends I think I would rather have a garden with a bit of wow going on and this is what I am slowly striving towards.
Andrew talks about how colour works in terms of hard landscaping; how lighting, both natural and man-made, impact on colour and how we can learn about colour from nature.  He talks at length about the idea of the colour pallette used reflecting the surroundings in more rural settings whilst in urban settings plantings can be more reflective of the gardener's personality.  I think this is true, I have the backdrop of the Malvern Hills to my garden and exotic Cannas and Palms would just look wrong.  Whilst if I lived in London and had a courtyard garden I could use those plants much better. The book is illustrated throughout with examples of contemporary garden design from some of the top current designers and it is really interesting to see how designers are embracing new materials and incorporating into their designs.
As I have said this is not the sort of book I would normally buy  but I am glad it was sent to me to review since it has opened my mind to beginning to understand how colour works.  This is something I have been grappling with in my garden and also my art classes and I feel that there is a glimmer of comprehension somewhere in my brain.  This may not be a book for every amateur gardener but I think that if I was a garden design student I would find it invaluable for its discussion of colour not just plants but hard and soft landscaping.  I can see it become a very well thumbed reference book to future students.