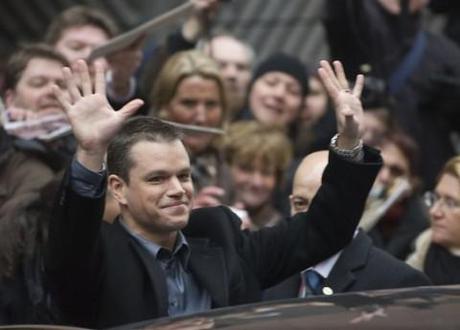 Matt Damon. Photo credit: Thore Siebrands, http://flic.kr/p/HSRrn

The world is gripped by an influenza pandemic in Stephen Soderbergh's bio-disaster movie, Contagion. Fear spreads faster than the brusquely named MEV-1 virus, and Soderbegh's clinical direction coldly observes the sight of humanity struck down by a fatal epidemic.
Little mercy is shown to an A-star cast which includes Matt Damon, Gwyneth Paltrow, Kate Winslet, Jude Law, and Laurence Fishburne. Paltrow, taking on a brief and unusually seamy role as an unfaithful wife, quickly succumbs to the virus, her skin ravaged and her skull sawn open on an autopsy table. The film is more cerebral than its thriller-ish advertising campaign, according to Peter Debruge of Variety, who said the real terror for audiences is how closely Contagion is modelled on current scientific research. This is sci-fi; but you might not want to put your hand into a bowl of peanuts again.
Chilling. Andrew O'Hehir of Salon.com was captured by Soderbergh's neutral, restrained direction. Whereas Spielbergian disaster movies tend to become "sentimental melodramas about fatherhood", Contagion "turns those conventions upside down." The father in this film, Matt Damon, has little screen time and loses his wife and son within the first few minutes. The movie is more interested in systems than people; the duelling protagonists are "the virus itself and the governmental-scientific apparatus that laboriously works to combat it".
Zeitgeisty. Writing in The New York Times, Manola Darghis felt the film to chime with contemporary disasters: "It may have been hard to buy the swift collapse of order that is made palpably real in Contagion, if Hurricane Katrina and its aftermath had not already set the stage." It's not only the scenes of empty airports and streets that have the ring of truth, one epidemiologist (no fussing, it's a word) argued that the frightening premise put forth in the film "will almost certainly happen". Dr Larry Madoff wrote in The Atlantic that SARS, bird flu and swine flu only did comparatively little damage because public health did its job well. The movie's science is "uncannily true, with rare exceptions".
Catchy. Michael O'Sullivan of The Washington Post guaranteed that, "Before this movie is over, you will stop unconsciously touching your face …What Psycho did for showers, Contagion aims to do for shaking hands and shared water glasses." 
Left cold. Peter Debruge was left anything but feverish: "Without fully rounded characters, it's hard to care who lives or dies in what amounts to an extended procedural on how disease prevention orgs might respond to such a scenario." Furthermore, the script "has the bloodless, semi-detached quality of strict news reporting."