Well, this is an ramble-y post.  It all came about because I'm in love with Irene Smedley-Aston...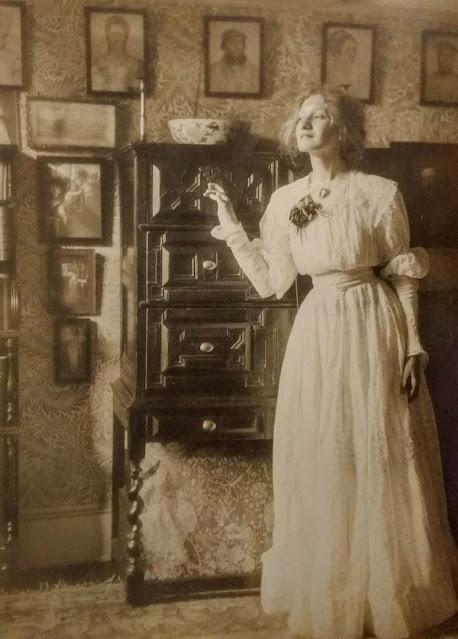 The Blessed Irene, in a photograph by her husband William
This photograph is in the Birmingham Art Gallery and Museum catalogue, The Victorian Radicals and I've been besotted ever since. If I ever get round to studying formally again, I'd want to find out everything I can about the Smedley family, especially Irene, and their wide social circle, but I digress.  In my researching everything Smedley, I obviously included William's cousin Constance and her husband Maxwell Armfield...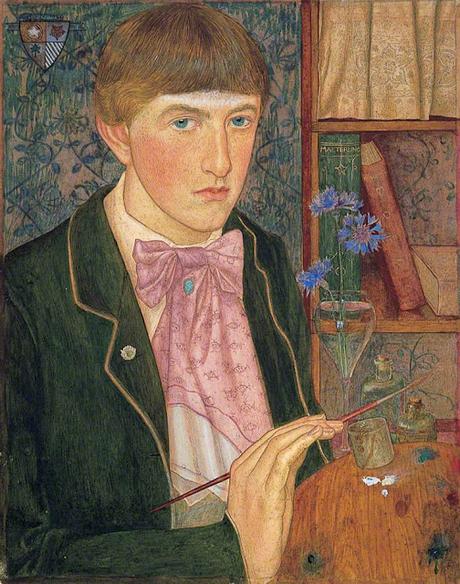 Self Portrait (1901) Maxwell Armfield
I wrote a post on Maxwell here and so knew who Constance was, but wasn't aware that she too was an artist, not to mention a novelist, playwright, feminist and all-round firecracker. That's how I ended up buying her cat. We better start at the beginning...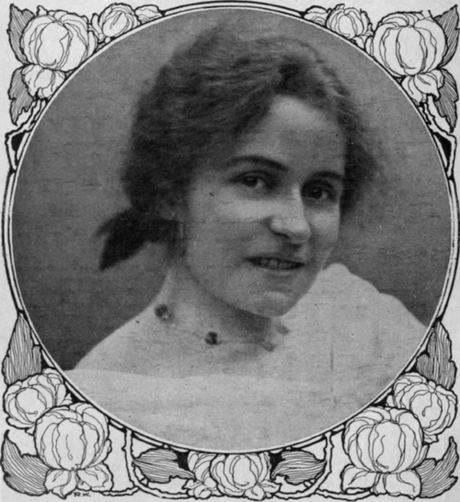 Miss Anne Constance Smedley was born in Handsworth in the West Midlands in the summer of 1876. The oldest of three, she had a younger sister Ida, born in 1878 and brother William, born in 1884. Their father was a chartered accountant, so the family were very comfortably off which might explain why, despite walking with crutches and using a wheelchair all her life after possibly contracting polio as a child, Constance was able to attend the Birmingham School of Art.
It seems that Constance did extremely well at the school, winning lots of prizes and special mentions that were reported in the press.  My favorite has to be the 'highly commended' she received for her design for a fancy dress costume in 1895 which was reported in the Gentlewoman paper. If I'm ever attending a fancy dress party in the future I'll definitely go as The Yellow Book, thanks to Constance (if I'm not going as Evelyn De Morgan's tube of paint, which won the heart of William De Morgan).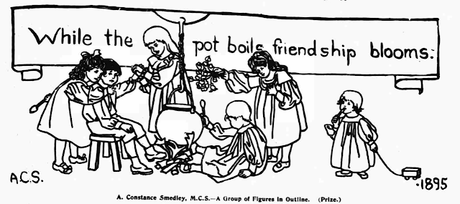 Another of Constance's prize winning illustrations from 1895
In the meantime, she was getting quite a reputation for her written work. In 1895, she received great reviews for her play The Lay Figure which was performed at the School of Art, described as 'brilliant and witty in dialog and strong in situation' by the Warwickshire Herald. In 1898, the Birmingham Mail reported that the Edgbaston Assembly rooms had hosted 'a large and fashionable audience' who had come to watch On the Road to Englefield, Constance's new play, starring her sister Ida in a leading role. The piece was declared 'delightful and cleverly written'.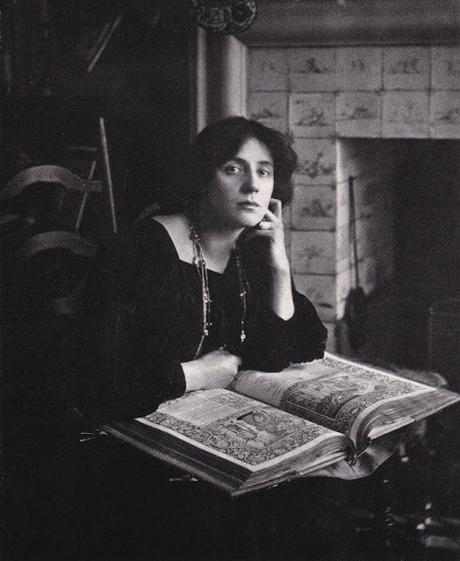 Mrs Patrick Campbell reading the Kelmscott Chaucer (1904) William Smedley-Aston
It was only a matter of time before Constance got ambitious enough to head for London. She provided the frontispiece illustration the souvenir programme of the 60th performance of King John in 1899. I'm not sure if she reworked her play On the Road to Englefield or simply retitled it Mrs Jordan, but this is the play she sent to one of the best respected actresses in the country in 1900. Beatrice Campbell, better known on stage as Mrs Patrick Campbell, was a theatrical force to be reckoned with. Mr Campbell was a soldier and was away fighting in the Boer War (dying in 1900). I think it says a lot about both women that Mrs Pat (as she was known) thought the play was marvelous and it was performed at the Royalty in Soho and it was declared 'the brightest and cleverest curtain-raiser seen in London for many a long day' by the Clarion in February 1900.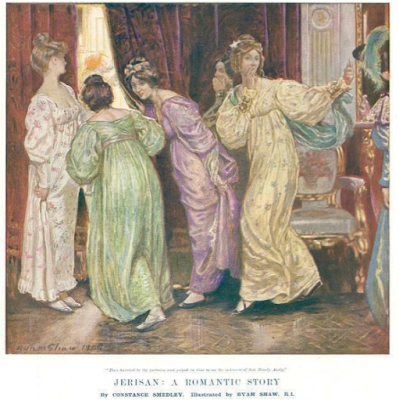 As well as writing plays, Constance had a brisk trade in novels and short stories, including 'Jerisan: A Romantic Story' which was illustrated by Byam Shaw and appeared in The Graphic in 1905. Previous to this, Constance had felt there was a gap in the market for a club for literary women. The boy's clubs that existed were, well, full of boys, and that was not really what anyone wanted so she devised, with some writing chums, to set up a jolly fine place where women could meet, entertain outside of their homes and be with like-minded women. The Truth newspaper spoke to her in October of 1903 about the setting up of the 'Lyceum' club. The following was recorded in the 'Girls' Gossip' column:
'There are to be rooms where members can write in privacy and quiet. A library containing standard books of reference and a cosmopolitan collection of magazines and newspapers will be available, and it is to be furnished with every convenience for writing and dispatching MSS etc. The bedrooms are to be furnished with writing materials and tables, so that the occupants may be able to work in absolute privacy and peace. Such a boon to the hundreds of writing women in London who have to run about with their work like a dog with a bone, in search of a quiet corner wherein to dispatch it in peace.'
The piece goes on to record that the Lyceum would be open to international members, making the bold claim that London was the 'headquarters of European intellectuality' (in the opinion of London) so that members would be flocking from all over to avail themselves of the facilities because 'Women, as a rule, hate hotels' so would rather stay at the Lyceum. Anyway, despite writing to all of her literary female chums, Constance found it hard to get members, so they extended the invitation to all professional women and the wives and daughters of prominent men (I suppose because they would have all had decent educations). Constance's mother joined and became known as 'the mother of the Lyceum' (as was recorded in her obituary). Lady Frances Balfour became the first chair of the club, serving for 15 years.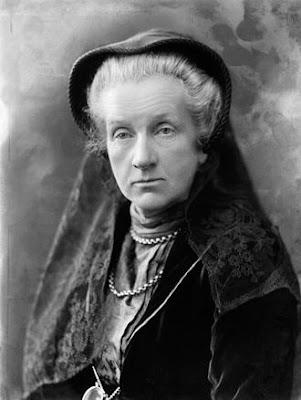 Lady Frances Balfour (1919) Bassano Ltd
Blimey, I would not mess with her, she looks handy in a scrap (as indeed she was). You probably know her from this picture...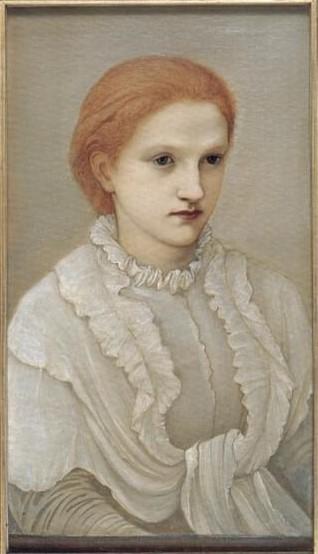 Lady Frances Balfour (1880) Edward Burne-Jones
So in June 1904 the new Lyceum Clubhouse at 128 Piccadilly opened as the first gentleman's club for women with an initial membership of around 1000 women. Constance was also a pacifist, christian scientist and suffragist, not to mention a powerhouse of writing. I particularly like her book
Woman: A Few Shrieks!
from 1907...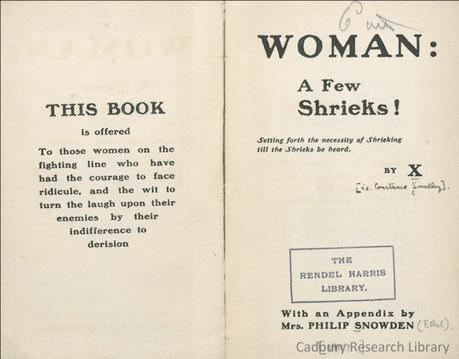 Then something disastrous happened.  She got married...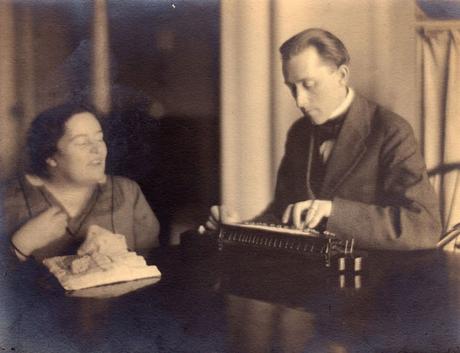 Constance and Maxwell Armfield (unknown photographer)
I love Maxwell Armfield and it seems they had a splendid marriage (he was gay and she was busy) but the reason I call it a disaster is that she very quickly becomes Mrs Maxwell Armfield in accounts of her and their lives. It's not their fault but history does tend to tuck women in behind their husbands, even if that is the last thing anyone intends (see also Evelyn De Morgan's sister's book on Evelyn and William entitled
William De Morgan and His Wife
 (1922) Wowser...)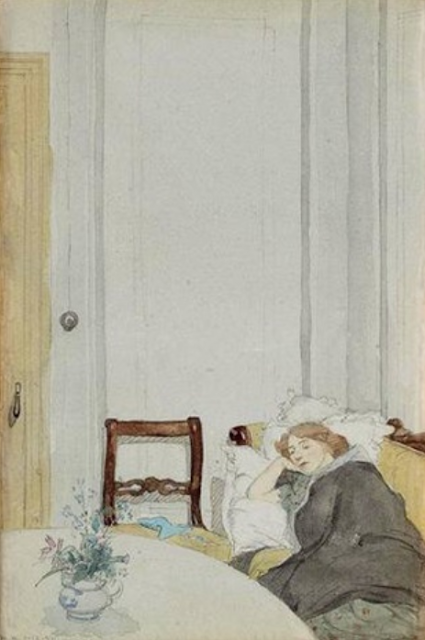 Constance Smedley (1907) Maxwell Armfield
For a jolly fine account of the pair you can do no better than reading Tessa West's book
A Pageant Truly Play'd
 and reading
her piece on ArtUK
. I was lucky enough to get a cheap first edition of the couple's joint work
The Armfields' Animal-Book
 from 1922 which was written by Constance with illustrations by Maxwell...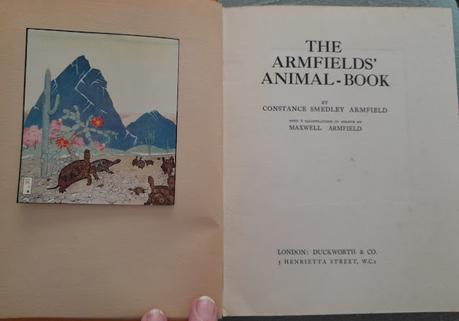 Frontispiece by Maxwell for 'How the Turtles Learned to Differ'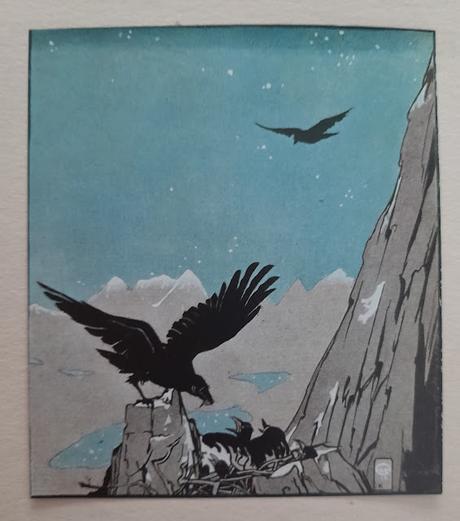 Illustration by Maxwell for 'How the Eagle Made Friends'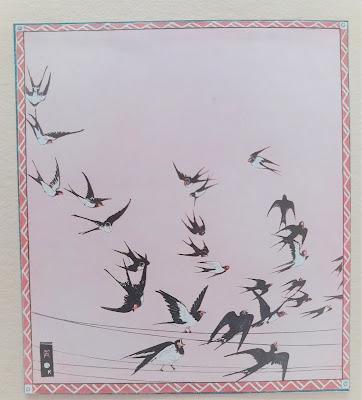 Illustration by Maxwell for 'How the Swallows Learned the Song'
The couple wrote and illustrated other books, including
The Flower Book
,
Sylvia's Travels
 and
Wonder Tales of the World
, proving that they were an equal and productive partnership as well as a happy marriage. In 1911, the couple organised a Pageant of Progress in Stroud, forming the Cotswold Players, a theatrical company, to produce the show. The headline in the
 Illustrated London News
 article covering the pageant was that progress was 'No Less Renown'd than War' which is telling. After a few more years in Chelsea, forming a theater company and anti-war views, the couple moved to America in 1915.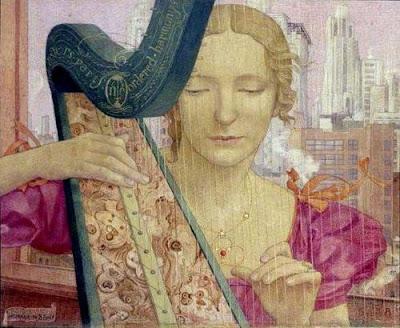 Music in New York, Homage to Johann Sebastian Bach (1946) Maxwell Armfield
America held a lot of attraction for the dynamic duo which lasted well beyond their return in 1922. One of my favorite of Maxwell's paintings is this one from after Constance's death, when he obviously returned to visit. Maxwell became a naturalised citizen 1917 but it didn't stop the pair returning to the Cotswolds, even though Constance apparently found it a wrench. I can imagine that for a woman as driven as her, the freedom offered by 1920s America was exactly what she wanted, but it was not to be as Maxwell craved a quieter life. Constance wrote her autobiography, the magificent
Crusaders
, published in 1929 and described as 'spirited' in various reviews (which must be a euphemism for something) it described all the things she had done in her first 50 years, which amounted to so much.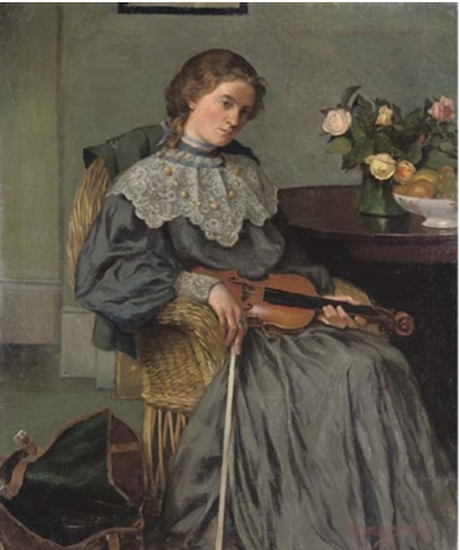 Constance Smedley with a violin (1900s) Maxwell Armfield
In the early 1930s she formed the Grace Darling League intended to raise awareness of the heroic young woman in the years before the centenary of her death in 1942. She raised funds for the Grace Darling museum in Bamburgh which opened in 1938, and wrote three books and a one-act play on the National Treasure. You can still visit the
museum
which claims that Darling was 'Victorian Britain's Greatest Heroine' which is a bold claim indeed. She certainly has the most Victorian name I have ever heard, which is an achievement indeed.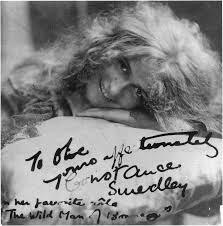 Constance 'in her favorite role - The Wild Man of Borneo'
In old age, her health suffered. She was blind for six years then received an operation in 1940 which restored it. She was recorded as saying 'It was almost unbearable exciting'.  Not letting a small thing like blindness slow her down, her first job after the operation was arranging a wedding anniversary party at the Dorchester Hotel for Queen Victoria who would have been celebrating her 100th wedding anniversary, apart from the fact she had been widowed in 1861 and she had been dead for 39 years. Constance found any excuse for a party. Unfortunately, she would not live long enough to enjoy the celebrations for Grace Darling. The Liverpool Daily Post announced her death in March of 1941 praising how 'despite disability' (a phrase that hasn't aged well) where she had to walk with crutches or use a wheelchair, she had been an artist, writer and orator, a leader of her sex.
Maxwell managed to keep going after Constance's death, continuing to work, then settling down with a nice chap, finally dying in the 1970s. I am struck how utterly dynamic Constance was, and what a smashing partnership they made. I have read accounts that brand their marriage 'lavender', both parties being gay and married for convenience, but I wonder if they hit upon a combination that worked. Goodness knows I've told you about relationships that were appalling, so finding one that was productive and positive is such a joy.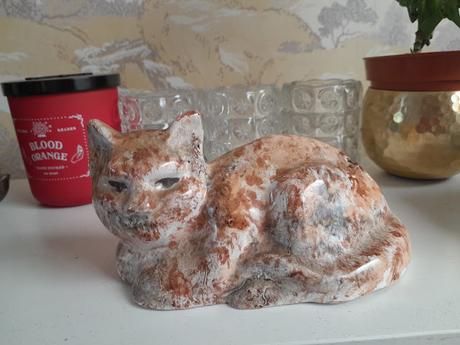 Oh, before I forget, the actual point of this post was that I own Constance's cat. It's signed 'Constance Smedley' so I'm guessing it's from her art school days and it is gorgeously hideous. I bought it for a few quid ages ago and now feel sad that it didn't fetch more. I think it is a reflection that Constance is not as well known as she should be and it's up to us to celebrate her. 
I think a massive party at the Dorchester is called for...