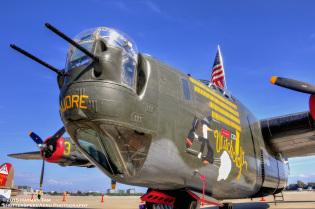 2015 Collings Foundation, Moffett Field, B-24 Liberator,
@Moffett Federal Airfield, Mountain View, CA
May 2009
Moffett Field is a regular stopover for the Collings Foundation's annual "Wings of Freedom" tour with their B-17, B-24, B-25 and TP-51 warbirds.  This B-24 is the world's only fully restored and flying B-24J Liberator.   Delivered in 1944, it was transferred to the Royal Air Force and supported Pacific theater bombing and anti-shipping operations before being abandoned in India at the end of the war, only to be restored by the Indian Air Force and used until 1968.  Nikon D300 w/18-200mm, processed with Photomatix Pro and Aperture.