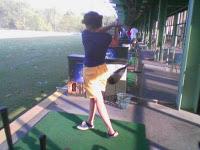 What good is a training aid if it sits in your garage and what is the use of learning proper setup or putting if you don't put it into regular practice? Proper practice will give you a
consistent golf game
.
Golf tips and drills
 are only as good when they are put into action - 
if you don't use it, as the old saying goes, you lose it. 
This week, Golf for Beginners offers up three golf tips and drills for driving, chipping and putting - a well-rounded practice for the range which should help you during your round. The simpler the golf tip or drill, the more likely you are to remember and to use it so let's get started.
Golf Drill for Driving
You hit a pop-up and your golf ball only flew about 100 yards off the tee...and it was straight up! You could see your mates shaking their heads and you knew your next shot wasn't getting you on in regulation. Your golf club came down too steep and you need to shallow out your swing.
Top 100 Teacher Cameron McCormick offers this simple
driver golf drill
(during practice) to shallow out your swing which uses a towel or golf grip placed directly behind the golf ball.
Golf Tips for Approach Shots
PGA Tour golfer Jim Furyk says he is not as long off the tee as the big bombers on Tour but what good is finding the fairway with your drive if you can't get that golf ball on the green with your second shot (on a par-4)?
Furyk's golf tips for 
approach shot accuracy
include:
Choose the right club, not just based on sprinkler head distance marker, but also based on conditions such as wind and how fast the green is or where trouble might be near the green. I was told by Hank Haney to always take more club than you need - club up if you feel that you may not make the distance.
Avoid the bunkers and go long rather than short, if you aren't the best bunker player.
Go for the center of the green - don't try to stick it close. Instead, get on in regulation and roll a solid putt.
Golf Drills for Putting
"Good putters are good aimers." says Dale Ketola, Director of Instruction at Grande Dunes Golf Performance Center. "You have to be able to read the line, have the correct speed and read the green."
Watch this short video for techniques/drills on making putts:
READ: Golf Tips to Improve Lag Putt Percentages
These golf tips were meant to inspire you and show you that, with a little bit of targeted practice, you can improve your game.
Offer up your best golf tips and drills in the comments section of this golf blog and follow
Golf for Beginners on Twitter
for more ways to improve your game!