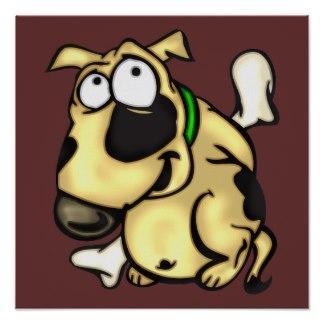 It's always fun to point out that conservatives believe things, and report things that are not true.
From
Reuters, a REPUTABLE news organization
:
Story of North Korean leader's uncle being fed to dogs a satire: report SEOUL - An international media frenzy over reports that North Korean leader Kim Jong Un's uncle had been executed by throwing him to a pack of dogs appears to have originated as satire on a Chinese microblogging website.
... an alternative narrative of the 67-year old's death emerged on what appears to have been a satirical post on the Chinese Tencent Weibo site that has been repeated by many media outlets worldwide.
From
Fox Not-really-News
:
"North Korean leader fed uncle to starving dogs, report says
The execution of North Korean leader Kim Jong Un's uncle was more brutal than initially reported, according to a Beijing-controlled newspaper, which said the country's second-most-powerful figure was thrown into a cage filled with starving dogs and eaten alive.
The Singaporean Straits Times cited a report from Wen Wei Po, a Beijing-control newspaper, that said Jang Song Thaek and five close associates were stripped and fed to 120 dogs that had not eaten for three days. The entire process, witnessed by 300 senior officials, lasted for about an hour, the report said. Fox News could not immediately verify the report.
Gordon Chang, the author of "Nuclear Showdown: North Korea Takes on the World," said he heard about the reports of Jang's brutal death back in early December. And although the reports are unconfirmed, Chang said "it is entirely possible" that Jang met his demise in the dog cage."
I wonder how many Fox News followers read all the way down to this last paragraph, which ALSO should have been part of the first paragraph, instead of the sensationalist baloney.
"To be sure, while the story is being widely reported, no major media outlets, including South Korean newspapers and China's People Daily, have confirmed it."
Shouldn't the OPENING sentence BEGIN "Fox News could not immediately verify the report."?
Given the efforts in
China
to eradicate dogs entirely, due to problems with rabies, and the widespread famine in North Korea, it is highly unlikely that such a pack of dogs could exist, unless Kim Jung Nutjob chose to skip feeding some sort of military service dogs for three days -- possible, but unlikely.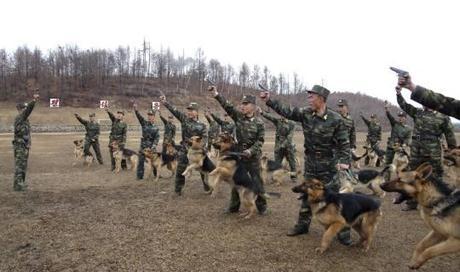 North Korea soldiers with dogs, during military drills, none of whom seem to have gone unfed