Gallup
Alabama, North Dakota, and Wyoming were the most conservative states in the union in 2012, with between 49% and 50% of residents in each identifying their ideology as conservative. Residents of the District of Columbia were by far the most likely to identify as liberal (41%), followed by Massachusetts (31%), Oregon, and Vermont (each at 29% liberal).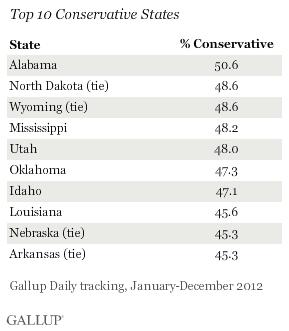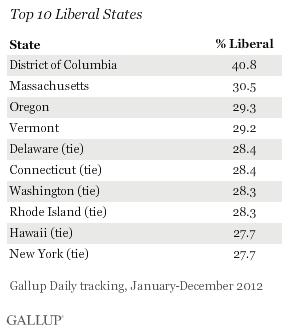 The general rule that conservative = pro-gun is perfectly illustrated in the 10 most conservative. The opposite list includes some anomalies like Washington and Vermont, but overall we can continue to say conservative = Republican = pro-gun and liberal = Democrat = pro-gun-control.
Another thing to notice is the conservative states are extremely conservative while the liberal ones aren't so much so.
What do you think?