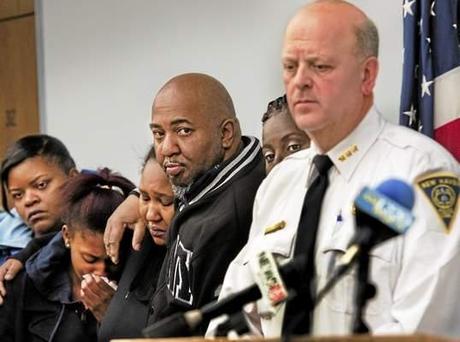 (Melanie Stengel - New Haven Register) New Haven Police Chief, Dean Esserman stands with the family of Shamar Willet during a press conference at police Headquarters. Shunravion Jackson of Norton Street is charged with second-degree manslaughter and interfering with police, in the shooting death of Willet.
Shunravion Jackson, 18, of Norton Street, 
was charged with second-degree manslaughter 
shortly after he said those words in a statement to detectives, according to a police report. He allegedly shot and killed his sister's boyfriend's brother ,Shamar Willett, 23, 35 Harding Place, by accident while the two horsed around Saturday afternoon.
Things not to do when you want to get away with killing someone by accident:
1. don't be black
2. don't lie to the police, especially if one of those lies is you were smoking pot at the time of the shooting
3. don't be from Connecticut