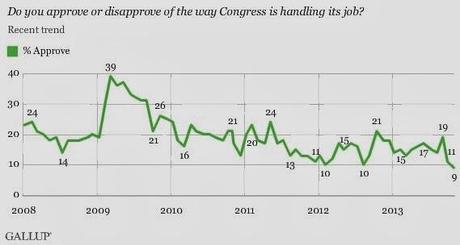 Here is just a little more evidence that Congress didn't do itself any favor by shutting down the government. The newest Gallup Poll shows disapproval of Congress is at 9%. That's not as low as some polls have it (one has it at 6%), but it is the lowest since Gallup has been polling on congressional approval -- 39 years (the previous record low was 10%). And it sets up a record low for the yearly average at 14% (with the previous record being 15%).
It seems that there's just no bottom to the disgust that people have for this current Congress. But while that disgust is expressed against both parties to some extent, the Republicans have been hurt the most in this "do-nothing" Congress -- and that is appropriate since they have been the ones obstructing any action by that body.
This is verified by a new YouGov Poll.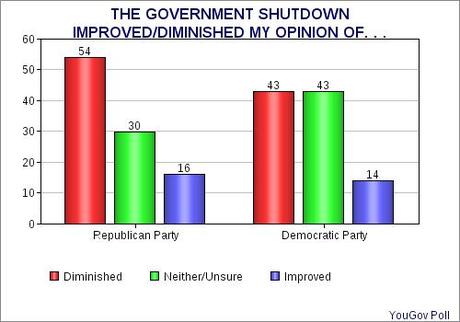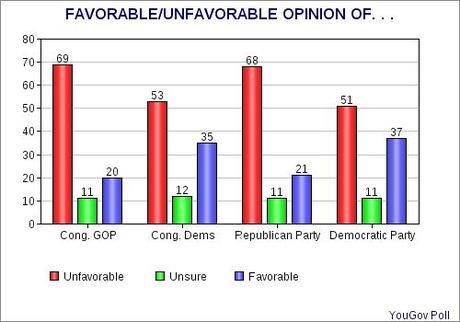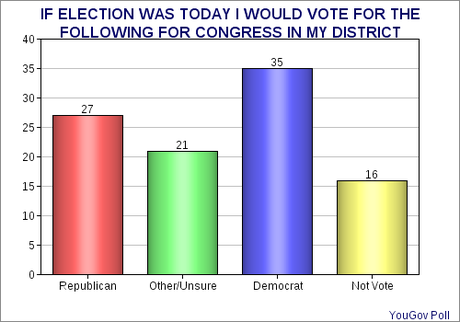 As you can see, while the opinion of both parties has been diminished by the government shutdown, the GOP has been diminished by 11 points more than the Democratic Party. That translates into a significant unfavorable rating difference -- with the unfavorable rating for congressional Republicans being about 16 points higher than for congressional Democrats (and favorability being about 15 points lower). And it is much the same when the entire parties are considered -- With the Republican Party having a 17 point higher unfavorable rating than the Democratic Party.
The Republicans are lucky that the general election is still a year away, because there would be a significant chance of the House flipping over to Democratic control if the election was held right now. The question is -- will they moderate their views and policies to appeal to more voters, or will they just continue to try and please the teabagger/fundamentalists. I'm betting on the latter -- and that would be very good for the Democrats in November 2014.
The Gallup Poll was taken between November 7th and 10th of 1,039 nationwide adults, with a margin of error of 4 points.
The YouGov Poll was taken between November 2nd and 4th of 1,000 nationwide adults, with a margin of error of 5 points.