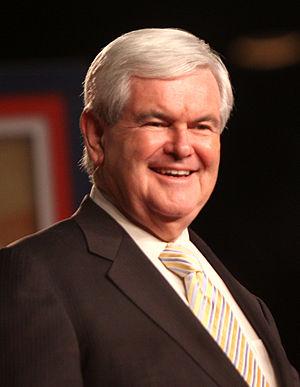 English: Newt Gingrich at a political conference in Orlando, Florida. (Photo credit: Wikipedia)
The Fiscal Cliff of New Year's Eve was fortunately postponed for two months, in what was supposed to be a move to give the Republicans and Democrats another opportunity to reach a sensible deficit reduction solution. Of course, we observers made a naive assumption that any deal involving the modern Republican Party would ever be reached without intolerable demands for regressive spending reductions. Yesterday, the "sequester", a package of $85,000,000,000 worth of cuts came into effect as no deal was reached.
President Obama has previously warned that such an outcome would mean that GDP growth will fall by 0.5% and the loss of 750,000 jobs across both the private and public sectors. It is hugely unfortunate that we are only likely to see more automatic cuts coming into effect until 2014, with Republican majority in the House of Representatives forcing through austerity against the wishes of the President. I feel it is no exaggeration that the Republican party, which is unashamedly undermining the Government, will push the US economy into a second recession, which makes it essential that Obama does all in his power to underline whose fault that will be.
The Democrats are in an impossible position. With every budget, sequester, debt ceiling, and cliff, they lose more ground to the regressive opposition, and this is inevitable with the balance of power in Congress being what it is. We risk a repeat of the 1990s in which Newt Gingrich and his Republican conspirators became the de facto government, forcing Bill Clinton to face questions about whether his presidency was still relevant. The difference this time is that it is everybody in the US, not just  the poor, who are set to lose out. However, I have already railed at the absurd constitutional make up of the US government several times, so I need not labor the point.
If so many of the world's major economies are to continue with the myopic austerity agenda, we face a "lost decade" of economic decline like the 1970s or 1930s. It is painful to see that our unpopular political leaders inflicting this mad policy on us in the name of "prudence".