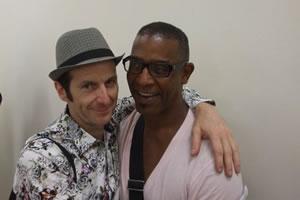 True Blood's notoriously dramatic King of Mississippi may have lost Talbot, but the man behind the king, Denis O'Hare, married his sweetheart of 10 years in New York City on Thursday. O'Hare gushed about his partner to The Advocate last year:
"Hugo and I have a pretty fantastic relationship. We definitely have our frictions here and there, but we get along really, really well. At 10 years we have a great amount of mutual respect for each other, so we rarely descent into any kind of disrespectful sniping."
Congratulations to the happy couple!
Source: On Top Magazine – 'True Blood's' Denis O'Hare Marries Boyfriend In New York City
Photo Credit: O'Hare's personal Twitter account