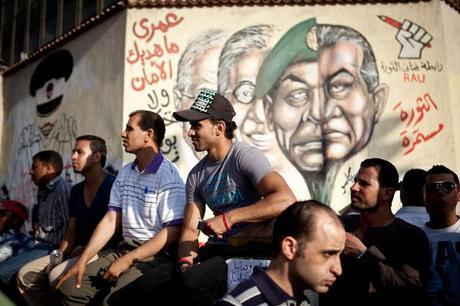 Last night I was meeting with a friend who is active in a major secular party in Egypt. There was some confusion about the future of the party. Yesterday's court ruling invalidated all the seats won by independents in parliament: approximately 1/3 of the seats. As a result, the parliament is effectively disbanded, because there are not enough people in parliament to hold sessions.
Hundreds in Tahrir Protest against Supreme Court rulings.
I cannot verify this, but my friend said that even if Shafiq wins, if the Parliament is disbanded, there will be no one to swear him in. Therefore, whoever wins the presidential election may not actually be in power until the parliament is reconstituted.
Egypt's high court calls for dissolution of Parliament.
I was at the Marriot in Zamalek for a lecture on "The Arab Awakening: One Year On." The lecture was held by the AUC. After the lecture, I spoke with my friend on the outdoor patio, so that he could smoke a cigarette. Who did we run into but Amr Hamzawy, my former colleague at the PPAD. He was with his beautiful wife, Basma. He looked a little stressed, because he is one of the independents who have now lost their seats. But, he was optimistic.
Blow to Transition as Court invalidates Parliament.
Many at the conference I attended last night, referred to the events as a "coup." Further, my friend suggested that the courts are not independent, and are actually controlled by the SCAF. Indeed, the courts have been operating with little or no reform since the Revolution.
Parliament's Dissolution Could Postpone Presidential Election.
Ironically, I had a girl's lunch at one thirty, and one of my colleagues who works at the UNDP told us that one third of parliament would be dismissed, and that Shafiq would be allowed to run. By two thirty, her predictions were confirmed.