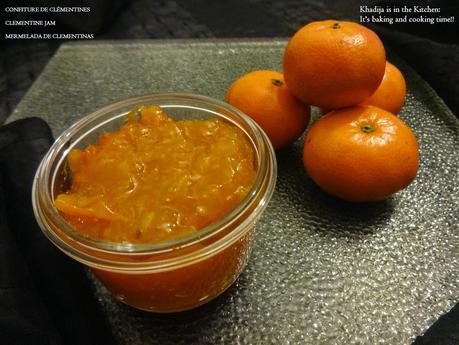 INGRÉDIENTS / INGREDIENTS / INGREDIENTES
11 clémentines / 11 clementines / 11 clementinas
1 citron / 1 lemon / 1 limón
Du sucre semoule / caster sugar / azúcar en polvo
Note : Laver et essuyer les clémentines et le citron. Les mettre au congélateur pendant 4 heures ou plus / Wash and wipe dry the clementines and lemon. Put them in the freezer for 4 hours or more / Lavar y secar las clementinas y el limón. Colocarlos en el congelador durante 4 horas o más
PRÉPARATION / HOW TO / ELABORACIÓN: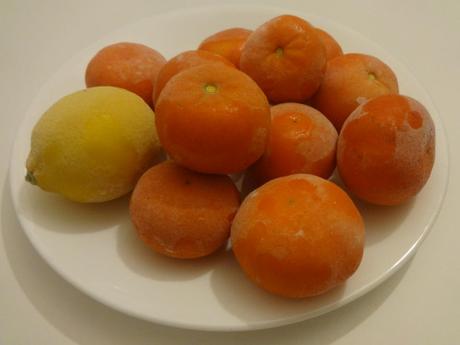 1- Sortir les clémentines et le citron du congélateur 30-45 minutes d'avance. Ils doivent rester un peu dures / Remove the clementines and lemon from the freezer 30-45 minutes in advance. They must stay a little bit hard / Sacar las clementinas y el limón del congelador 30-45 minutos antes de preparar la receta. Tienen que quedar un poco duros.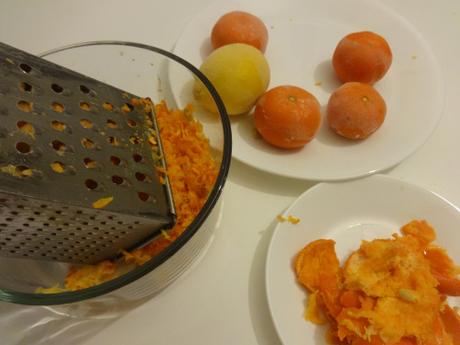 2- Râper les clémentines et le citron / Grate the clementines and lemon / Rallar las clementinas y el limón.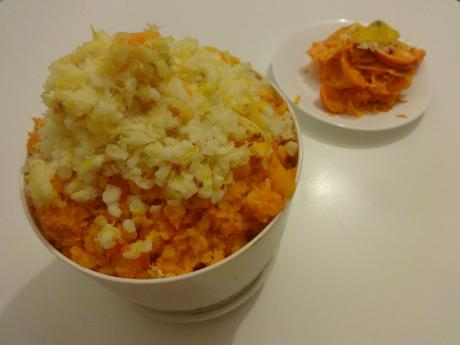 3- Peser le mélange / Weigh the mixture / Pesar la mezcla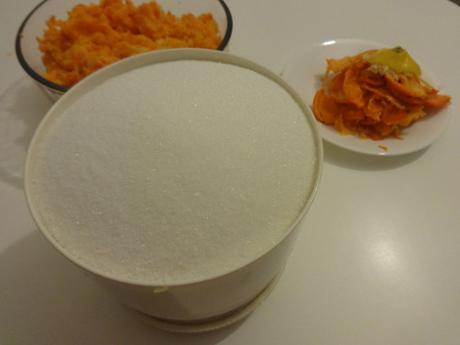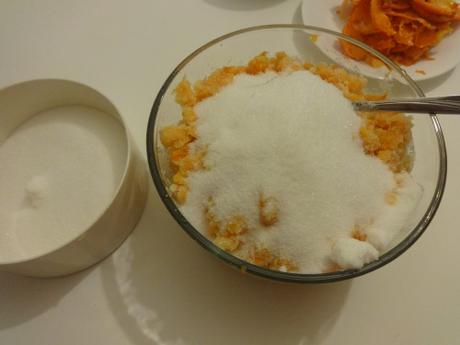 4- Ajouter le même poids de sucre semoule et mélanger / Add the same weight of caster sugar and mix / Añadir el mismo peso de azúcar en polvo y mezclar.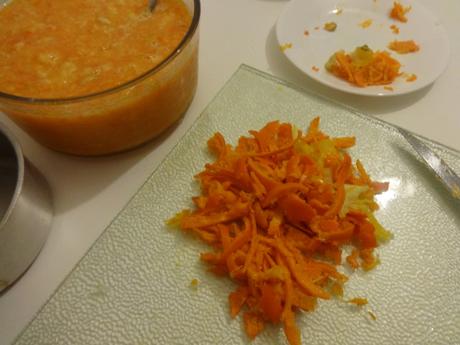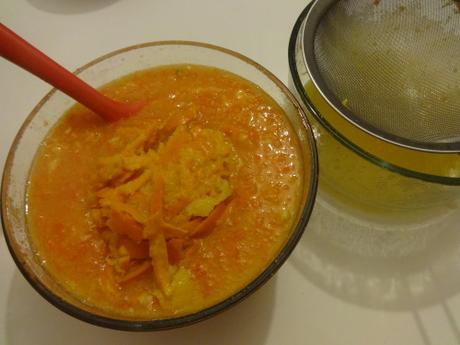 5- Couper en fines lamelles les restes de clémentines et citron. Les faire cuire dans de l'eau jusqu'à ce qu'elles deviennent tendres. Les ajouter au mélange de sucre et clémentines râpées  / Cut into thin strips the remains of clementines and lemon. Cook them till they become soft. Add them to the sugar and grated clementines / Cortar en tiras finas los restos de clementinas y limón. Cocinarlos hasta que queden blandos. Añadirlos al azúcar y clementinas ralladas.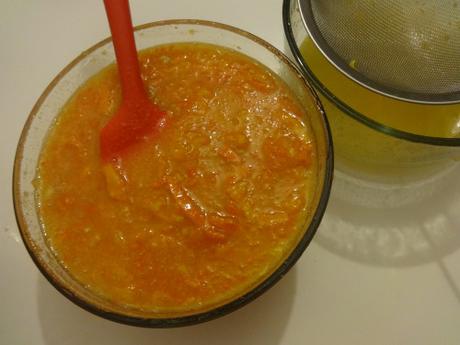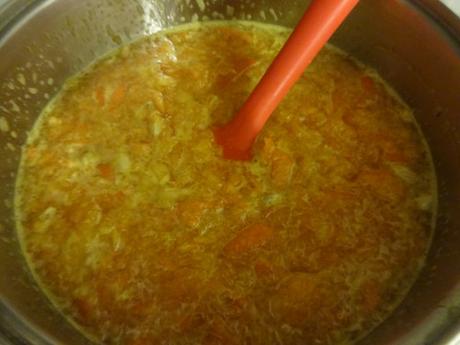 6- Verser le mélange dans une marmite / Pour the mixture into a pot / Verter la mezcla en una olla.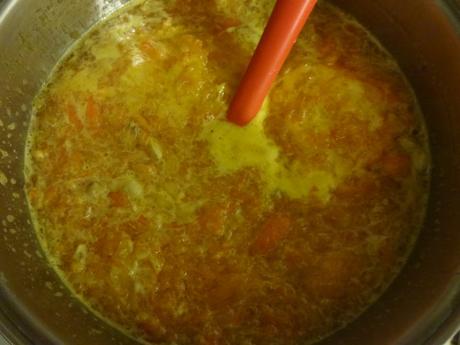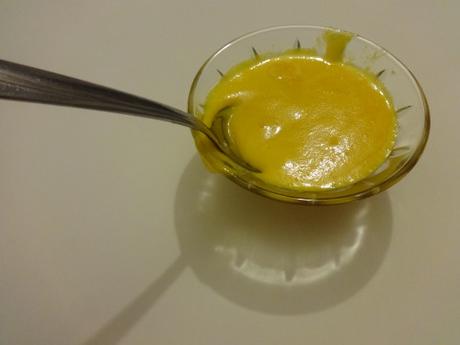 7- Cuire à feu moyen, en remuant de temps en temps, jusqu'à ébullition. Retirer l'écume qui se forme à la surface. Après ébullition, baisser le feu et cuire encore 5-10 minutes / Cook over medium heat, stirring occasionally, until boiling. Remove the foam that forms on the surface.  After boiling, reduce the heat and cook for 5-10 minutes / Cocinar a fuego medio, revolviendo ocasionalmente, hasta que la mezcla hierve. Quitar la espuma que se forma en la superficie. Después de hervir, bajar el fuego y dejar cocer durante 5-10 minutos.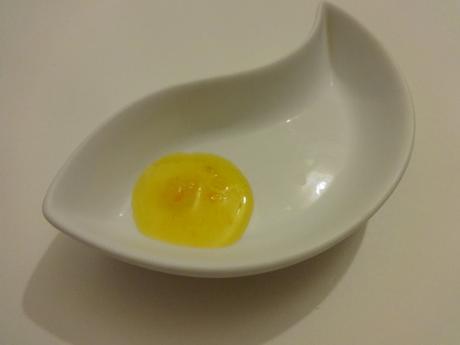 8- Pour vérifier la cuisson de la confiture : Déposer un peu de confiture dans une assiette froide. La confiture doit se figer, ne doit pas être liquide. /  To check the doneness of jam: Spread a little jam on a cold plate.  The jam should not be liquid  / Para verificar la cocción de la mermelada: Echar una cucharadita de mermelada en un plato frio. La mermelada no debe estar liquida.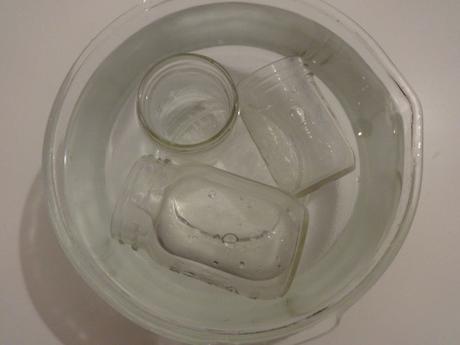 9 - Stériliser les pots dans de l'eau bouillante, environ 5 minutes / Sterilize the jars in boiling water, for about 5 minutes / Esterilizar los tarros en agua hirviendo, durante unos 5 minutos.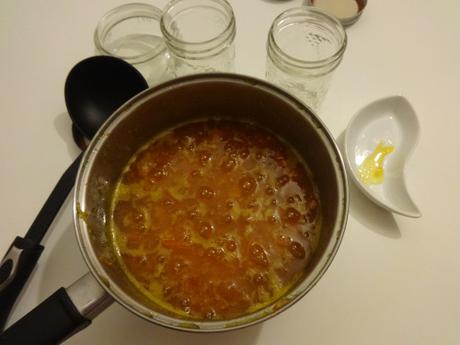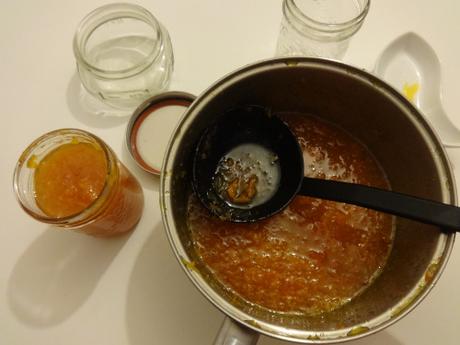 10- Verser la confiture encore chaude dans les pots stérilisés / Pour the jam still hot into the sterilized jars / Verter la mermelada aún caliente en los tarros esterilizados.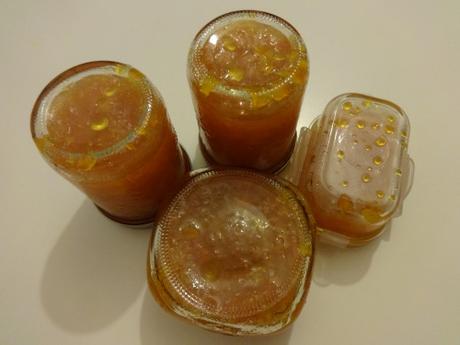 11- Fermer les pots et les retourner immédiatement jusqu'à complet refroidissement / Close the jars and immediately return them until completely cooled / Cerrar los tarros y inmediatamente devolverlos hasta que se enfríen por completo.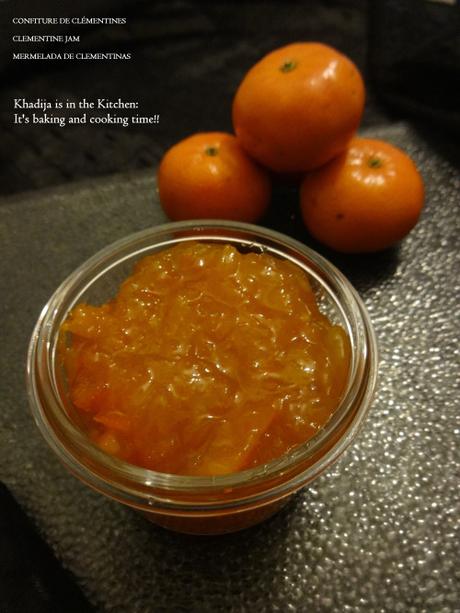 Hope you'll enjoy!!
Autre recette de confiture / Other jam recipe / Otra receta de mermelada: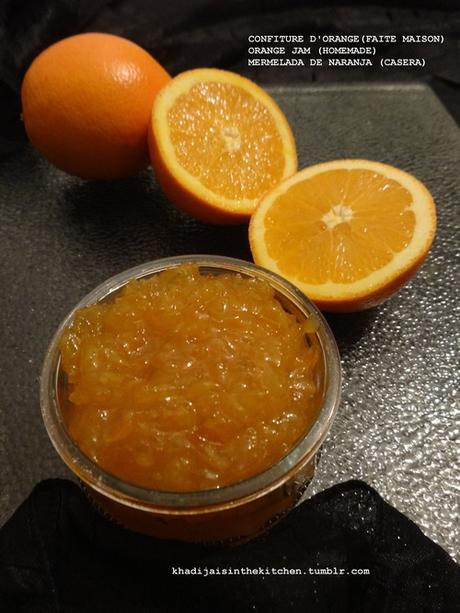 CONFITURE D'ORANGE (FAITE MAISON) / (HOMEMADE) ORANGE JAM / MERMELADA DE NARANJA (CASERA)
Merci de votre visite / Thank you for your visit / Gracias por su visita…