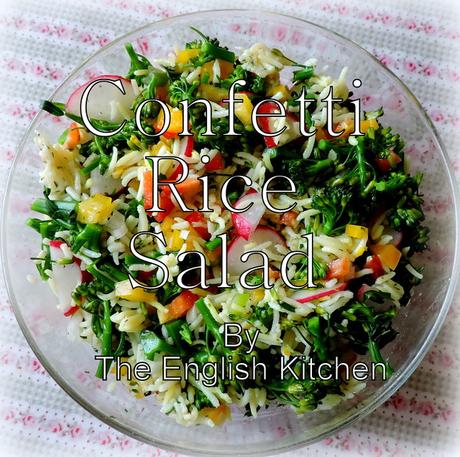 We've had some really nice weather this week, a bit cool, but the sun has been shining and that's always a plus in my book!  The other day I made us a delicious rice salad to go with some grilled chicken for our supper.  We had spent a bit of time working in the garden, so quick and easy was the order of the day!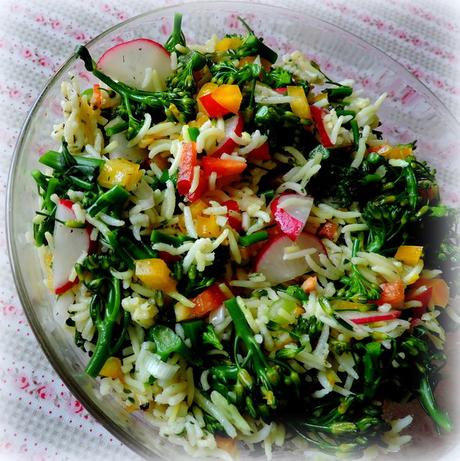 This salad is so simple to make and is so colourful!  It goes with just about anything, but especially with chicken and fish!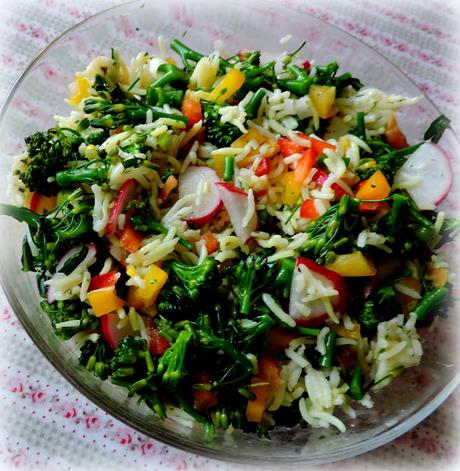 You could actually use pouches of the ready cooked rice if you wanted to.  I like the Tilda brand, basamati.  This makes it even quicker on the table as you don't have to wait for the rice to cook!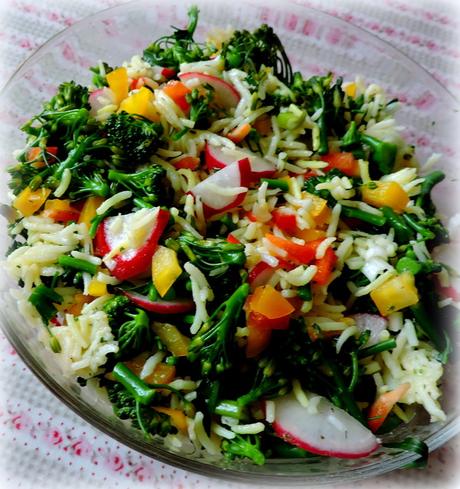 It had a deliciously punch lemon and  Dijon mustard vinaigrette dressing, with some fresh herbs added . . .  parsley and dill . . .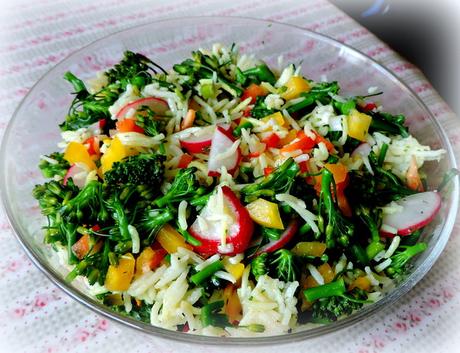 Low in fat, high in fiber with lots of veggies and crunch, this is a really delicious salad.  And it's really colourful as well!  This is one of my quickie favorite salads!  You could actually add chopped cooked chicken or salmon or tuna to the salad and it would be a main meal salad.   Its pretty adaptable like that!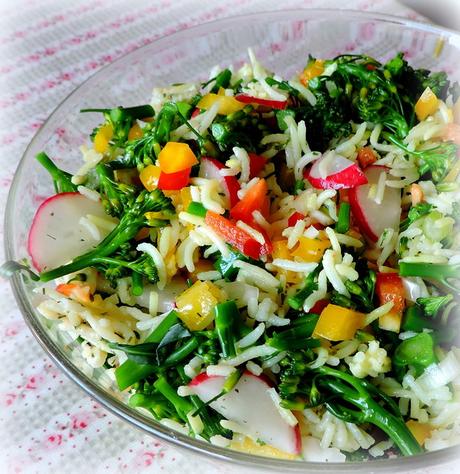 *Confetti Rice Salad*Serves 6 Printable Recipe 
Colorfully delicious!  Filled with lots of good things and plenty of tasty crunch! 
140g of long grain rice, raw (2/3 cup)375ml water (1 1/2 cups)1/4 tsp salt2 TBS snipped parsley1 - 2 TBS snipped fresh dill1/2 tsp fine lemon zest2 TBS lemon juice2 TBS water2 TBS olive oil1 tsp Dijon mustard1/8 tsp black pepper1/2 red pepper, cut in very small dice1/2 yellow pepper, cut in very small dice1 small broccoli crown, cut into florets(I like to blanche the broccoli prior to using.  This helps to tenderize itand gives it a lovely green color.  To do this plunge into boiling waterfor two minutes, then drain and rinse immediately in cold water.  Drain wellbefore using.)4 radishes, thinly sliced1 spring onion, thinly sliced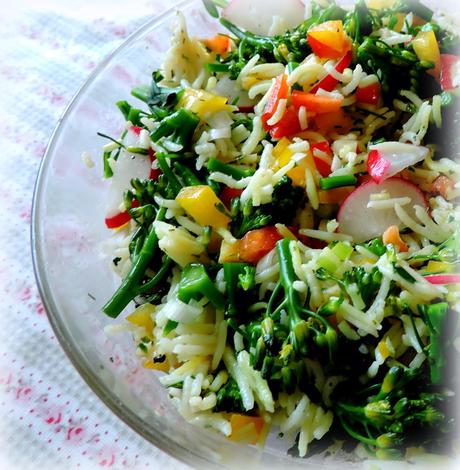 Lightly salt the water and bring to the boil.  Add the rice, then reduce the heat to low.  Cover and cook for 20 minutes.   Drain in a colander and then rinse under cold water.   Drain well and set aside.
Whisk together the parsley, lemon zest, dill, lemon juice, 2 TBS of water, the olive oil, pepper and mustard in a large bowl.  Add the rice and vegetables.  Toss together to coat everything well.  Cover and chill for up to 24 hours, stirring occasionally.
Note - you can add in other vegetables if you wish, like chopped courgettes (zucchini) chopped baby plum tomatoes, etc.  It is very adaptable.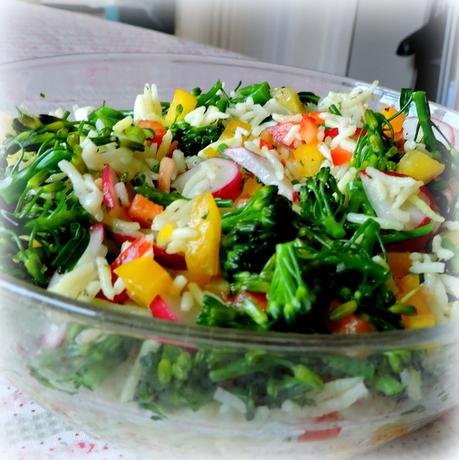 Happy Friday!  Bon Appetit!