Baking cupcakes at home has spoiled us rotten, now none of the store bought ones match up and fall short of our quality and taste standards. Recently my sister ordered cupcakes from a local bakery for my niece's birthday to give in her school. My niece didn't even taste the cupcake :-) The cupcake was a little dry and the frosting was too greasy with no flavor.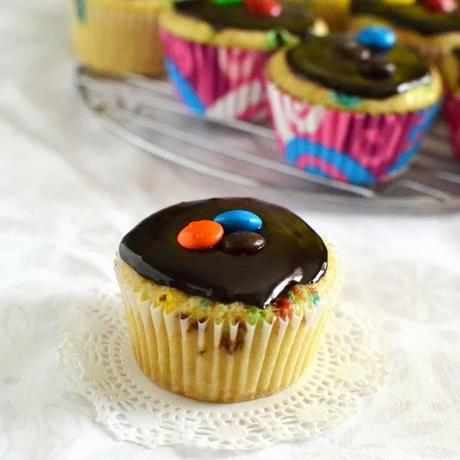 So moral of the story is to either stop baking at home or stop buying from outside. Today I've homemade cupcakes that I made for my daughter's 15th month birthday. After experimenting with a lot of recipes, I found my go-to recipe for vanilla cupcakes. This basic vegan vanilla cupcakes form the basis for a lot of variations. I've already posted the hazelnut-spice variation and today's confetti candy cupcakes are also a yummy variation to those.
Idea for the Confetti candy cupcakes came from this cupcake book.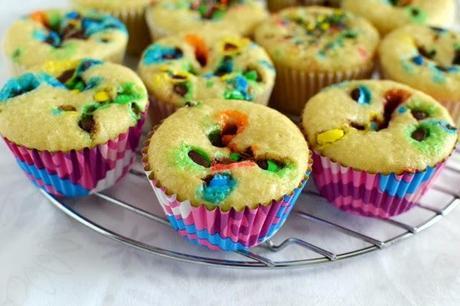 Ingredients
: Makes 12 cupcakes All purpose Flour - 1¼cups
Cornstarch - 2tbsp
Baking Powder - ¾tsp
Baking Soda - ½tsp
Salt - ½tsp
Soy Milk - 1cup
Apple cider Vinegar - 1tsp
Canola Oil - 1/3 cup
Sugar - ¾cup
Vanilla extract - 2tsp
Chocolate covered candy - ½cup, chopped (I used M&Ms)
For the Fudge Frosting
:
Sugar - ½cup
Unsweetened Cocoa powder - 3tbsp
Milk - ¼cup
Butter - 2tbsp
Light Corn syrup - 1tbsp
Vanilla - ½tsp
Confectioners sugar - ½cup~1cup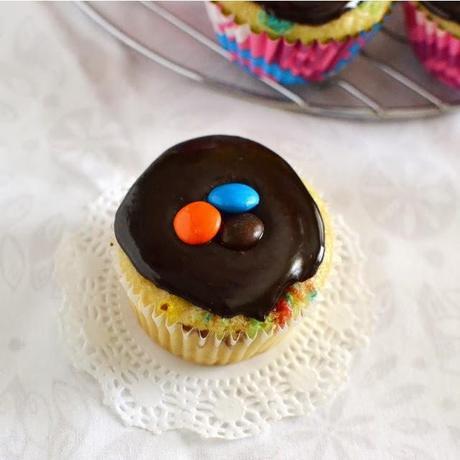 Method
:
Make the Cupcakes: Preheat oven to 350°F and line muffin pan with cupcake liners.
Whisk soy milk and vinegar in a measuring cup and set aside for a few minutes to curdle.
Beat together the soy milk mixture, oil, sugar, vanilla in a large bowl. Sift in the flour, cornstarch, baking powder, baking soda and salt and mix until no big lumps remain.
Fill cupcake liners 2/3rds of the way full. Sprinkle the chopped candy on the batter and bake for 20-22 minutes or until a toothpick inserted in the center comes out clean.
Transfer to a cooling rack and let them cool completely before frosting.
Make the Frosting: In a small saucepan, combine sugar, cocoa, milk, butter and corn syrup. Bring this mixture to a boil on medium flame, stirring constantly. Heat for 3 minutes. Remove from heat and stir in vanilla and add enough confectioner's sugar to make a spreadable frosting.
Frost the cupcakes and garnish with some m&m's.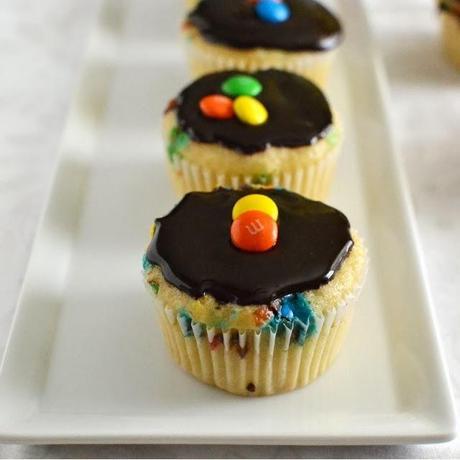 Linking this to the
Bake-a-thon
2013 and sending them over to Valli's Cakes Mela.