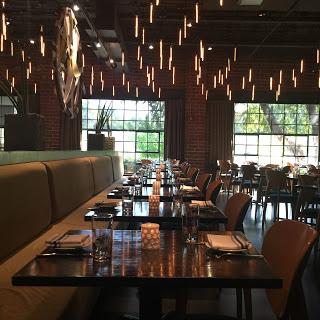 We were very excited to be invited to Concentrics' Harvest Dinner featuring seven amazing chefs serving six seasonal courses perfectly paired with exceptional wines. The mood was festive and the camaraderie palpable as we entered ONE.midtown Kitchen where signature cocktails and tantalizing starters like lobster hushpuppies and fried porcini ravioli were being passed to guests. Longtime host Bob Bost rallied diners to be seated and the feast began.
First up was a Hamachi Crudo created by Chef Chris Maher, Co-Executive Chef of One Midtown Kitchen. The beautiful spiral of Hamachi served with Uni, crispy Fresno Chili, Furikake, Cilantro, Cured Egg Yolk, Puffed Rice and a Black Pepper Yuzu and paired with a crisp Italian Viticoltori Raetia Pinot Grigio.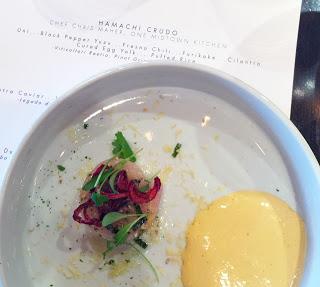 A silky White Gazpacho served with Autumn Fruits, Osetra Caviar, Almond, and a crispy Rye crumble by Chef Tyler Williams of Tap Gastropub which was matched with a Legado Del Moncayo Garnacha Blanca from Spain was a decadent second course.
Chef Michael Bertozzi of Two Urban Licks presented a Rigatoni topped with a Duck Ragu, Wild Mushrooms, tiny dried Currants and a Foie Cream partnered with Hobo Wine Company's Folk Machine Pinot Noir.
Next a gorgeous Roasted Striped Bass rolled in Spinach and plated on Cauliflower Sabayon with Mussels and Black Truffle Shavings was crafted by Executive Chef Stuart Tracy of The Brasserie at Parish and paired with a California Chardonnay from Stuhlmuller.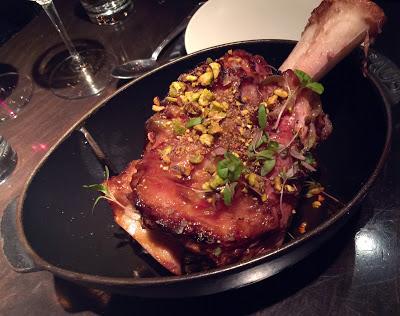 An oversized Braised Veal Shank with an Apple Cider Demi and dusted with Pistachios served family-style was accompanied by dishes of Saffron Risotto and Smoked Carrots and Butternut Squash designed by One Midtown Kitchen's Co-Executive Chef Matt Weinstein was complemented by Chateau de la Selve "Palissaire" from the Rhone Valley of France.
Last, but certainly not least Pastry Chefs Danielle Smathers of One Midtown Kitchen and Breanna Kinkead of The Brasserie at Parish shared their Sweet Potato Crème Brûlée with Honeycomb Candy, Spiced Pepitas, and toasted Marshmallow Fluff matched with a Kopke 10-Year Tawny Port.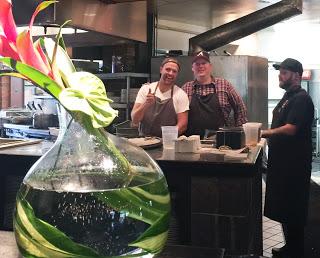 Thanks to Concentrics' owner Todd Rushing and his fantastic team of chefs, mixologists and servers for an incredible evening of food, wine and frivolity!