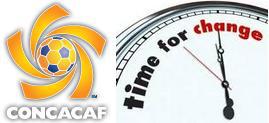 With Jack Warner finally out of the picture, CONCACAF has a chance to wipe the slate clean and start all over. The corruption and the main focus of getting richer should be a thing of the past. Alfredo Hawit is now the man in charge, for the time being, and hopefully he can usher in a new era that will improve CONCACAF if he is allowed to.
It's no secret that many fans from across the globe do not take CONCACAF seriously. It is considered as a two horse race with Mexico and USA dominating the confederation when it comes to World Cup Qualifiers and the Gold Cup. It's also wildly held that those two countries have it made by facing the likes of Costa Rica, Jamaica, and Honduras in order to qualify for the World Cup and thus deem it unfair that CONCACAF should have four countries in the World Cup.
That argument may seem that way for those who don't follow CONCACAF but those who have followed CONCACAF World Cup qualifiers know that it's not that easy. On paper, it may seem easy for USA to play in countries such as Honduras or El Salvador but the naysayers fail to notice the horrible conditions that await the heavy weights when they play away.  What was surprising for those who were shocked by the condition of Real Madrid's pitch against FC Barcelona in the recent El Clásico matches is considered the norm at some of the pitches in CONCACAF where the grass is even taller on an unlevel playing surface coupled with poorly lit stadiums and let's not forget the hostile fans. If Spain thought it was tough playing in Lithuania on a frozen surface, then imagine how they would feel playing on a lumpy field with tall grass and with hardly any lights.
The bottom line is that home field advantage counts in CONCACAF and aids those countries. It's easy to mock CONCACAF but it's a different story when you have to endure those poor playing conditions along with facing a very rough crowd. The fact that USA and Mexico have done well over the years in those rough conditions is not something that should be ignored when in fact it should be commended. It's no easy task because although those other CONCACAF nations might be considered as minnows, they are in fact dangerous opponents. USA's away record against Jamaica, Costa Rica and Mexico in World Cup qualifiers in recent history is an example of how tough it is to win away in CONCACAF.
Now I am not saying CONCACAF is as good as UEFA or CONMEBOL but the confederation does deserve some respect. Unfortunately, some of the problems plaguing CONCACAF are the way they have been conducting their affairs which have been anything but in the game's best interests. I won't get into what caused Jack Warner and his replacement, Lisle Austin, to be ousted or barred from being CONCACAF president. With Jack Warner finally out of the picture, CONCACAF now has a chance to wipe the slate clean and start all over. The corruption and the main focus of getting richer should be a thing of the past. Alfredo Hawit is now the man in charge, for the time being, and hopefully he can usher in a new era that will improve CONCACAF if he is allowed to.
The time for change is now and this is a great opportunity for CONCACAF to address some major issues. My main issues with CONCACAF concerns scheduling the Gold Cup every two years and using the same venue; not allowing Mexico to send its strongest team to Copa America; not trying to improve other CONCACAF national teams; and not punishing countries for poor conduct from the fans in the stands along with punishing countries who intentionally alter stadium conditions in order to get an advantage over their opponents.
The Gold Cup has had its share of surprises over the years such as Haiti making it to the semi-finals back in 2009 which make these competitions memorable. The problem that I have with the Gold Cup is that it is held every two years like the African Nations Cup.  Additionally, the fact that it is held on odd years doesn't make sense since it means the winner doesn't automatically get to go to the FIFA Confederations Cup. Mexico won it in 2009 but the Confederations Cup was also in 2009 and it was a conflict for USA since they had to compete in both competitions that summer. So Mexico's victory did not place them for the 2013 Confederations Cup. However, Mexico will be representing CONCACAF at the next FIFA Confederations Cup after their 4-2 win over USA in this past Gold Cup final but whoever wins the next Gold Cup in 2013 won't be getting the invite.
So here's an idea, why not make it every three years or four years. UEFA's Euro Cup is every four years and even Copa America is no longer bi-annual. CONMEBOL decided to move it from every two years to every three years for the past two Copa America competitions before deciding to have it every four years. CONCACAF needs to do the same and not just think of all of the money it will be getting from having the Gold Cup on US soil every two years. This would allow the likes of Mexico and US to actually send strong teams to Copa America where they would gain from it. Of course, the down side would mean that there is a possibility that whoever wins the Gold Cup would end up playing in four consecutive international tournaments every summer via Gold Cup, Copa America, Confederations Cup and World Cup.
That's why I was upset that this year's Copa America will have two CONCACAF nations with their U-21 teams. I could never get a clear answer as to why. I first read that UEFA complained about Mexico taking part in two summer tournaments and then read that CONCACAF didn't want Mexico taking the Gold Cup lightly by focusing on Copa America. Nevertheless, Mexico is not sending a strong team to this year's Copa America and that hurts CONCACAF in the long run. It's no surprise that Mexico has qualified to the Round of 16 of every World Cup since they started participating in Copa America back in 1993. The experience has helped them and, as a result, has helped CONCACAF in terms of getting more spots in the World Cup. Forcing Mexico to stop sending a strong team to future Copa Americas is a step in the wrong direction.
On a side note, I have heard many say that they should merge both Copa America and the Gold Cup and make it a real Copa America. I agree with that idea but, unfortunately, it will never happen because each confederation wants its own tournament for profits and prestige reasons. However, since Copa America requires two additional countries to make it a 12 team competition, I wouldn't mind proposing that two Gold Cup quarterfinalists, with the losing quarterfinalist playing each other to determine the top two, and the Gold Cup semifinalists get invited to future Copa America tournaments so that there would be 16 teams total. That would provide Copa America four groups of four teams with the top two teams moving on to the knock out stages. The experience would benefit CONCACAF countries in the long run but that's just wishful thinking.
My final complaint about the Gold Cup is that it needs to be played elsewhere. Again, it makes sense for CONCACAF to have it played in America since the country is home to many people from CONCACAF nations and thus the venues will be packed. However, it's time for CONCACAF to have the Gold Cup played in other countries. Mexico and Canada should be afforded the opportunity to host it and perhaps also consider the possibility of Central American nations such as Panama, Honduras or others joint hosting it. Although I don't personally agree with the saying that money isn't everything, I do think that CONCACAF needs to move the Gold Cup to other countries.
The next issue CONCACAF has to address is strengthening its confederation. Currently, CONCACAF consists of over 30 nations but unfortunately, USA and Mexico seem to be head and shoulders above the competition.  Since 1970, only six other nations have qualified for the World Cup not named USA or Mexico. Haiti back in 1974; Canada back in 1986, Jamaica back in 1998; Trinidad & Tobago back in 2006, El Salvador back in 1970 and 1982; Honduras back in 1982 and 2010 and Costa Rica is the only other nation to appear more than twice with three appearances back in 1990, 2002 and 2006.
CONCACAF is allowed only three automatic entries in the World Cup but can have a fourth in the next World Cup courtesy of a play-off. Back in May, there were plans of CONCACAF using a different qualifying format for the upcoming World Cup before they were scrapped for the current system of three group stages before the final hexagonal stage. Back then, CONCACAF President Jack Warner said, "In response to the needs of our membership, we are proposing a new system that will provide substantially more playing opportunities while producing a fair and compelling qualifying competition."
I was disappointed that CONCACAF opted not to pursue their plan. I really want CONCACAF to get better but how will that happen when other teams are eliminated early from qualifiers after playing a handful of games. For the 2010 World Cup Qualifiers, 22 countries faced off against each other in a home and away encounter. 11 of those countries then moved on to the next round where they faced against 13 other countries in another home and away encounter.  The 12 winners then moved on to a third round where the countries were placed in groups of three consisting of four countries. Thus, 23 countries had already been eliminated after four matches. Those who survived then had to play six group matches where the top two countries in each group would then go on to play in the final round which determined the top four countries.
This system is basically survival of the fittest but sadly, I don't see how the lower ranked CONCACAF countries can ever grow if they only play four to ten competitive games.  The proposed system consisted of only the first round being a home and away elimination round with the remaining three stages being group stages. I am not saying that the proposed system was perfect, especially with many upset that USA and Mexico would not be facing each other in the final group stage. If we need the other countries to get better, we need them to playing more games against their bigger rivals. If there are going to be four spots in the World Cup, with two of them already a certainty, then we need stronger competition amongst the other nations.  The only way I can see that happening is by having lower ranked countries face the powerhouses and not just against other lower ranked countries in a quick elimination tournament structure.  Something has to be done that satisfies the fans of both the lower ranked nations and the dominant ones.
Finally, the one last thing I wish CONCACAF try to address in the near future is punishing countries for poor fan conduct and punishing countries that intentionally alter stadium conditions in order to get an advantage over their opponents. As much as I love fans showing their passion for their countries, there has to be stiff penalties regarding fans throwing missiles at players on the pitch and at opposing fans in the stands. I am tired of watching players taking corner kicks under the protection of police officers with shields and also am tired of hearing fans complain about other fans throwing stuff at them. Sadly, there are always some idiots out there to ruin it for everybody but it cannot be ignored just because some fans are unruly. CONCACAF also has to make sure countries ensure that their venues are fit to host a game. So that means the fields should be flat and not be uneven with unkempt grass and the lights should be on and not dimmed for the night matches. That's where giving those other countries a chance to host the Gold Cup might make these changes happen. Turning a blind eye on those things reinforces the view that CONCACAF does not care and it will only get worse. So CONCAF has to be proactive and reactive.
Of course, this CONCACAF we are talking about so I am not going to expect any changes to occur. However, it sure would be nice if these issues are addressed by CONCACAF someday soon. Here's to wishful thinking.