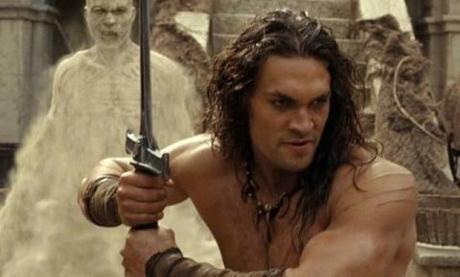 Jason Momoa as Conan the Barbarian.
Arnold Schwarzenegger's shoes are, undoubtedly, rather large ones to fill. But, perhaps rather hubristically, a remake of his 1982 classic Conan the Barbarian is released this week, starring Jason Momoa and Rose McGowan.
Conan the Barbarian (Jason Momoa) is on a mission to save the nation of Hyperboria and avenge his father's death. On the way he's got to battle an evil wizard and his daughter, and plenty of other beasties. Rose McGowan's in it. And, er, that's pretty much the plot, but they've also got to find the Mask of Acheron and rescue some nubile ladies. It's directed by Marcus Nispel, who has also remade The Texas Chainsaw Massacre and Friday 13th. Swords and sorcery succulence, or simply stupendously silly?
Conan the Cheesemeister. "In a land of chaos and ruin," said Xan Brooks in The Guardian,  "where limbs are lopped off and stumps spout blood, and memories have faded of the hoary Arnold Schwarzenegger films of old, the hour has come to wheel Robert E. Howard's barbarian action hero back out of retirement." The eponymous Barbarian is played by  "Baywatch graduate Jason Momoa" with "the air of a peeved, preening surfer who can't find the beach." Rose McGowan as the "witchy daughter" is "having fun." "There are brief moments of respite" from the swords and sorcery, "whether it be arm-wrestling his brawny buddy into chuckling submission or carousing with the sort of nubile slave girls who look as if they were abducted on their way to a swimwear photo-shoot." It's entirely in keeping with the original. But the film is "too relentlessly one note and too abidingly cheesy to stay the course."
Conan the cool? Not so, said Betsy Sharkey in the Los Angeles Times. Jason Momoa has "excellent rippling chisel." It's "brutal, bloody beyond belief, and has no socially redeeming value." But, it's "kind of a wicked blast to watch." There's a good cast who bring off the "troubled ancient world of warring tribes, vestal virgins, lethal swords and Machiavellian monsters." The fight scenes are "stunning." The film "is drenched in detail that feels both ancient and mythic as Conan dogs the evil Khalar from mountain enclaves, through dungeons, into torture chambers and across seas. The rise of the sand soldiers is especially cool."
Conan's mantra: "I live. I love. I slay … I am content."
Just don't watch it in 3D. Richard Corliss on Time agreed. It's "a gaudily ornamented medieval banquet table groaning with junk food and open entrails." Don't try to understand it, just enjoy it. On the evil side there's "Khalar Zym, leading an army of miscreants whose ragged gear and rude manners recall the bonkers bikers in Mad Max. Long in mourning over the early death of his wife, Zym is convinced that reconstructing the legendary Mask of Acheron will revive her and grant him immortal rule over Hyboria. Anyway, something like that; it's Raiders of the Lost Ark's old Ark of the Covenant shtick, employed without shame or innovation in dozens of fantasy films." The film is advertised as being in 3-D, "and it chucks an arsenal of spears the camera's way, but the glasses given to customers make the effects look murky. In fact, only some scenes are shown in 3-D (I'd guess about 20%), so you can watch most of the film without the specs and get a brighter view of the carnage."
Conan can't act? Nonsense, tutted Scott Bowles on USA Today. "The effects are too slick to be satisfying. Which leaves us with a desultory tale. Conan may slay foes, but he can't entertain to save his swarthy hide."
More reviews

One Day
The Help divides critics
Rise of the Planet of the Apes
Cowboys & Aliens
The Sense of an Ending
Wild Abandon