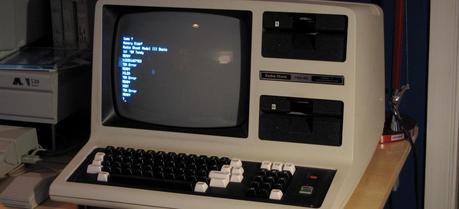 Scientists use computer modeling to accelerate the development of new fuel cell technology. On the photo: Tandy Corporation TRS-80 Model 4. (Credit: Flickr @ Blake Patterson https://www.flickr.com/photos/blakespot/)
Long-term tests are required to assess the durability of solid oxide fuel cells (SOFCs). Advanced computer models can speed up the development of new fuel cell technology.
Solid oxide fuel cells (SOFCs) can become cornerstones of the energy systems of the future because SOFC can be operated directly on both hydrogen and carbon-containing fuels, which make them attractive both in the short term (use of natural gas) and the long term (use of biogas and synthetic fuels produced using renewable energy, etc.). But the progress of SOFC research is held back by time-consuming test-methods.
An SOFC unit for power production has to have a lifetime of at least 10 years. Today, it requires 50.000 hours (approx. 5 years) to fully test the durability of the cells. However, the rapid progress in SOFC research means that the cells have gone through several generations of improvements by the time the tests are done, with the risk of obsolete results.
"It is important to do many tests, but we shouldn't test for just the sake of testing. In recent projects we have put great effort into improving the test set-ups and we have achieved very good reproducibility and improved cell lifetime. We now want to do more analysis of details by including computer modeling of the distribution of reactants and currents in the cells, and let this combined modeling and experimental approach guide further development of cells and new tests," explains researcher at DTU Energy Conversion, Christopher Graves.
DTU Energy Conversion has done research on SOFCs for more than 20 years. The challenge is not only to develop cells with high performance—they also have to be durable and robust. Field tests and lab results confirm that a crucial challenge is to attain highly stable device performance under real conditions over many thousands of hours. As device lifetime is a key factor in the cost of SOFC technology, DTU Energy Conversion and the Danish company Topsoe Fuel Cell A/S have joined forces in the project SOFC4RET which has two focuses: The use of advanced computer modeling to better understand and optimize cell performance and durability, and the use of new operating methods to try to improve lifetime and efficiency.
SOFC4RET will use accelerated lifetime testing (ALT) methods and advanced computer models to simulate the lifetime of SOFC cells and devices and how they will fit into the energy system. In this way the project will allow for new technological advances and critical corrections to be made before making the necessary real field testing, saving valuable time and resources in the process.
The advanced computer models of SOFC4RET will also be tasked to calculate the best ways of utilizing power from fluctuating power sources like wind turbines, as SOFCs are suitable to ramp the electrical power output up and down to match the fluctuations. Initial results from the research group show that the type of fluctuating operation needed for wind power balancing can actually be advantageous to the SOFC itself; in certain operating regimes, it may considerably lengthen the lifetime of SOFC in comparison with long-term steady-state operation. The SOFC4RET-group plans to further explore this beneficial effect.
"The goal of project SOFC4RET is to further improve the cost and lifetime of SOFCs to make the technology ready as a key player in the transition to renewable energy, and in doing so we need to see all the available data in a new perspective. What degradation is acceptable? And for how long time can a SOFC stack be run if we allow some of the parameters to be changed during operation?" says Christopher Graves.
SOFC4RET is funded by the Danish transmission system operator energinet.dk through its research program ForskEL. The project is expected to finish by the end of 2016.