I was thinking of doing a post comparing all the beauty boxes that you can get delivered to your door today.  There are so many different companies all promising revolutionary cosmetic and beauty products in their boxes, what's a girl to do?  Which ones are the best?  Then I realized that I am probably not the best person to advise you on this – with all my allergies I avoid half the products sent to me in the boxes I subscribe to and cannot therefore give you a fair comparison.
So, I found someone who could.
Happy Chinadoll is a Toronto based blogger who blogs over at Happy Chinadoll.  She is subscribed to and has subscribed to many of the boxes and has investigated the others more thoroughly than I can ever imagine to.  For that reason, I asked her to compare the boxes, in her experience, and to give you a little information about each one, so that if you choose to subscribe, you can make an educated choice regarding which box is best for you.  After all, we all have different beauty needs right?
******************************************************************
A new wave of businesses that deliver to your door
You may have heard of Birchbox and Gogo Girlfriend – amazing products that are only available to people in the U.S. Well, don't fret,because there are companies offering equally amazing products to Canadians, so we wont be left behind.
Let me introduce you the big 4 – Luxebox by Loosebutton, Glymm box, TopBox, Glossybox. They are Canadian companies offering their services exclusively to Canadians.
Each of these boxes offer 4 to 6 "deluxe" beauty samples each month. Sometimes, we might get lucky, and they throw in a full-sized product. Products of each box vary, as you will see both luxury brand and drug store brand items in each shipment.
However, you're almost always guaranteed to hit the jackpot with one of your favorite manufacturers. To name a few brands I have received in the past: Stila, OPI, Deborah Lippmann, Elizabeth Grant, Benefit, Aveeno, Avon, and Cake.
One thing you do have to keep in mind with these boxes is that each month can be hit or miss - there may be some items that you like and some that you may dislike. In a way, this makes the boxes great for gift giving; the items that don't float my boat end up going to my mom or sister in law. I have even heard of some people giving their unwanted samples to women's shelters. Regardless, the things you receive every month will see their fair share of use – by you or someone you know.
Luxebox by Loosebutton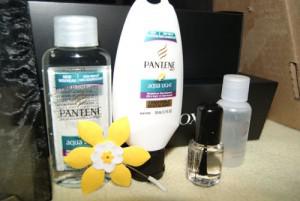 Luxebox (April 2012)
Luxebox is the oldest and most experienced of the four companies. They deliver at the end of each month, and are known to give out the most perfume samples. However, you can request to receive no perfume if you have allergies.
They have been known to give you duplicate samples on occasion, which I have been a victim of, but I didn't mind the duplicate since I did like the product in question. However, one customer received the same product three times in a row. In addition, I have seen new members receive old products that have been given out in previous months. In terms of customer service, let's hope you don't need them, because they hardly respond in a timely fashion. So, why I am still a customer you may ask? It's is because I believe they still offer great products and so far I'm relatively happy with my boxes.
Glymm Box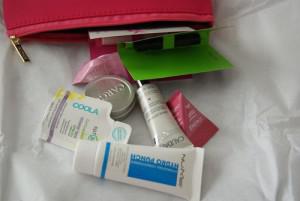 Glymm box (May 2012)
Glymm Box launched a few months after the Luxe box. In the beginning, they offered these cute little jars of jellybeans (Jelly Belly) that everyone enjoyed, but unfortunately they discontinued it. After they did, the quality of the boxes as well as their customer service started to decline. They re-branded this May, and launched their new bag to replace their pink box. Hopefully, the quality of their boxes will improve. One benefit of Glymm; If you like the products you received, they run an online store where you can purchase the full-sized versions.
TopBox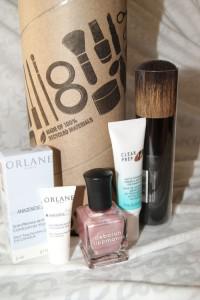 Top Box (May 2012)
Being one of the most popular boxes on the market, it seems as though everyone wants a TopBox, especially considering the long, long, long waiting list. I have heard of people waiting for at least six months for their first box. Almost every month, they have provided a full size product, and they have even introduced me to companies I have never heard of before, like Pari Beauty and Lilly Philly. TopBox products come in a recyclable tube, and I have no idea what to do with them except for throwing them the blue bin. I have always been pleased with the size and quality of the products each month. Service quality is first rate - This is the only box you will regularly receive on time, and their customer service is top notch. If you have any issues such as a defective product or Canada Post hold-ups, they will always assist you very quickly.
Glossybox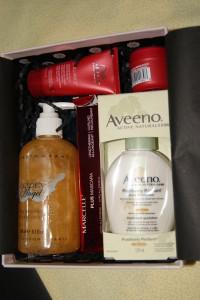 Glossybox (April 2012)
Glossybox is the newest box on the block, and happens to be the most expensive. They have only launched three boxes to date, and I am excited to see what will be in my next box. While their first box was a bit disappointing, the last two have impressed me quite a bit, especially with some of the full-sized samples in each shipment. However,from a customer service perspective, I have found that their communication skills need to improve.
Next, let me introduce to you Beauty Box 5 and Julep. These are unique boxes, as they are available to Canadians from the U.S. They utilize the U.S. Postal Service, so once they reach across the border, you can't trace your package.
Beauty Box 5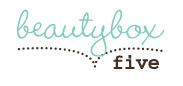 Just as the name implies, Beauty Box 5 offers 5 samples in each box, but they have not impressed me enough as of yet to persuade me to subscribe. Their box offered a lot of packaged size samples which I don't wish to see. Until they improve their sample size, it is not worth the money.
Julep

Julep only offers nail products (nail polish, hand cream & polishes, and nail tools) and only Julep-branded products. I am not a subscriber because I found them pricey for just nail products, and the samples they do provide are about half the size of regular ones.However, you can skip a month, and can even choose which box you want to purchase each month. Once in a while, they offer a mystery box where you pay U$19.99 and can receive a box valued anywhere between $60-$200. Unfortunately, sometimes you might receive the same products you already have from before, or ones you might not like. (
Note from BB – for coole new nail ideas, check out the fun Julep blog!
)
I am a subscriber to the big 4 Canadian companies. I could never un-subscribe to any of them because I will never know what I miss out next month. They have me hooked, and to be honest, I don't mind at all. If I had to rank them, I would place TopBox at the top (no pun intended), then Glossybox, Luxebox, and then Glymm box.
website
Price/box
HQ
April box value
TopBox http://www.topbox.ca/ C$    10.00 Toronto $25+
Glossy Box http://www.glossybox.ca/ C$    15.00 Toronto $59+
Luxe Box http://loosebutton.com/ C$    12.00 Toronto $35+
Glymm Box http://www.glymm.com/ C$    12.00 Montreal $30+
Beauty Box 5 http://www.beautybox5.com/ U$    12.00 Seattle, WA n/a
Julep http://www.julep.com/ U$    19.99 Greenville, TX n/a