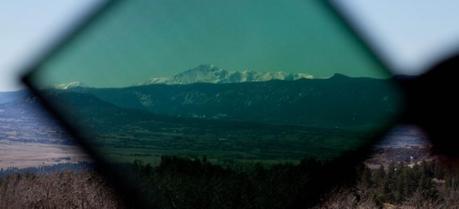 Rocky Mountains seen through the New Energy Technologies' electricity-generating SolarWindow. (Credit: New Energy Technologies)
New Energy Technologies, Inc., developer of see-through SolarWindow coatings capable of generating electricity on glass and flexible plastics, today released first-ever power modeling estimates of its SolarWindow prototype modules.
According to the company's press-release, engineers estimate that SolarWindow modules could conservatively produce at least ten times the electrical energy of conventional rooftop photovoltaic (PV) systems, and in some instances, exceed power performance by as much as 50-fold.
SEE ALSO: Chinese Researchers Create Transparent Solar Panels for Windows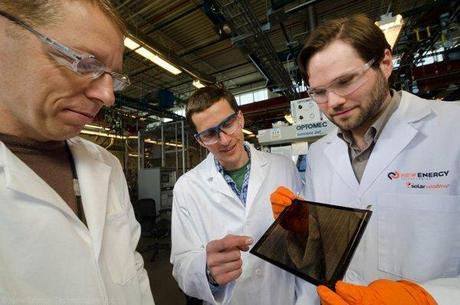 Dr. Scott Hammond (right) and NREL researchers examining a grey-brown tinted SolarWindow module. (Credit: New Energy Technologies)
Here's what the company says on its website:
Recently, New Energy's largest, high-performance SolarWindow module set a new "certified" record for generating electricity while remaining see-through; SolarWindow high-performance prototype produced over 50 percent greater power than prior attempts publicized by others of comparable organic photovoltaic (OPV) prototype device architecture, size and design.

Using the independently tested and certified power production data for its SolarWindow modules from the U.S. Department of Energy's National Renewable Energy Laboratory (NREL), Company engineers have since developed a model for estimating the amount of electrical energy and environmental benefits SolarWindow prototype modules may provide.

In every instance where New Energy's high-performance prototype SolarWindow modules have been modeled for performance against today's typical rooftop solar PV module systems, the modeling estimates show significantly greater generation of electrical energy and multiple-fold environmental benefits.
"High power output and meaningful environmental benefits are among the most important drivers for our potential commercial customers, strategic partners, and end consumers", explained Mr. John Conklin, President and CEO of New Energy Technologies, Inc. "We now have a model that estimates SolarWindow module performance in these key areas, and compares these estimates to today's conventional rooftop solar PV module systems."
"Importantly, we've long believed in the electrical power production and environmental benefits of applying our see-through SolarWindow coatings to the many acres of glass windows on all four sides of commercial tall towers and skyscrapers, rather than relying on limited rooftop space available for today's conventional solar PV rack-mounted systems. Our decision to pursue vast glass surfaces on buildings to create environmentally friendly energy producing power plants shows its benefits in our latest modeled estimates."
The estimates was modeled using the company's Proprietary Power Production Model.