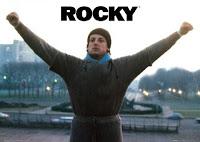 INTERVIEWER: Rocky you are relatively unknown, a southpaw fighter from the harsh streets of Philadelphia, scraping a living in the lower reaches of boxing. What makes you think you have a chance at toppling the champ?
ROCKY:  Don't really know, got this chance, need to take it. Guess he's gonna be complacent and underestimate me I guess. Gotta go and run up some steps see ya!
Rocky was more than boxing, more of a life saga that is really a credit to Sylvester Stallone; uplifting, inspirational and down to earth at the same time. The films covered several social themes; poverty, family and community. Rocky wore his heart on his sleeve, never forgetting his roots. He was committed to the community he lived in.
In this post we are going to look at 10 ways our community, its resources and have helped us. A follow up post will cover ways in how we can contribute ourselves, especially in early retirement with all that free time!
"Well I'd like to get a couple of hats and maybe a statue for the church and some of those Muppets for the kid, you know, Kermit and Miss Piggy and a Snowcone machine for Paulie, you like Snowcones don't you?"-Rocky
Rocky is in a different class in the ring. MUFF would be in big trouble. Nevertheless can MUFF in Early Retirement engage with the community in the way that Rocky did?
Community

Spirit
Since MUFF has stopped working, the people and resources in our local community are more important than ever. MUFF has met so many generous people who give up their valuable time to make local play groups, farmers markets and Sunday schools happen. Local government maintains the parks and libraries our little tribe enjoy on a day to day basis. Our Local resident group help improve our environment (such as new trees for the streets and organising events for the children in our local park). They petition for improvements to parking, access, parks and libraries. These are all massive resources that we are very grateful for.
Our area would be poorer culturally and the community would not be so vibrant if it were not for the efforts of these individuals.
New Friends
When MUFF was working he had a long commute to and from work, had to rush to go home just in time to pick up the kids from childcare then get them to bed leaving little time for anything else. Our tribe hardly knew our neighbors and did not find the time to properly engage with most people around us beyond the polite hellos and goodbyes. Our evenings were primarily filled with watching films, reading books, exercising, internet then bed. At weekends we recovered and sometimes a play date with one of our eldest child's friends.We used our community resources only fleetingly at weekends such as a visit to the park and library.
Stay in school and use your brain. Be a doctor, be a lawyer, carry a leather briefcase. Forget about sports as a profession. Sports make ya grunt and smell. See, be a thinker, not a stinker. - Apollo Creed
 
With the birth of our second child Mrs MUFF was able to take some maternity leave followed by MUFF taking the reigns when Mrs MUFF went back to work, with his paternity leave and now full time commitment to raising the kids. During this time we have both been very fortunate to meet new friends. Especially when we needed them most.
After starting to look after the children full time MUFF has met many people in the community who have welcomed him with open arms. MUFF would like to consider them all friends. They are from all walks of life, have very different backgrounds and challenges to overcome. They are very different to the people from working in a corporate environment where most people put on a very "professional" persona. Now MUFF meets musicians, teachers, fashion forecasters, editors and publishers, carers, builders, retirees, professional doing an MBA....from what MUFF sees they all care deeply about their community and so do we. 
Time to have a look at
10 areas of help and resources

from our wonderful

local community.

Please

read on:
10 Community HELP and resources!
We are meeting really different and very friendly people to us; international backgrounds, different religions, different social or professional backgrounds, different political backgrounds, talented, ambitious, caring, elderly, rich or poor you name it they are all here in London. All of that knowledge, wisdom and different outlooks on life right here on our doorstep.
We discuss sport, the weather (very British), education, child care, park amenities, politics, lifestyles, dreams and goals - absolutely great! The work environment interactions were so rigid and "cautious" compared to the delightful conversation had with our new friend on such different topics. Now that Mrs MUFF is back at work, this is the number one thing she complains about work, that everyone is so careful about saying the right thing that no-one talks about anything but the weather. Try talking about this blog's main theme early retirement in a work environment - a sure fire way to curtail a career I think!
A small group of local friends has quickly grown to the point it is sometimes challenging to find the time to see and visit them all! Here are some of the stuff we have talked about and learnt:
 

Found out about new activities (city farms, swimming pools etc.)
 
New outlook on different cultures and a desire to visit their home countries. The kids get to play different games together.
 
Education: schools, values, books, activities and outlook on life.

We can and have relied on our friends for help, look after each other if someone is not well or to look after children and pets.
 

Library
 

Previously it was easy to go on the web and buy loads of book. They were read once then spent a lonely existence on our bookcase enriching no one. Now MUFF goes to the library and borrows fantastic books for free. After reading them, instead of filling up the house they are returned to enrich the life of others in the community. The variety of books in the library is also astounding for both the adults and the children. Ours enjoy sitting there for an hour or so every couple of days flicking through a few books and choosing the ones they want to take home to read before bed.
 
Film rental - now that we have kids, a night at the cinema is a real luxury again as not only you pay for the tickets but also for childcare. To avoid cluttering the house we prefer to rent DVDs from the library and enjoy them at home over a cup of hot chocolate.
 

Parks offer hours of entertainment from picnics, climbing trees or kicking a ball around. You get fresh air, exercise and hopefully tired kids who are sleeping well in the evenings.
 
Museums (Major London museums are free) - another great cheap / free learning and entertainment resource for adults and kids alike.
 
Children Play Groups
 

Play groups for the kids are run by local churches, mothers, dads, retirees, all volunteers and local government in our area. We are very fortunate there are so many available to keep the kids entertained and learning through interaction with other children.
 
I still get a few looks at some of the groups where I am the only male carer but it is all good and inquisitive. They are genuinely interested to see a dad looking after the kids and are really pleased to see a father taking responsibility for his children. Some of my female ex-work colleagues said I was setting a trail blaze in the workplace after quitting to raise the kids - so kind of them to say so.
There are even dad's support and play groups each week. Several dad's arrange these as well as extra curricular activities on a regular basis (zoo, museum, pub:)  MUFF has met some  great new friends there and is inspired by their commitment and love for their children.
For all those dads out there MUFF is having a great time - if you get the chance to take some parental leave - go for it. My best advice is don't stay at home with your kids, go to the local library and join as many free or cheap playgroups as you can. You will soon meet lovely like minded people and you do not need to spend a fortune on cookery crafts art classes at £15 per child per hour! You only get one chance to spend that precious time with the young ones as they grow up so fast!
 
Other paid activities which can get a little bit expensive are: piano, drama, ballet, painting, languages classes to name a few.
 

Other Entertainment - film screenings in our library, carnivals, open days at the fire station, firework shows, occasional street parties. Locally there are dog contests, kite festivals, bike riding clubs, loads of entertaining free activities. Plenty of entertainment for free instead of exhausting  trips to a theme park, show or sporting event.


HELP! - Neighbors are great to have. "Quick! Please , would you look after the kids for 5 minutes while I deal with something urgent?" "Do you have a spare 1/2 inch spanner?" "Do you want a toddler bicycle - our kids are grown?"
 
Charity Shops
 

Great for decluttering all of the stuff you no longer use. The charity can use the money to support their cause and the items get recycled in the local community.
 
A wonderful source of cheap resources such as clothes, tools etc.
 

Churches
 

Support when you need it even if it is just someone to listen
 
Activity groups - our local church runs a free gym
 
Sunday schools providing part of a balanced education (The Sunday school is run by the parents of the children.)
 
A way to engage in volunteering and charitable work (food banks, donations, and even shelter)
 
A spiritual perspective on life (for early retirement it helps put a perspective on what is really important in life, family, friends, community, charity etc.)
 

Schools -  Our local primary and nursery school (3-11 yrs) is a FREE state-funded school. Our school is involved with several charities arranging collections of food toys and clothes for good causes and local charities, and fundraising events for them.
Our communities are an amazing resource right on our doorstep. For an early retiree* this is a blessing that will help forge new friendships, entertain the kids and learn exciting new skills. Have a look at what is going on in your community today. In part 2 we will look at our own ways of contributing to the community and learn some of those new skills. See you next time!
MUFF
The
PERL- P
lanning for
E
arly
R
etirement and
L
ife spreadsheet is taking shape nicely. Some key aspects are being worked on in the Life planning part of the spreadsheet, its structure and its content. A library of useful links is being added. Finally it will need to be SIMPLE so a good look at what is really needed and what can go needs to be done.
*
Just a quick footnote for an Early Retiree here are some

estimated yearly costs for some paid activities:

if you like buying books (£300), going to the cinema (£672), participating in expensive play group activities (piano lesson 1K), follow you football team (3K - just dad goes), go to theme parks (£300) and pay for private education (9K) you can easily spend ~ £14K equivalent to income of £1,400 per year or £116 per month!!! (

multiply values

by 1.6

to give an estimated value in dollars)
Welcome New MUFF Readers!
Take a look around.
Start at the first article
, browse the
all posts
or just go for a
Random Post
. Please feel free to play with the FREE planning tools and checklists.
Keep in Touch:
  RSS Feed, follow MUFF on
Twitter
or
subscribe to posts by email: