"Some people think football is a matter of life and death. I assure you, it's much more serious than that."
Many people consider Bill Shankly to be one of the greatest football managers of all time.  However, it's hard to imagine how he would fare today where fans across the world not only expect results but entertainment.  The Premier League's global audience of millions do not want to see "games for the purist".  They want to see goals, controversy and manager's losing the plot as decisions go against them. Football at the highest level in this country no longer more important than life and death – it's about tweets, likes, posts, pins and above all viewing figures.
Many Premier League clubs will make as much in incremental revenue this season under the new TV deal and their new commercial deals as they generate through ticket sales (see our analysis here) – in other words they could play games in empty stadiums and still make more money than they did last season.  My last visit to watch a Premier League game live was over two years ago – I don't miss it or the attempts by clubs to extract every single penny out of fans who do attend games.  Average yield per head is now as an important metric for clubs as how many points they have (as points make prize money of course).  Whilst generational supporting of one club can still be found the need to support the "winning" side means children in the playground will switch allegiances at the drop of a hat.
It used to be a special treat to be taken to football when I was younger.  I knew (Leyton) Orient fans, Ipswich Town fans, Gillingham fans and even Barnet fans.  Hardly glamorous clubs, certainly not successful clubs (bar the Robson years at Portman Road) but they were fans because their Dad's were, and their Grandad's before them in many cases. I still know them today but thanks to the influence of the modern game, their kids are Chelsea, Manchester United and Arsenal fans who turn their nose up at a trip to Brisbane Road, Portman Road or Priestfield (don't get me started on Barnet and The Hive).  Live football on TV was reserved for cup finals and internationals, whilst our weekly highlights packages were fairly equitable in terms of who was covered.  Today we have live games on every day of the week. For those clubs who still below the professional game every penny makes the difference between life and death of their club.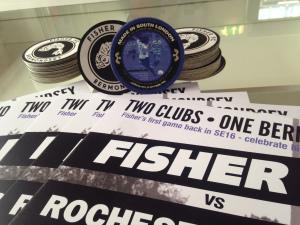 Located in the shadows of one of the world's most important and prosperous financial districts, Fisher Football Club tick all those boxes.  Like many clubs who play in the Non-League pyramid they've been to the brink of life, only in Fisher's case they actually experienced death when the entity known as Fisher Athletic was wound up in May 2009, having finished bottom of Conference South. Fans not only lost their club but also their ground as the Surrey Docks Stadium was padlocked shut.
The club reformed as Fisher FC, a supporter-owned and run football club in the Kent League for the 2009/10 season, playing their home games 5 miles away at Champion Hill, home of Dulwich Hamlet.  They never lost sight of their aim to return to Bermondsey though and whilst progress on the pitch was hard going, the blood, sweat and tears shed off it finally ensured that they finally got their wish last summer when the redevelopment of the St Paul's Stadium was complete, no more than a few hundred yards away from the site of the old Surrey Docks Stadium (now smart flats which a Premier League player may even struggle to afford in a week's salary).
The fall of the original club had been at the pursuit of the dream of becoming London's newest Football League club, ignoring the fact that they sat just two miles from The Den and Millwall FC.  Building a fan based is significantly harder than losing it and whilst when times were good Lions fans would come and watch when the team were on the road, attendances struggled to break the high hundreds.  It's an all too familiar story to Lewes fans, and one told superbly by David Baukham on his visit earlier in the season.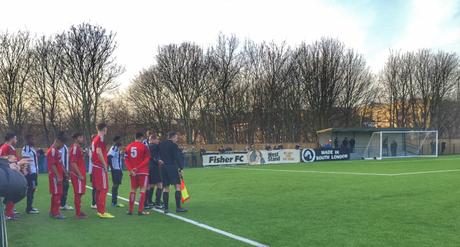 With Millwall hosting Swindon on Boxing Day, Fisher took the decision to move their kick off to Bank Holiday Tuesday, hoping to maximise on Turkey-weary, sales-averse local fans as well as a smattering of groundhoppers who had the opportunity to visit the new ground.  Whilst times may be tough on the field, propping up a league that is now more competitive than ever and featuring teams with bigger playing budgets and average attendances than many teams in the Ryman Leagues above, the club have been busy re-engaging with a new generation and influx of local residents into Bermondsey.  The area around the stadium is still prime development land, sitting in the shadow of Canary Wharf and whilst the demographics of those who live next door may be more akin to Stamford Bridge or The Emirates, the club's community programme is trying to spread the message that wearing the black and white of Fisher in the playground is as acceptable as those worn by the Premier League obsessives.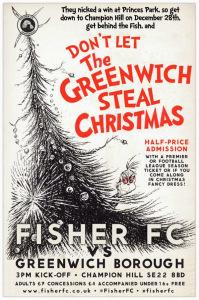 Day four of my Christmas break and I'd yet to get to a game.  Having admired the work of the club for many years (their Christmas poster for their game a few seasons ago against Greenwich Borough was legendary), hearing they would be stocking Fourpure Beer and the prospect of getting a view of the office from a different angle made my mind up that I'd be heading to SE16 for my penultimate game of 2016.
Fisher 2 Beckenham Town 0 – St Paul's Stadium – Tuesday 27th December 2016
There's few better sights for those who work tirelessly behind the scenes in Non-League football than queues.  Queues at the turnstiles, queues at the bar, queues to buy half-time raffle tickets.  The crowds had flocked to St Paul's Stadium for this game that pitted bottom v second to bottom of the Southern Counties East Football League.  Prior to today's game, the biggest attendance since returning home in the summer was 189 for the opening league encounter with Corinthian.  With ten minutes until kick off it was clear that number would be broken for this game.
Despite their lowly position, improvements had been made since Gary Abbott had been sacked in November, replaced by former boss Dean Harrison.  A draw in their previous game against AFC Croydon Athletic had halted a run of nine successive league defeats.  Whilst there had been some departures, talisman Trey Williams was available through his dual registration agreement with Welling United.  Harrison had brought in some strength into the spine of the team including Montserrat keeper Nic Taylor.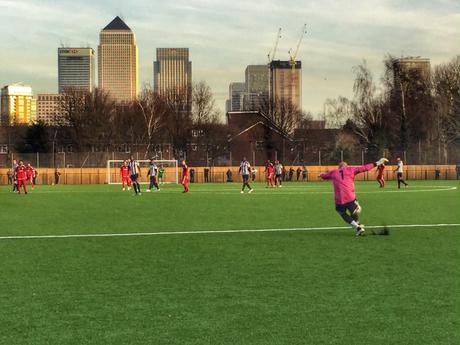 The home side certainly put aside any concerns about recent form and dominated the opening period with chances going begging.  With 15 minutes played, Fisher took the lead after Beckenham keeper Adam Highsted dropped Adeshina's cross and John Ufuah tapped home.  Five minutes later a smart Fisher move almost saw Williams double the lead but the Beckenham keeper saved well.
On the half hour Taylor pulled off an outstanding save from a sliced clearance from his own defender to keep the score at 1-0 whilst at the other end Williams, Ufuah and Bugden all had chances to double Fisher's lead.  Half-time and advantage Fisher.  Time for a beer.
The second half followed a similar pattern.  With the lights of Canary Wharf illuminating the skyline like a huge Christmas tree, Fisher went in search of a second and almost found it when substitute McKenzie hit his shot straight at the keeper.  In the 74th minute Beckenham's Humphris is ruled offside when he turned in from close range but it's their last real chance as the home side wrap up the points thanks to Agyemang's header via the crossbar with five minutes remaining.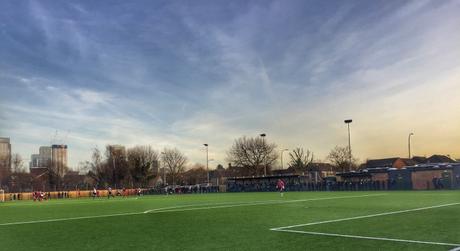 The win narrows the gap to just one point with the visitors although there's still plenty of work to do before safety can be considered to be within their grasp.  The defeat for the visitors was their eleventh in a row in all competitions, a run they need to bring to an end swiftly before it's too late. Whilst the three points were valuable to Fisher, even more so was the crowd and the happy faces of those leaving the ground at full-time, having played their part in a community-inspired dream that hopefully shows no sign of fading yet.