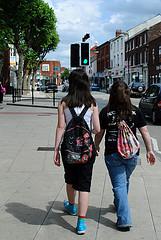 Teenagers in town (Photo credit: Nik_Doof)
Young people who undergoes travel to a new culture in a new place often finds greater adjustments compared to adults. What's even more difficult is on the child's part when he or she is really too young to embrace such changes. Although they're not really that old enough to comprehend everything, kids as early as three years old are already conscious when they're being transferred from their native culture to a new one.
That's why children are sent to a language school to help them adjust with the new things around him. The most common cultural aspect that is really disturbing is honestly the language, and believe me; it is not easy to adjust.
Just as Luis Alberto Acosta encountered when he chose to break language barriers, according to news recently posted. This 16-year old boy from the Dominican Republic, moved to America four months ago with his family in search of a better life. Like I said, he had various adjustments, and it really was a very challenging part for him.
"At the beginning, I was upset because I couldn't understand," Acosta said through translator Diana Rodriguez, an English learner's aide for Lee County Schools. "A lot of the girls would tell me 'you're handsome and I didn't know what to respond to it."
Good thing this boy is optimistic despite various obstacles, but to those who has a younger age than he does, or a person who has limited idea about the English language, adjustments to these are a gradual torture. Worse, they will even encounter cultural discrimination resulting to inferiority complex and lack of self-confidence.
Nonetheless, as we have been posting for the past articles in this blog, various true-to-life experiences were detailed as youngsters stood from their fear, modifications, and inferiorities and stepped out to become skillful to the new language they are into.
It has never been easy to break language barriers; but with the help from our family and with the education foreign language schools contain, these adjustments will not become as difficult as it seem it could be.