Friday 6th September 2013 will be a day that will long be remembered.  In years to come you can tell your grandchildren about the day and what part you played in making history.  Because, ladies and gentlemen, that is the day that those good chaps at Ockley Books will publish The Football Tourist, my long-awaited follow-up to Passport to Football (well, I have been waiting a long time anyway).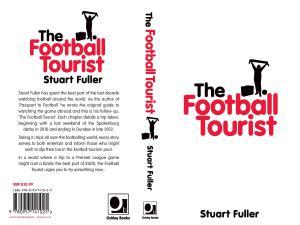 Two years worth of travels around Europe (and let's not forget our cousins in the United States of America) condensed into 20 chapters of disaster, strange and mysterious characters and the odd football match.  From Arbroath to Zagreb, this really is an A to Z of how not to spend your precious weekends and some of the people to avoid being stuck with in a train compartment with at 3am in Serbia.  It even includes a "not a dry eye in the house" forward written by a professional footballer.  Real tug at your heartstrings stuff.
At what price, I hear you say?  Well, just £10.99 which for all you Premier League fans is the equivalent of 19 minutes of being told to sit down, shut up and eat your Gunnersaurus burger.  And get this, we (well, Ockley) are producing a version you can read on a computer no less! An E-Book or something.  That's the future, so I am told.
You can pre-order it already if you want from Amazon, or wait a couple of weeks and then all order it at 9am on Friday 6th September and send it to the top of the best seller list.
Want a sample?  Well,here you go:-
"The game finally kicked off at a quarter past two. At 2.15pm and 7.9 seconds the Isle of Man were 1-0 down. Peter Öhman took the ball, one-step, two-step and then to use a technical term, wellied it in. Now I am not sure if this technically counts as International football, as these were islands rather than countries, but if it did it would have broken the 8.3 seconds of Davide Gaultieri for San Marino versus England, or the 11 seconds of Hakan Sukur from the 2002 World Cup Finals against South Korea. Coincidently, and this is a massive coincidence that will have conspiracy theorists pondering this long into the night, Cowes Sports had previously been involved in one of the fastest ever goals. In April 2004 one of their reserve players, Marc Burrows, scored after 2 SECONDS in a game versus Eastleigh.
Gotland had dominated the opening 8 seconds and so the goal wasn't a surprise although a few of the Isle of Man supporters had missed it climbing the four steps in to the main stand. However, the Isle of Man bounced back and within a minute they had equalised as a ball over the top found Ciaran McNulty and he slotted the ball over the advancing Gotland keeper. Sixty nine seconds into the tournament and already it had beaten all expectations.
Despite the heat the pace of the game was relentless with the Gotland keeper earning his Dime (Dime's are by far and away the biggest chocolate in Sweden along with Plopp) time and time again, getting every lucky break and deflection along the way. His goal was leading a charmed life. Unfortunately at the other end it was a different story. On a rare foray into the Isle of Man half, Gotland's blonde central midfielder (they were all blonde so it could have been any one of four) lined up a shot that took a wicked deflection past the already committed Manx keeper. Football sometimes isn't just, and the Isle of Man went in at half time somehow 2-1 behind."