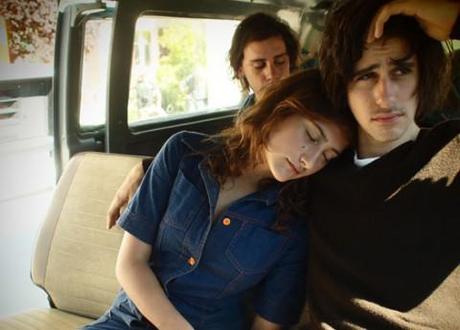 Venice favorite Something in the Air. Photo Credit: Palace Films
The Master: Wherever you look in Paul Thomas Anderson's latest, The Master, there's a contender for a Best Actor Oscar. The film weaves the tale of an alcoholic and disillusioned marine in post-war America, who falls into the psychological clutches of an enigmatic cult leader, admirably played by Philip Seymour Hoffman. Joaquin Phoenix looks set to lead the race with his "career defining" performance, according to The Hollywood Reporter. This is Anderson's sixth feature, following his Oscar-crowned There Will Be Blood; it has already generated major awards buzz and was an instant hit when it premiered at Venice this year.
The Impossible: Despite cries of 'too soon', J.A Bayona's depiction of a real family's experience in the wake of the 2004 Indian Ocean tsunami, has already received high praise after its Toronto premiere. The lead performances, by Naomi Watts, Ewan McGregor and young newcomer Tom Harding in particular, have garnered a positive critical response and, if nothing else, the film may be in contention for Best Special Effects, with Variety calling it "a tremendous feat of physical filmmaking."
Argo: Ben Affleck's third directorial feature, in which he also stars, depicts the true story of the CIA's retrieval of six Americans from revolutionary Iran by posing as a fake Canadian film crew making a sci-fi film 'Argo.' Seriously; you couldn't make these things up.  Expect a heady mix of topical Arab Spring comment and on-the-mark Hollywood satire; all tied together by an "Oscar friendly" script by Chris Terrio, according to The Telegraph.
Holy Motors: The film was a huge hit at Cannes this year and was a strong, although ultimately unsuccessful, contender for the Palme D'Or. Leos Carax's oddball odyssey through Paris was described by The Guardian as "wayward, kaleidoscopic, black comic and bizarre; there is in it a batsqueak of genius, dishevelment and derangement; it is captivating and compelling." Worth seeing if only for a surprisingly good turn from Kylie Minogue. Yes, that Kylie.
The Place Beyond the Pines: Derek Cianfrance's first film since his debut Blue Valentine also stars Ryan Gosling-this time joined by an A List roster of Eva Mendes, Bradley Cooper and Ray Liotta. The story of fathers, sons and bank jobs was a revelation according to The Telegraph's Tim Robey, who declared: "Nothing at the Toronto film festival has such swaggering visual allure as The Place beyond the Pines."
Something in the Air: Olivier Assayus's follow up to the critically acclaimed Cold Water, returns to Paris in the early 1970s and delves into the countercultural atmosphere post the student outbursts of 68. It promises to be an art house favorite and was a hit at Venice. The Hollywood Reporter called it "exquisite" and announced that "This is a beautifully crafted work and an acute evocation of its period both in look and attitude, and it's no less deeply absorbing for being somewhat muted in tone."
On the Road: Walter Salles' The Motorcycle Diaries was nominated for a Best Adapted Screenplay Oscar, a fate which his adaptation of Jack Kerouac's cult classic On the Road is sure to share. The Independent calls it a "lyrical and literal adaptation" that "cannot be faulted for its faithfulness to the novel." And if audiences can get past the K-Stew/R-Patz feud long enough to pay attention, there is a stunning turn from Kristen Stewart: "The scenes with her are electric."
More in film

Compliance: Is it the most disturbing film ever?
Dredd 3D, a deliciously dark Dredd adaptation
True stories, literary adaptations, and dognapping at the Toronto Film Festival