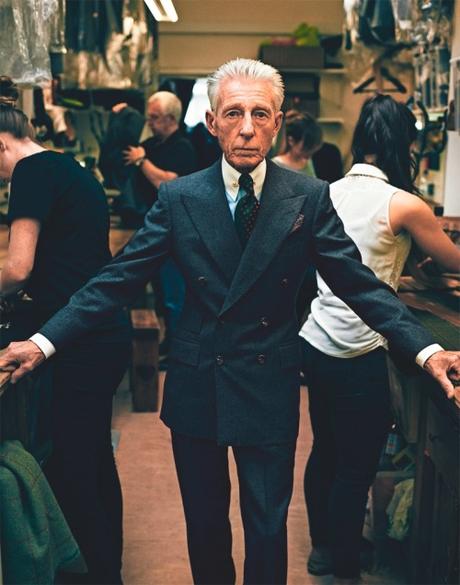 If you're in or around San Francisco, there are some special events coming in the next month or two. Even with this region's famously casual business culture, many of the world's best tailors and shoemakers find clients here. Edwin DeBoise of Steed, who will be in San Francisco this Sunday, tells me this city is now his second largest in terms of orders (behind New York City, naturally). 
There are three new tailoring operations coming to California – some of the first time ever. If you're a fan of classic tailoring, and live in the area, you may be interested. Note, I don't get anything for promoting bespoke tailors or shoemakers, neither fees, free clothing, or discounts. I'm just excited to see more makers come through this part of the world and hope their businesses thrive. Some notable coming events:
Edward Sexton: February 11th - 12th (then Los Angeles)

Everyone loves a natural shoulder line these days – whether that's through the American Ivy look or soft Neapolitan tailoring. I admittedly wear soft-shouldered coats myself, but every time I see a photo of Edward Sexton, I wonder if I shouldn't reconsider.
Sexton, as many know, was the technical genius behind Nutters of Savile Row –the legendary tailoring shop that he and Tommy Nutter started in 1969. Together, they combined high-fashion with the highest standards of bespoke tailoring. During their heydays, Nutters' clients included Beatles members John, Paul, and Ringo (as well as their wives); Mick and Bianca Jagger; Twiggy; Diana Ross; and Elton John. You can actually see their work on the album cover of Abbey Road (on the three members wearing tailored jackets anyway).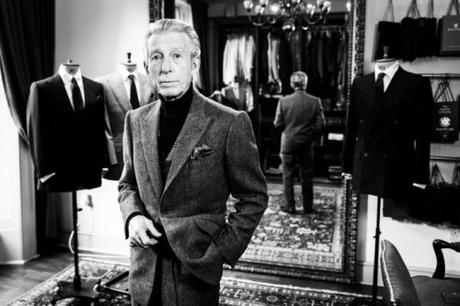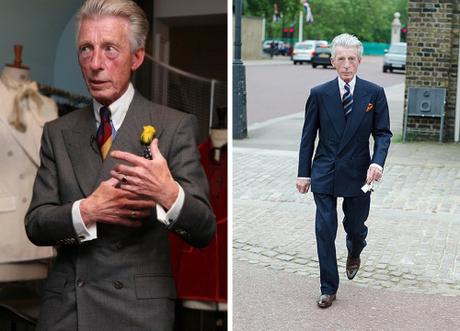 Elements of Nutter's style can be seen in Sexton's current work. Rather than the short and slim suit jackets that are trending these days, Sexton's jackets are long and full. The chest is powerful and expressive, waist sharply nipped, and skirt flared to angle over the hips. And instead of soft, natural shoulders, Sexton's are unapologetically padded. Together with the firmly roped sleeveheads and sweeping lapels, these details give his jackets a sense of 1930s glamour. (Clients, of course, can add or subtract from the effect, as everything is custom made). 

I've always admired Sexton's tailoring – the Art Deco-esque lines and the confidence to do something different. So it's exciting to see that the legendary tailor will be making his first stop in San Francisco in a long time. This is just one of a series, and they'll be back every three or four months for the next year. If there's enough business here, they'll continue visiting. 
Sexton actually has two offerings. There's the Knightsbridge bespoke, then something they call their "offshore bespoke," which costs about half the price. The first is your standard bespoke service, which comes with two or three fittings. The second has just one fitting, but the pattern is custom cut and adjusted off a block pattern. The make is also done at Sexton's offshore workshop in mainland China, which keeps costs down. And in order to ensure a good fit – as well as give the client a sense of the styling – they have a range of model suits, which they use to initially fit the customer. 
For some reviews of Sexton's work, you can visit Permanent Style. I've always liked this gray double-breasted on Simon. You can contact Edward Sexton for more information, including pricing.
Trunk Show Details
Dates: San Francisco on February 11th and 12th, then in Los Angeles from February 14th to 16th

Locations: The Scarlet Huntington in San Francisco; The W Hotel in Los Angeles

Contact: Edward Sexton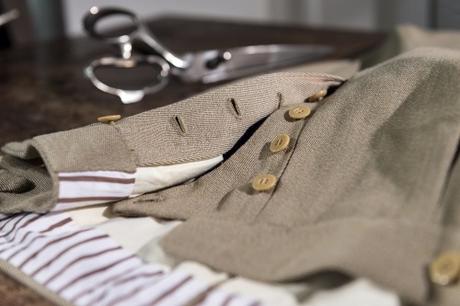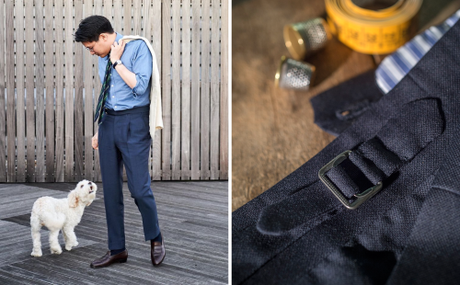 Pommella Napoli: February 18th - 20th
This second event is on the opposite side of the style spectrum. Pommella is a small Neapolitan tailoring house specializing in just trousers – which may, on first blush, seem unremarkable until you realize how difficult it is to get custom-made Italian trousers outside of Italy. 
The principal behind the company is Gianluca Migliarotti, the talented director behind the film O'Mast. Together with Lino Pommella, the company's namesake and cutter, they offer bespoke trousers through trunk shows. The trousers are almost entirely handmade, with handsewn buttonholes and bar tacks, as well as hand-attached waistbands. The long seams running up and down the legs are machine sewn for durability. 
More than handsewing, however, I find Pommella's selling point is the cut. The trousers are a little slimmer than what you'd typically get from an English tailor, but not so slim as to look unflattering. Before starting his own firm, Lino Pommella was the head trouser cutter at Rubinacci, and I've seen his Rubi-labeled trousers on friends. The trousers keep a strong, straight line going from the seat to the hem – something I find is hard to achieve off-the-rack, and sometimes even bespoke. You can see Mark Cho of The Armoury wearing a pair of Pommella trousers above (Pommella is also offered at The Armoury's stores in New York City and Hong Kong ). Additionally, Simon has a review of his Pommella trousers at his site.
Again, you can contact Pommella for more information, including pricing. 
Trunk Show Details
Dates: February 18th to the 20th

Locations: The Scarlet Huntington 

Contact: Pommella Napoli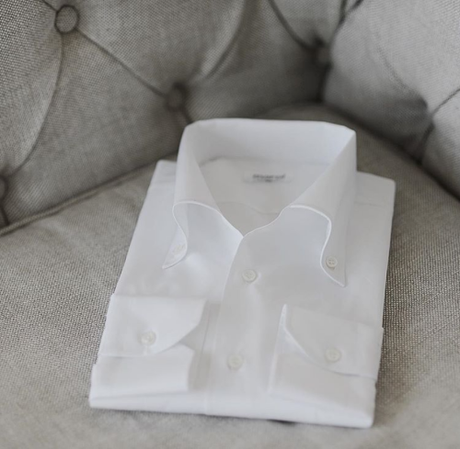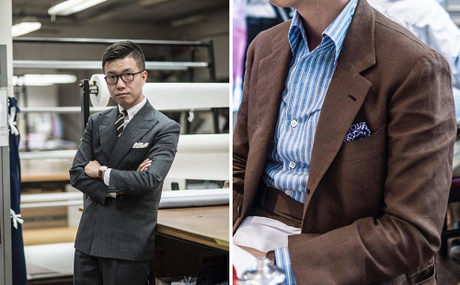 Marol: Early March, TBD

Finally, there's Marol. They're a high-end Italian shirtmaker who, for much of their history, got their business from private label manufacturing. Like other factories, however, they've developed an in-house brand. I'll have a post coming next week about them, but as a teaser, they'll be in San Francisco in early March. Exact dates and venue have yet to be determined. 
Marol differs from some other Italian shirtmakers in that they focus more on precision than showing off handwork. There aren't any decorative handsewn seams or shirring at the sleevehead. Instead, they focus on cleanly executed machine-sewn seams and perfectly matched patterns. From what I've seen, much of the appeal here is about the collars. They have a one piece color that holds it shape perfectly. Even without a tie, the collar doesn't collapse under your jacket's lapels – sort of like a button-down collar in that sense, but without the buttons. 
At their trunk show, you can order shirts made-to-order, made-to-measure, and fully bespoke. Again, Permanent Style has a post about them. You can also contact Marol directly for more information about their offerings and coming event. 
Trunk Show Details
Dates: To be determined

Locations: To be determined

Contact: Marol