With another new year comes another Comic Con! Comic Con 2014 will take place at the San Diego Convention Center from July 23rd to the 27th, 2014. But before the big show, attendees will have to go through registration which has looked like something out of the Hunger Games in the past few years. But Comic Con International announced its plan for registration this year and if everything goes according to plan, it should be a much easier experience for everyone wanting to attend!
Last year, Comic Con experimented with combining those who had single day passes for the entire convention into a 4 day pass. This year, CCI will be offering single day passes only when registration goes live. The reason for doing this is twofold; one it will allow more people who might not otherwise get the chance to attend, the opportunity to do so and encourage people to buy badges for the days they will be going on. In the past, there has been a trend of attendees buying 4 days badges and then not going all 4 days. CCI tried to deter this by doing away with the 4 day badge discount. But it is hoped that this will help make room for those people who do want to be there all 4 days.
Adult badge pricing will range from $30-$45 per day. The registration process will allow you to buy badges for yourself and 2 others and you'll be able to pick up just one badge onsite. Here's what it will look like when you register: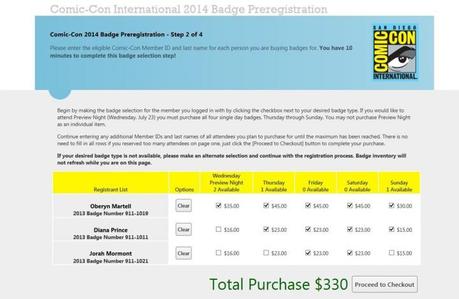 So what do you think about this new registration process Truebies?
Source: SDCC Blog.com- "SDCC 2014 Badge Prices and Policy Changes Announced – Single Day Badges Only"
Image Credits: Comic Con International/SFX360