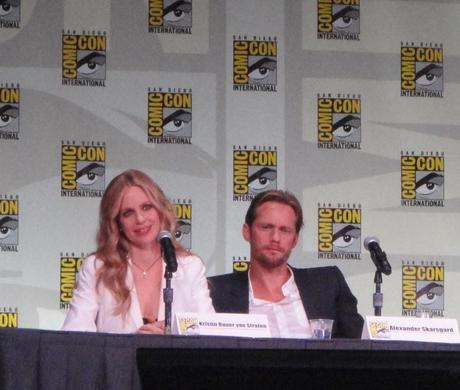 Just prior to launching this website in March, I was fortunate enough to attend PaleyFest 2011 and see the True Blood cast panel. All of the cast members who were regulars at the end of season 3 were there and it was my very first True Blood event. I was thrilled to see everyone in person and very glad to see for myself that all of the actors were as good to the fans as I heard on the internet. It was a wonderful weekend and by the time I flew home, I was reluctant to leave because the overall experience had been great for me. In short I was satisfied. So much so I was thinking about not attending Comic Con 2011 for the panel because I didn't want to be too greedy about it and I had been warned by Isis Noctourne that if I had thought Paley had been intense (We stood in line for 2 hours in a line that ended up wrapping around the building and when went up to the stage after the panel to give something to one of the actors, we were caught up in the rush of fans wanting pictures and autographs.) Comic Con 2011 would make it look like nothing. She was absolutely right.
One True Blood Fan Source owner, two True Blood fans, fourth row center section, six panels, eight hours, Ballroom 20, 4000 seat capacity or thereabouts, and 9000 people in line for it. Under those conditions, was  seeing the True Blood cast and creator Alan Ball live? Absolutely!
Before the panel began I noticed as they were setting out the name cards that I had a perfect view of the two cast members who would be sitting at the end of the table. Judging by the length of the last person's name, I knew it had to be Kristin Bauer van Straten (Pamela Swynford de Beaufort). After Tim Stack of EW came out to introduce himself as the moderator and showed a trailer for the rest of the season, he introduced the cast and sure enough Kristin was at the end of the table. Sitting next to her was fellow castmate and Pam's maker Alexander Skarsgård (Eric Northman). It was fun to watch them interacting with each other because I've read countless interviews with members of the cast and they always say that they are friends with one another off screen. From the way Kristin and Alex looked, talked to, and teased each other, it was obvious that they were good friends and that translates into Pam and Eric's relationship quite well I think.
Tim Stack started off the panel by asking why anyone would want to live in
Bon Temps
. It is after all a town that has been plagued with
serial killers
,
maenads
, and crazy
vampire
kings. But Alan Ball said that if you could live there you probably would. I will say that Stack did try to spread the panel questions equally out among the cast. He asked
Anna Paquin
whether she thought there were two sides to
Sookie Stackhouse
,
Stephen
whether his character
 Bill
was going to continue on with
Portia (Courtney Ford)
in spite of their family connections, how
Rutina
felt about
Tara
becoming a lesbian and a cage fighter and so on.
At point, I am aware that there are tons of videos on YouTube showing the panel so I won't give you a blow by blow recap. But here are some of the highlights of the experience for me.
* A little kid stood up in the audience when Deborah Ann Woll (Jessica Hamby) started speaking to say that he/she loved her to which Deborah replied "Thank you but you're too young to watch our show."
* The issue of Arlene's (Carrie Preston) baby Mikey was broached and Alan asked the audience what they thought about the baby and someone yelled "Kill the Baby!" Alan heard it and said "Oh My God, I knew you guys were sick but not that sick."
* During the Q&A portion, a man asked whether Alan could please keep hot waitresses working at Merlotte's so that the male audience would have some eye candy too. Anna caught it and said "Hello? What about Me?"
* For Season 5, Alan revealed that we will see how Eric made Pam and this prompted Alex and Kristin to break out into baby talk with Alex uttering the phrase "who's daddy's little girl?"
* Janina Gavankar who plays Luna got into the Q&A line and pretended to be a fan and asked the cast if they knew they were going to hell to which Alan replied, "If we're going to hell, everyone in the room will follow us there."
* Kristin and Alex were asked what they thought prompted Eric to make Pam and Kristin referred to the answer to "Dr. Skarsgård."
All in all it was totally worth sitting through five other panels to get to True Blood. It great to see all of the actors with the exception of Sam Trammell (Sam Merlotte) who is waiting for his twins to arrive and Joe Manganiello (Alcide Herveaux) who was off shooting a movie. I also got some great photographs which you can see below.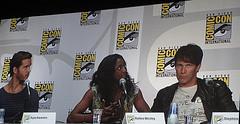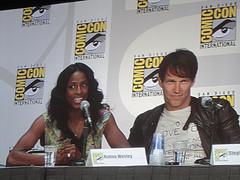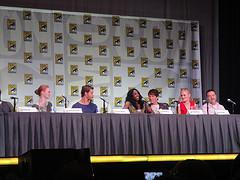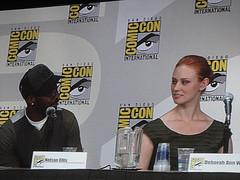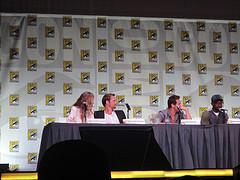 Kristin Bauer van Straten, Alexander Skarsgård, Kevin Alexandro, Nelsan Ellis Image Credits: Isis Noctourne/True Blood Fan Source.com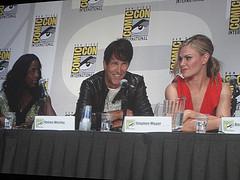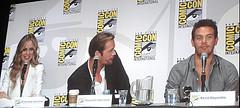 Kristin Bauer van Straten, Alexander Skarsgård, and Kevin Alexandro Image Credits: Isis Noctourne/True Blood Fan Source.com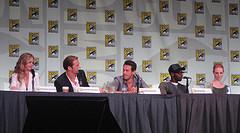 « prev   1   2   3   4   5   6   ...  9    next »  
(88 Photos)
Stick with True Blood Fan Source because I went to two other panels the following day to see Janina Gavankar and True Blood composer Nathan Barr and I will be writing up those experiences very soon!
Image Credits: Isis Noctourne and True Blood Fan Source.com