Facebook
0
Twitter
0
Google+
0
Comic Book Quiz #2 - The Creators
Time limit:
0
Quiz-summary
0 of 12 questions completed
Questions:
1
2
3
4
5
6
7
8
9
10
11
12
Information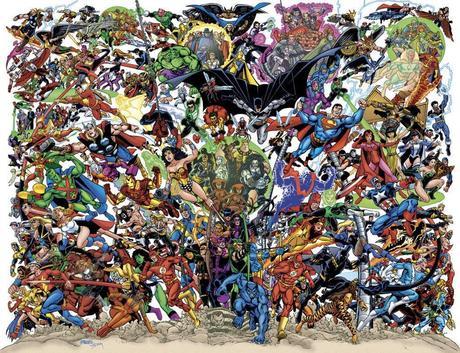 So you read comic books huh? But, what do you know about the people who put the words and art on their pages? Test your knowledge about the comic book creators in this quiz.
If you want to get on the leaderboard, please register here first.
You have five minutes to answer all 12 questions. When you're ready, click the "Start quiz" button below.
Good Luck!
You have already completed the quiz before. Hence you can not start it again.
Quiz is loading...
You must sign in or sign up to start the quiz.
You have to finish following quiz, to start this quiz:
Results
0 of 12 questions answered correctly
Your time:
Time has elapsed
You have reached 0 of 0 points, (0)
Average score  
Your score  
Categories
Creators

0%
Thanks for taking the test.

Check back often for more mind challenging comic book quizzes!
maximum of 12 points
Pos. Name Entered on Points Result

Table is loading

No data available

Your result has been entered into leaderboard

Loading

Name: E-Mail:

Captcha:
1
2
3
4
5
6
7
8
9
10
11
12
Answered

Review
Question

1

of

12

1

. Question

1 points

Category: Creators

This creators-rights advocate helped secure a pension for Superman creators Jerry Siegel and Joe Shuster. In conjunction with writer Denny O'Neil, he helped create one of comics' most notable runs beginning with Green Lantern #76. Who is he?

Jim Aparo
Neal Adams
Jack Kirby
Gil Kane

Question

2

of

12

2

. Question

1 points

Category: Creators

This artist, best known for his work at Marvel Comics, co-created the first African-American superhero in mainstream comics, The Falcon. He is also responsible for co-creating the vampire hunter, Blade. Who was he?

Ron Wilson
John Romita
Gene Colan
Keith Pollard

Question

3

of

12

3

. Question

1 points

Category: Creators

This writer, artist, and film director was responsible for many iconic and influential stories for Marvel, DC, & Dark Horse Comics. He also created Elektra during his run on Daredevil. Who is he?

David Mazzucchelli
Alan Moore
Frank Miller
Klaus Janson

Question

4

of

12

4

. Question

1 points

Category: Creators

This expressionistic artist is best known for his unique style. After leaving as artist on Moon Knight at Marvel, he moved on to The New Mutants, then went on to do the first six issues of The Shadow at DC Comics. Who is he?

Denys Cowan
Bob McLeod
Howard Chaykin
Bill Sienkiewicz

Question

5

of

12

5

. Question

1 points

Category: Creators

Best known for his runs on The Avengers and Silver Surfer, this artist, along with writer Roy Thomas, introduced us to such characters as Arkon, Red Wolf, and The Squadron Supreme. Who was he?

Sal Buscema
George Perez
John Buscema
John Romita

Question

6

of

12

6

. Question

1 points

Category: Creators

Known as the definitive Silver Age Superman artist at DC Comics, this artist's last work as regular artist on Superman was the non-canonical 1986 story "Whatever Happened to the Man of Tomorrow?", written by Alan Moore. Who was he?

Wayne Boring
Curt Swan
Al Plastino
George Perez

Question

7

of

12

7

. Question

1 points

Category: Creators

This writer, artist, & magician was best known for his surrealist art on short stints in Marvel's Nick Fury, Agent of S.H.I.E.L.D. & Strange Tales. Who is he?

Barry Smith
Jim Steranko
Jack Kirby
John Romita

Question

8

of

12

8

. Question

1 points

Category: Creators

This attorney &  primarily Marvel Comics writer co-created The White Tiger, the Soviet Super Soldiers, Cloak & Dagger, and Rocket Raccoon. Who is he?

George Perez
Bill Mantlo
Roy Thomas
Mark Gruenwald

Question

9

of

12

9

. Question

1 points

Category: Creators

This writer/artist began his career inking Matt Wagner's Mage, then penciled the first six issues of Neil Gaiman's The Sandman, and also produced numerous covers to Marvel Comics Presents. He later went to Image Comics and had his creator-owned title turned into an animated series on MTV. Who is he?

Steve Bissette
Sam Kieth
Todd McFarlane
Dave McKean

Question

10

of

12

10

. Question

1 points

Category: Creators

Breaking into the industry in 1985 as the artist on Longshot, written by Ann Nocenti, this artist/writer was also a co-founder of Dark Horse's creator-owned imprint – Legend. Who is he?

John Byrne
Frank Miller
Arthur Adams
Mike Mignola

Question

11

of

12

11

. Question

1 points

Category: Creators

Having worked on titles such as Sandman, Teen Titans, and Wonder Woman, this Eisner Award-winning writer, artist, & cartoonist created her comic book series, A Distant Soil, when she was twelve years old. Who is she?

Fiona Staples
Colleen Doran
Wendy Pini
Jill Thompson

Question

12

of

12

12

. Question

1 points

Category: Creators

This writer/editor has worked as a writer on titles such as Wolverine, Fallen Angels, Catwoman, and Glory. Her run on Power Man and Iron Fist was the longest of the series. Who is she?

Louise Simonson
Ann Nocenti
Jo Duffy
Barbara Kesel
Back to Featured Articles on

About the author

Comicscritic 20331 shares View profile
View Blog