As a website/app owner, you will not want to lose a single visitor. This might be harmful for your online business. You hardly know that which visitor can be turned to your customer. So, interacting with the visitors in real time is one of the best ways to enhance the ratio of visitor turning into a customer. A number of businesses have come up online, but their website is just a waste if they do not have real time conversation platform integrated to their website. A customer can come from any part of the world. You must be online 24X7 to communicate with any user.
Cometchat is the ideal software that can be integrated with a WordPress based website or website made on any other platform with ease. Let us learn more about it in this Cometchat review alongside which discusses about the tool, its features and the latest sale on different products.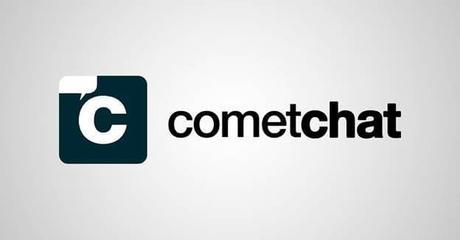 All you need to Know about Cometchat
Cometchat is a stunning product by InScripts, which is Software Development Company. This tool allows the users to integrate the chat function on their website/app. The chat function can definitely help you to attract larger customers to your business and enhance the customer relationship as well. No matter which framework your website has, Cometchat provides your users the ultimate experience. Moreover, it is multi-platform software that supports 9 different languages.
It is also light-weight software that can be integrated easily with the WordPress based website using a plugin. Not only the WordPress based websites, it can also be integrated with websites using languages like PHP and jQuery. You can even let your users to do audio and video chats and talk using the Facebook or Google accounts. Read the Cometchat review and learn about all its stunning features and how you can integrate it with WordPress-based or other websites.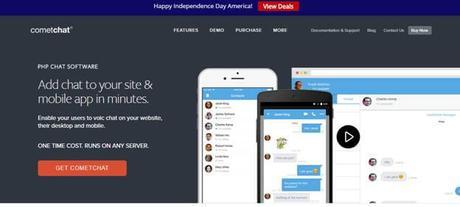 Things to know about the Cometchat Software
Cometchat has spread its reach in more than 127 countries of the world. It has more than 30000 customers worldwide and this number is increasing every day. Here are a few things that every Cometchat user should know about it.
You can run Cometchat software on easy software without adding extra load to its performance.
You can use its WordPress plugin to integrate it with your website.
You can easily share your screen and media with other users after integrating this software on your website.
The users can be banned if they are misusing the chat functionality.
The users can easily create new private chat rooms.
This software is available in 9 different languages.
CometChat for WordPress
Cometchat software can be easily integrated with WordPress site. There is a WordPress plugin in its library that allows the users to integrate this software to their WordPress website. The chat functionality appears as a floating bar on the WP site. Once it has been integrated to the WordPress website, the visitors can initiate the text, voice, video messages from anywhere, anytime.
Moreover, the user can join the private chatrooms, play games, and utilize other real-time translation features. Also, you are given the choice to restrict this functionality to certain group of users on your website. It works seamlessly with a WordPress-based website. Here are some of the features that are offered by Cometchat when integrated to a WordPress website.
Automatic User Login: Once the user have logon to your website, he/she will be logged in automatically to your website.
Friend List Synchronization: It synchronizes easily with your website's friends system. All users will be shown online if there is no friends system on the site.
User Profiles: It links the usernames and profiles automatically. Visit a user profile by just clicking on it.
User Avatars: This plugin shows and retrieves the user avatars easily.
Restrict to certain user groups: You can block a few users/user groups using this tool.
Best Features of CometChat
It is packed with some of the most overwhelming features that can help any user to add excellent chat functionality on a website.
Admin Panel: The admin panel fetches you the complete information about the total messages received, sent messages, who are chatting, which support agent is working, and much more than this. Also, the chatrooms can be setup easily, setup the languages, and monitor the stats directly from the admin panel.
Audio/Video Call: One of the handiest features provided by this tool is audio/video call functionality. The users are allowed to interact with the support agents through audio or video calls.
Custom Advertisement: You can display the ads offered by Cometchat on the chatbox and generate a decent income. The Google Adsense codes can also be integrated with it.
Seamless Integration: You can integrate it seamlessly with website built on WordPress, PHP, jQuery, Java, HTML, and few other languages.
Mobile SDK: It is available for both iOS and Android devices. The SDK file can be downloaded on the mobile device.
Pricing
It has three different lifetime plans to offer to its users starting from $129. You can choose the plan according to your needs. You are free from the hassles of paying the money on monthly or yearly basis. Over 30k customers trust this software and a number of big names from the online industry are using it. You should try it once, if you are looking for software like this.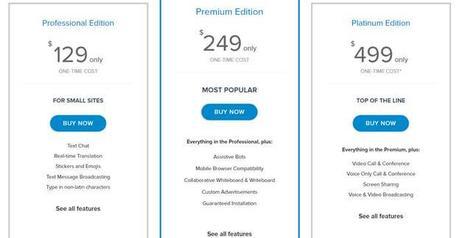 4th July Sale
The Independence Day of United Sates is near and Cometchat is offering heavy discounts on its product on this occasion. If you haven't used its products so far, it's the time now. You can get heavy discount on all the new packages. Moreover, the existing users can get discount on upgrades and renewals. It is also offering the exclusive 4 th of July stickers to the users. So, you can select the plan according and get the best discounts on the purchased products till the Independence Day sale is on.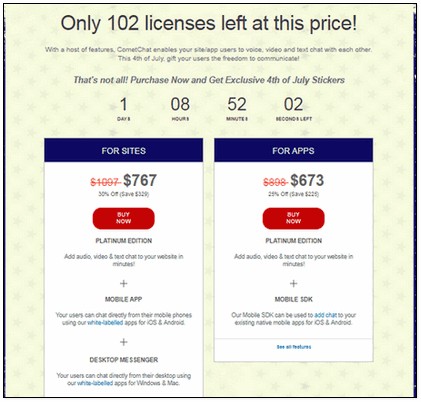 Over to You
If you are looking to integrate the chat functionality on your website/app, Cometchat is one of the best tools to integrate to your website. It is available in 9 different languages and can be easily used over multiple platforms. So far, the Cometchat reviews have been positive by its users and many of its customers have given it the positive ratings. The app is emerging to be the solution of one of the complex problems at affordable price. If you haven't tried such tool before, it is the time now. Go for it!