ZEE5 keeps entertaining us by bringing a lot of binge-worthy contents and, this time they have come up with their latest release "Comedy Couple"
Comedy Couple is a romantic comedy film about two stand up comedians who are a real-life couple and performs together. The film stars Shweta Basu Prasad and Saquib Salem in leading roles with a refreshing storyline. It explores an urban love story and the obstacles in their personal and professional life with quirkiness.
Comedy Couple Review
The story starts with a stand-up gag of Zoya and Deep who, has been successfully performing together as a couple. They have earned their names based on their talents and looking forward to achieving more milestones.
Zoya Batra is a free-spirited girl raised by a single mother and, Deep Sharma is an engineer by profession who has left his 6 digit salary job for his passion to make people laugh.
Zoya and Deep, the modern unmarried couple who wants to stay together but, struggles to find a place to live because they are not married.  And, no society in Gurgaon is willing to have a live-in couple.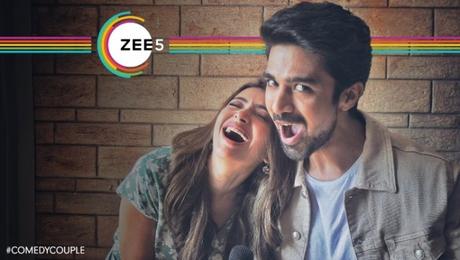 Image source: ZEE5.com
Therefore, they fake to be married and get an apartment, but they need to submit a marriage certificate. As all the possibilities of getting a fake certificate seem impossible, they finally decide to get married in actual within a short period. 
Zoya wants both of their parents to attend the court marriage; however, Zoya's mother played by Pooja Bedi doesn't like Deep. Whereas Deep, a compulsive liar has never spoken about his relationship with Zoya with his small-town based traditional parents. Zoya is furious to know this, but she let it go. However, when they reach court for their marriage, she runs away because she felt betrayed by Deep lies.
While Deep pleads to Zoya to come back and is heart-broken, suddenly Deep's parents arrive. Now he has to manage many lies including his corporate job as he didn't tell his parent about quitting the job for his passion.
View this post on Instagram

Catch the aww-some chemistry of this #ComedyCouple Streaming now! #JokinglyYours

A post shared by ZEE5 Premium (@zee5premium) on Oct 21, 2020 at 5:35am PDT
On a professional note, one of their stand-up act videos goes viral and brings them a lot of fame. But that act involved some harmless religious jokes which were not taken jokingly by the religious leaders and, they land up in trouble. Besides, some TV news channels label them as 'jihadist' and create controversy. Deep's parents come to know the truth of his profession through the news and they leave his home.
Alongside, the Comedy Couple is no longer a couple and starts performing solo shows. Now how their separation will affect their careers? Since it was the easy camaraderie between Zoya and Deep, which the audience enjoyed. Watch it to find out!
---
I enjoyed this movie because:
Impressive star cast: Comedy couple cast are Shweta Basu Prasad, who is a talented actress and, she is too good in this role, but I was impressed by Saquib Salem's performance. I had only seen him in Race 3 where I find him ok, but in this film he was fantabulous. His acting skills and the comedy act were bang on as if he was made for this role.
        Also, the supporting star cast like Pooja Bedi and other characters were interesting and fun to             watch.
---

Refreshing storyline: The plot is unique and has not been made yet which makes it refreshing.

---

Zoya and Deep:

Yes, I loved this couple as they were relatable. Their sharp and witty take on life was enjoyable. The characters felt real and, it will make you feel as if you know someone like them.




---

#JokinglyYours Stand-up comedy:

It is not easy to make people laugh and that too when it is a stand-up comedy, but together they performed it very well.




---

Light hearted feel good fluffy romance:

A light-hearted rom-com movie is perfect for some good time in this current scenario.




---

Pragmatic stand up scenes:

The movie showcases the pragmatic stand up scenes which are so true.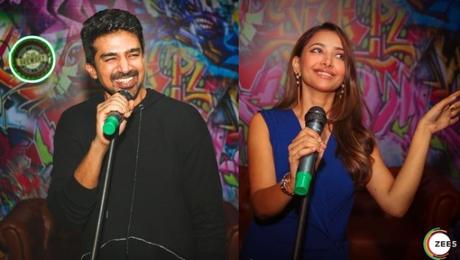 Image source: ZEE5.com
---
What I Didn't Like about this Movie:
Instead of saying what I didn't like about this movie, I would like to say what I missed in this romcom.
The struggle of stand up comedian and how they create content and comes up with ideas for their script was not shown in Comedy Couple which was disappointing.
As a viewer, we would have liked to know the hardship of real-life stand-up comedians and their efforts to make us laugh.
---
Final Thoughts
#ComedyCouple is a perfect movie to binge-watch with your partner and has some laughter dose. We all enjoy watching stand-up shows and, having a movie made on it is double entertainment.
An insightful take on a live-in couple, who performs together, and tries their best to make a mark in this bustling city with humour and wisdom,.
Zoya and Deep will leave you with some fond memories and happy times. Watch their story and tickle your funny bones with ZEE5.
Rating: 



✰✰ 3.5/5
---
---
Looking for movie recommendations on ZEE5? Then check this out:
Watch Commando 3, Saandh Ki Aankh on ZEE5 if you are craving a good watch

Looking for a thriller series? Watch "Mafia" on ZEE5

Atkan Chatkan Review: A Musical Journey from rags to riches
---
*I'm taking my blog to the next level with Blogchatter's #MyFriendAlexa