Come True – Beautiful Mind Bender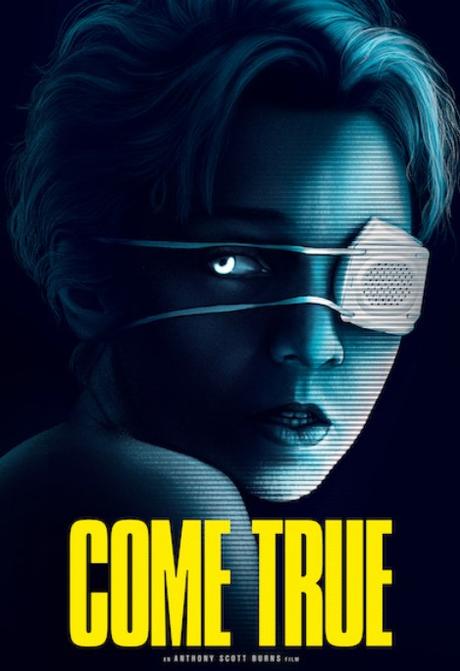 Director: Anthony Scott Burns
Writer: Anthony Scott Burns (Screenplay) Daniel Weissenberger (Story)
Starring: Landon Liboiron, Julie Sarah Stone, Chantal Perron, Tedra Rogers, Carlee Ryski
Plot: A teenage runaway takes part in a sleep study that becomes a nightmarish descent into the depths of her mind and a frightening examination of the power of dreams.
Runtime: 1 Hour 45 Minutes
There may be spoilers in the rest of the review
Story: Come True starts as we meet Sarah (Stone) who does suffer from nightmares, she keeps herself to herself, avoiding her parents back home, waiting for them to leave before going back home. Finding it ever more increasingly difficult to sleep, Sarah turns to a sleep study in hope of finding answers.
As Sarah starts the study, her nightmares become clearer, with the head of the research Jeremy (Liboiron) letting her see behind the curtain of what they are doing, Sarah continues to be haunted by the figures.
Thoughts on Come True
Characters & Performances – Sarah is the young woman that has been suffering from nightmares, remaining distant from her family along the way. She agrees to take part in a study, hoping it could answer a few questions, only to be left with more questions. She seems to have figures in her nightmare, ones that are getting closer each time, turning to the behind the scenes search for the truth behind the study. Julia Sarah Stone is great in the role, showing us just how distant she is becoming in life and how desperate to find answers. Jeremy is one of the men running the study, he starts getting close to Sarah, breaking the rules put in place to show her just what they are studying, trying to help her find the answers. Landon Liboiron is strong in this role, showing a character that is willing to risk their career for helping someone. The rest of the characters we meet are involved in the study, which will show us just how people will be reacting to the world Sarah is entering, some have been here before, others haven't.
Story – The story here follows a young woman that is struggling with the nightmares she is going through and turns to a sleep study, here she gets to experience stranger events from her dreams. This is a story that will keep surprising us, it seems like it might be going down one road, only to throw a full curveball in the middle of what we are expecting. The character of Sarah does have plenty of mystery about her, along with the figure she is seeing. We add in the science behind the study, which records dreams, which does becoming impressive with how the stories are shown. This is a story that will make you think once it is all over.
Themes – Come True is a horror movie that brings us a world where the nightmares affect everyday life, with figures appearing causing the nightmares to get worse. We enter the sci-fi world in reading the dreams, using the machines that record the dreams, keeping them looking grainy throughout. this is where special effects come in and work to show the uncertainty of what people are seeing.
Come True will be in UK Cinemas from 12th March, on Digital Download from 15th March & on Limited Edition Blu-ray from 5th April
Come True is a fascinating horror sci-fi that will leave you shocked by the conclusion we go through.