August 14, 2014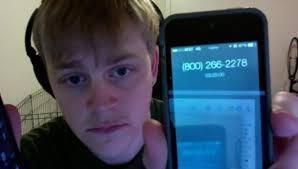 Bro, time to get a life, job or something to fill your time with.
Hey Aaron, how dumb are you to stay on the phone for three hours?
Via Yahoo: The hits just keep coming for Comcast. It was bad enough when Ryan Block recorded the infamous customer service call from hell and when another Comcast customer showed how Comcast would only refund bogus charges to his account after he revealed to them that he'd recorded a phone call with a rep who explicitly said the charges wouldn't apply. Now Comcast is having to deal with yet another instance of embarrassingly bad service: A customer who tried to cancel his account and was promptly put on hold for three-and-a-half hours until Comcast's customer retention offices had closed for the day.
The customer in question, YouTube user Aaron Spain, decided to take a video of his experience once he hit his third hour of Comcast customer service captivity. He held his phone up to the camera that showed he had indeed been on the phone with Comcast's phone number (1-800-266-2278, a.k.a., 1-800-COMCAST) for three hours. He took a separate phone at around 10:30 p.m. and tried to give Comcast a call using a different line. After going through the usual endless parade of menu options, he finally reached the one that let him cancel all his services… only to receive a message saying that the customer retention department's office had closed for the day.
Comcast coming up aces.  Just no regard for human life at this point and why should they?  If this kid is going to stay on the phone for three hours, they might as well keep him waiting.  I don't even think I'm mad at Comcast in this situation, if anything I'm mad at Aaron Spain who decided to try to make a big deal about this.  Everyone knows that if you want to get something accomplished in a situation like this and you get put on hold for any longer than 15 minutes you hang up and call back.  That's customer service 101.  If he thinks for a minute that call didn't get lost in the complex lines that Comcast probably has, he's a straight up idiot.  This was just Aaron Spain's one chance to be famous and he took it.  In my opinion he came out looking like a clown.  Three hours, bro?  You wasted three hours sitting in your room doing nothing while Comcast made it rain over and over again.  Just a rookie mistake.
And guess what, your account is still open, bro.  Tough luck tomorrow when they stretch it to four or five hours and show up at your house just to slap the shit out of you while you sit there on hold.
PS, still with all that being said, this is why I don't fuck with Comcast.  Refuse to do it.  Horror stories on top of horror stories.
Post navigation
← Suspended Michigan Wide Receiver Lands Vicious Punch To Unsuspecting Man ESPN Doing It Big Again: Puts Picture of Tony Stewart On Twitter For Tweet About Kevin Ward Jr's Funeral →