Well, it has taken a few days to get the wireless connection for the laptop up and running smoothly, and so our on-the-road correspondent, Gulliver, (that's him pictured below) is going to launch into a 'combo-updater' style blog that covers two islands and four days. Over to you, Gulliver...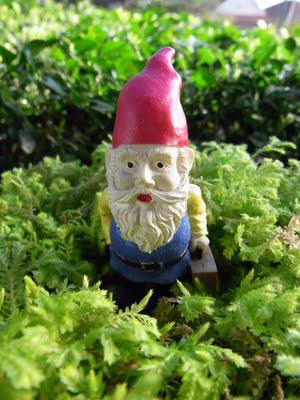 Hi, I'm Gulliver, and I'm travelling with Pam and Jamie on their little USA tour. To earn my keep, in my little briefcase I have a laptop, camera and notepad, and I'll let you know what they're up to as they move around the USA. All of Jamie's friends who know his track record with airports and customs officials will be pleased to know that he was the one 'randomly' picked out of the line at Sydney airport for the pat down, shoes off, explosives swipes and other security scans. But they'll be dismayed to hear that he somehow entered the USA and passed through immigration without any dramas at all. From the time of the plane landing through to starting up the Avis Rent-a-car at Honolulu Airport was less than one hour. Of course Pam, who is beyond suspicion, passed through all gates without any more than a friendly 'Aloha' from officialdom.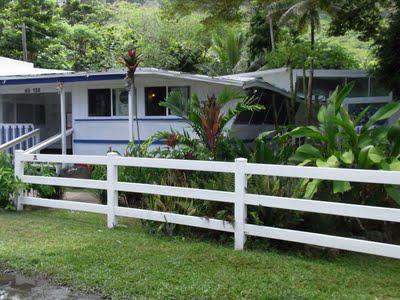 Once in the rent-a-car, they went exploring, only getting lost in Honolulu's maze of one-way streets a mere 20 or so times on the first day. So they headed out to the Windward Coast, a fabulously pretty place, and around lunchtime they found this joint, Keneke's. If you like Bible quotes on the wall and delicious food on the plate, come to Keneke's. Jamie's first taste of pulled kalua pork has set a high standard for other meals to follow, while Pam's grilled white Pacific fish was both plentiful and wonderfully tasty. Such a nice building here, too, with wide eaves and louvre windows it was as cool as any air-conditioned room.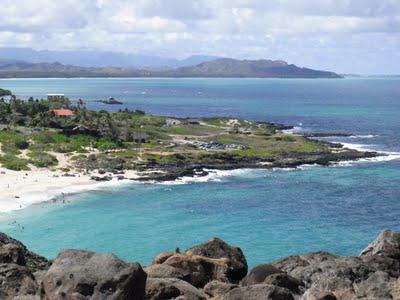 Ho hum, more stunning Oahu coastline. That's the thing about beautiful islands, you get lots of beautiful coastline vistas almost everywhere you go. We don't really mean that bit about "ho hum", it's just that driving around here soon feels like we're like a pair of rich kids complaining about being served too much caviar.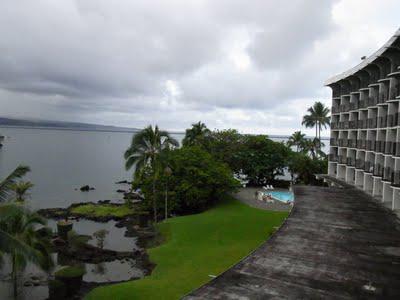 Just so you don't think Hawaii is all sunshine, here's this morning's view from the hotel in Hilo, on the big island of Hawaii. Soft, drizzly rain that they promise will lift around lunchtime, then come back in for the evening. Pam and Jamie are off to see the world's youngest and most active volcano, Kilauea , as soon as I finish this blog ("come on Gulliver!").
More on the beautiful country town of Hilo later on, so too the volcanoes. It wasn't until this morning that we finally got the laptop's mobile modem up and running (thanks to Fred at the AT&T store in Hilo, who explained to me that the rain is normal for Hilo, the wettest city in all of the USA. "It's just water," said Fred, and he's absolutely correct about that).