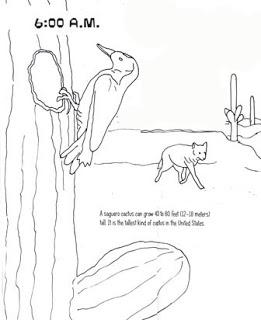 Tap-tap, tap-tap! Tap-tap, tap-tap!
It is an early spring morning in the Sonoran desert. A Gila woodpecker drills a hole in a saguaro cactus. The tall plant will be a good place to build a nest. On the ground below, a coyote looks for a place to rest.
You can read more about plants and animals that live in the Sonoran Desert in my new book A Day and Night in the Desert. Find out which animals are awake during the day, and which animals are awake at night.
Click HERE to go to download the picture as a coloring page.