Dear Luke and Leia,
Guys you're going to love colorful colonial Cartagena, a walled city founded in June of 1533, where old meets new in a seamless pattern of color, warmth and beauty. Pastel buildings with stunning balconies and intricate iron works line narrow cobblestone streets full of characters and tourists alike. The entire walled city is surrounded by modern structures and over looked by a perfectly placed fort to protect all of the inhabitants.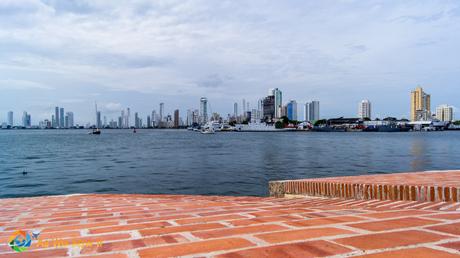 Cartagena's skyscrapers as seen from Castillo San Felipe de Barajas on San Lazaro hill.
Colorful colonial Cartagena streets
The pastel buildings are witnesses to days gone by in this sun-drenched city. They offer their years of experience to the tourists and vendors scurrying the cobblestone streets. Walking along we noticed a wide variety of architectural styles in Cartagena's narrow streets, with diverse patterns of muted color accented by detailed iron works.
Pastel colored narrow streets of Cartagena are wonderful for wandering.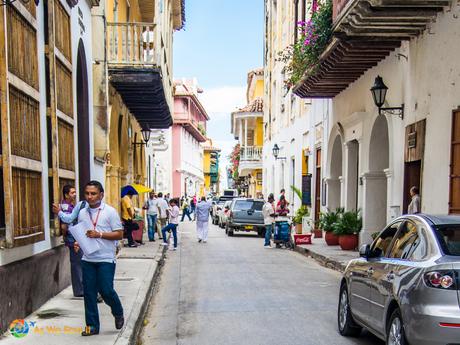 Bustling tourists and local workers scrambling along the narrow streets of Cartagena.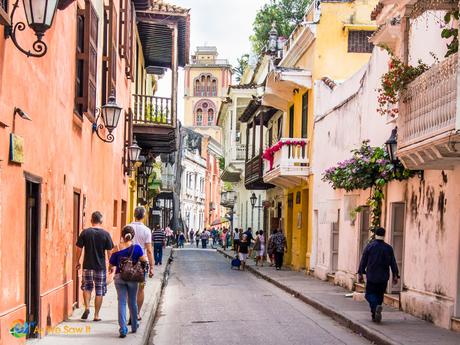 Balconies and muted pastels are prominent in Cartagena's old walled city.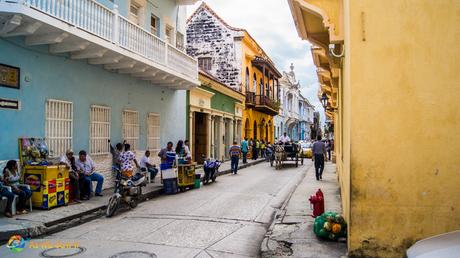 A horse-drawn buggy makes its way down a colorful street in Cartagena.
Balconies
I can only imagine the scenes that might have played out from the stunning balconies that watchfully overlook the walled streets of Cartagena. The intricate details in those balconies could match the details of the lives below, giving residents a front row view into the ongoing history of this fantastic city.
Brilliant shades vie for attention on balconies in Cartagena.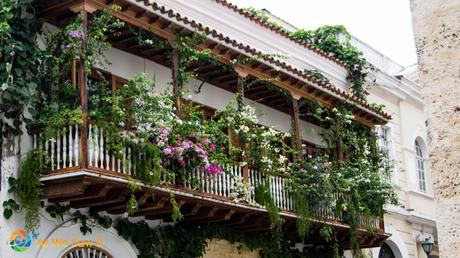 Intricate wooden balcony covered in flowers above a Cartagena street.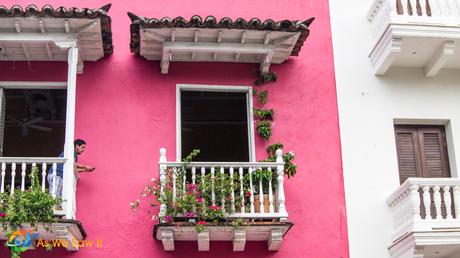 Enjoying the perfect Cartagena weather, this man is watching the locals while texting for a later dinner meeting. Or maybe he's watching a game.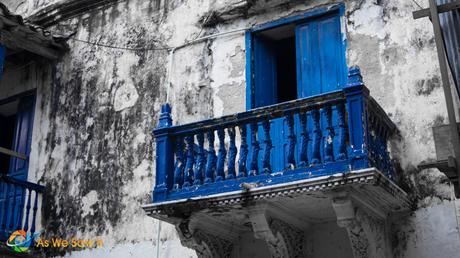 The contrast of colors, age and beauty all captured in one place, Cartagena.
Color in the streets
I was so amazed by the colors played out in the local handicrafts and art work that vendors were selling on the streets. The variety of hues and shades would only be covered in one of those proverbial Crayola crayon box that feature the full 152 colors.
Even at night the colors pop out from the streets as vendors continue to provide beautiful crafts for lucky tourists in Cartagena.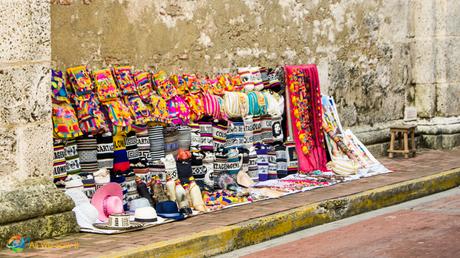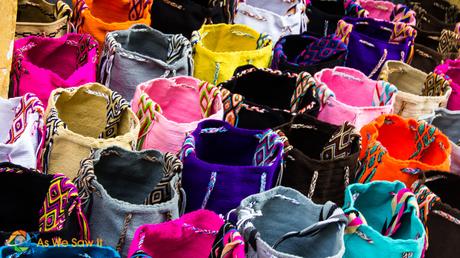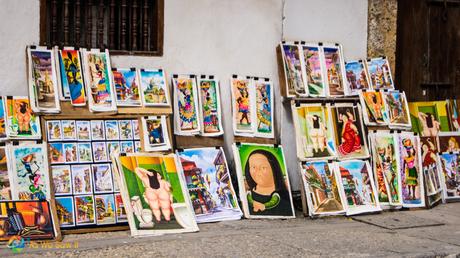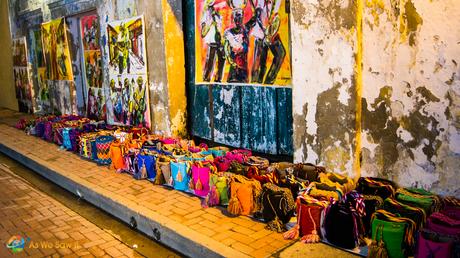 Characters of Cartagena
The characters who walk along Cartagena's streets are even more colorful than the city's old buildings. The warmth and vibrancy of the locals truly brings Cartagena to life, and makes one and all want to return for more.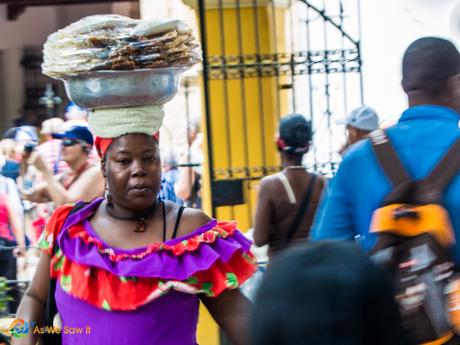 This beautiful Cartagenian woman skillfully carries her wares on her head. It looks so effortless!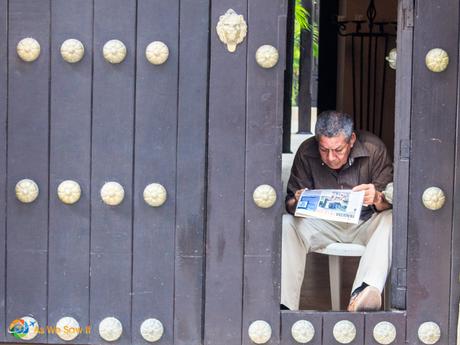 An early morning stroll finds this man catching up on the news.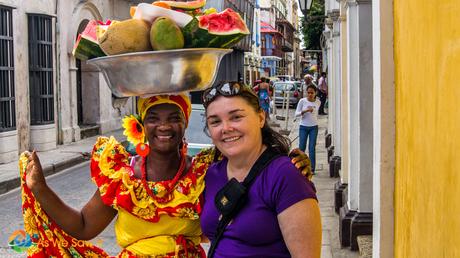 Two very warm smiles as colorful characters are ready to enjoy some fresh fruit in the UNESCO walled city of Cartagena.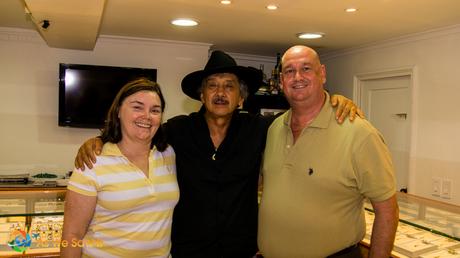 This silver jewelry shop owner was happy to see a few tourists interested in fine Colombian silver necklaces.
Lively nighttime
Just when I thought I had captured all that this city had to offer, the sun vacated for the day and the lights of the city took over. With the city lights in play, colorful colonial Cartagena displayed a warm and playful side that most who stay in their hotel districts would miss.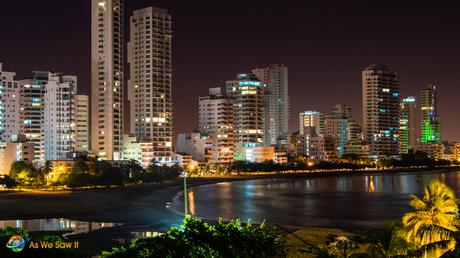 Modern Cartagena at night.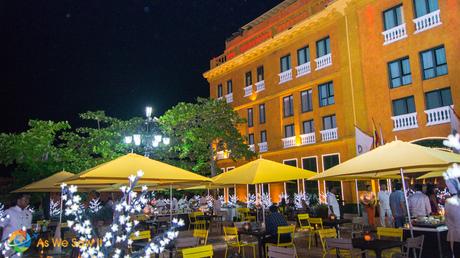 Outside cafe offering great food and a warm ambiance to passersby.
Many Cartagena restaurants offer local entertainment for their guests.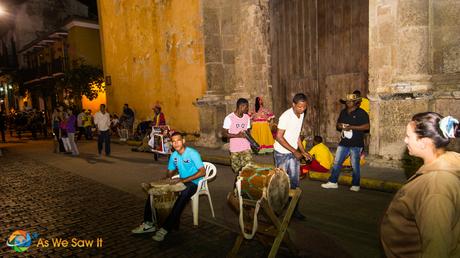 So do those on the street. Tips, anyone?
Colorful colonial Cartagena, a UNESCO walled city, should be high anyone's travel bucket list. It scored high marks on our must-return list. Hopefully one day we can take you two there to enjoy the treasures of a wonderful colonial city. We'll write again soon.
Love,
Nana and Pap
♥
Inspired?
Save our photos to your Pinterest boards for the future.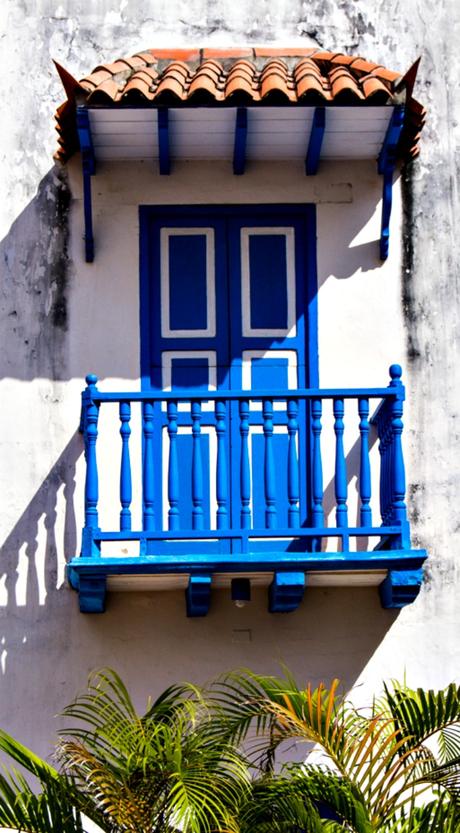 To join #TheWeeklyPostcard linkup, paste the code (in the gray box below) into the text editor of your travel-related post or sidebar and then add your link by pressing the blue button below.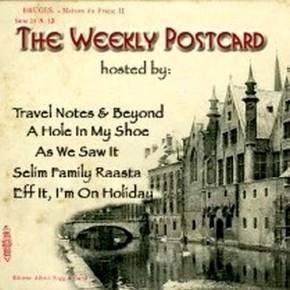 <div align="center"><a href="http://www.aswesawit.com" title="As We Saw It"><img src="http://www.travelnotesandbeyond.com/wp-content/uploads/2015/03/wekpost-3.jpg" alt="As We Saw It travel photo blog" style="border:none;" /></a></div>
An InLinkz Link-up
(Visited 5 times, 5 visits today)