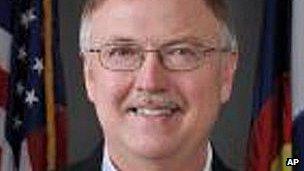 BBC
The head of the department of corrections in the US state of Colorado has been shot dead at his home, authorities say.
Tom Clements, 58, was shot on Tuesday evening as he was called to the front door of his home near the city of Colorado Springs, officials said.

"We know of his position and realize that it is a possible motive for a crime such as this," the El Paso County Sheriff's office spokesman told the newspaper.

"It's a quick, rapidly evolving investigation."

Colorado Governor John Hickenlooper appointed Mr Clements to the post in 2011. The prisons chief had previously worked for more than three decades in the Missouri Department of Corrections.