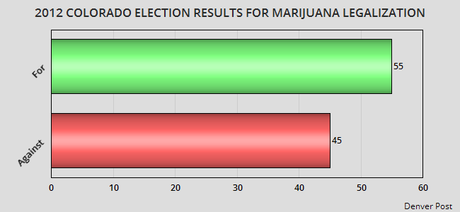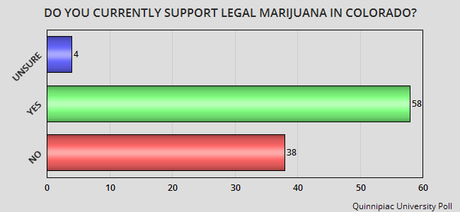 In the 2012 election, the voters in Colorado legalized the recreational use (and taxation) of marijuana by adults. The measure won by a pretty significant margin (55% to 45%). The tax benefits have been very good -- exceeding the expectations of the state government. But what do the Colorado citizens think about legalization now that it has been in effect for a while?
A new poll shows they like what they did. In fact, support for legalization may have even grown since the election. A new Quinnipiac University Poll surveyed 1,049 Colorado voters between February 5th and 15th (with a margin of error of 3 points). That poll showed that currently 58% of those surveyed still support marijuana legalization. Even if you subtract the margin of error, it shows that the support has not declined since the election (and may have increased). The opposition has declined though -- from 45% to 38% (a decline of 7 points).
Colorado citizens now know what people in other states are just learning -- that marijuana is NOT a dangerous drug. In fact, it is much safer than other legal drugs. This has now been verified by yet another scientific study -- a study recently published in the journal Scientific Reports. The study verified what many of us already knew -- that marijuana is the safest of all drugs, and far safer than alcohol (see the chart below).
It is time to stop demonizing this gentle herb, and legalize its recreational use in all 50 states.