You all know I am a HUGE
Nordstrom
fan. Stellar customer service, brilliant buyers who select a broad range of styles and pricepoints, free shipping and perks with my Nordstrom card. Lately I keep seeing these pieces on their site – cute blouses, fun leggings, fabulous shoes. At first glance I assume they must be from a high-end designer. No stupid extra buckle, no cheap finish, no ridiculous embellishments. Styles that are on-trend, fun, funky but completely stylish.
Then I see the pricepoint. Reasonable! And the brand?
Vince Camuto.
Vince Camuto. I know that name. I have known that name for a while… but why is he suddenly popping up all over Nordstrom… and Bazaar magazine... and every other magazine I get.
Who is Vince Camuto, and how is it that he seems to be the only one who knows how to make stylish clothing and accessories at realistic prices?
I did a little digging on the Internet and realized why I knew Mr. Camuto's name:
Vince Camuto
co-founded
Nine West Group, Inc.
back in 1978. Yes, that same Nine West who makes stylish, on-trend shoes for reasonable prices. Come 1993, Camuto became CEO of this company and Nine West went public. In 1999 as some of you remember, Nine West was sold to
Jones Apparel Group
(Jones New York, etc.).
Camuto came back in 2001 with
Camuto Group
– a company that provides design, sourcing, marketing, and production services for 5,000 department and independent retailers. Camuto added to his company a year later, creating four shoe brands exclusively for
Dillards
(later he added three more brands to his collection).
He also acquired the footwear licenses for
BCBG
(another brand known for great style and reasonable pricepoints).
By 2005, Vince Camuto came out with a namesake footwear line. The next year he partnered with
Tory Burch
and helped create her famous
"Reva" flat
.
Since then, The Camuto Group has partnered with more well-known brands such as
Lucky Brand, Banana Republic, Kensie Girl, Sanctuary,
and
Jessica Simpson
.
I'm passionate about creating a product that women really want... infusing great style, comfort, and unparalled value for every stage of her life.   - Vince Camuto
Now it all makes sense. I now realize that I pretty much have to attribute my footwear choices over the past decade to Mr. Camuto.
Jessica Simpson, BCBG, Banana Republic, Nine West
… all brands I have worn, currently wear, and love for their ability to marry style, trend, quality, and wallet-friendly prices!
And now
Vince Camuto
is taking over the apparel world. From the
Vince Camuto site:
Strong, Edgy, Timeless, Feminine, Confident, Effortless.

   - The Camuto Woman
Here's some gems from the Vince Camuto apparel line I have recently seen and adore: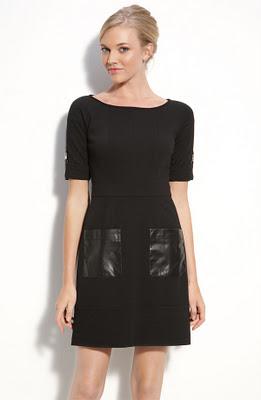 Ponte Leather Pocket Dress - $160
Love love LOVE a simple LBD with just the hint of a current trend.  Leather is HOT this season, and this dress has the leather detail without verging toward S&M.  This dress would look appropriate at work with black tights and boots, or on a night on the town with platform booties.  As with other Vince Camuto pieces I have seen, this is on-trend this fall/winter but would still look stylish a year from now.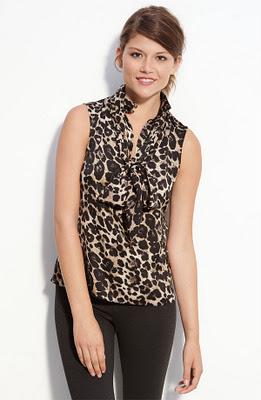 Sleeveless Charmeuse Tie-Neck Blouse - $79
Wait, it also comes in regular and petite?  Mr. Camuto, I adore you!  This blouse reminds me of my dotted one from White House Black Market - a piece that can work under a power suit for the boardroom, or with dark jeans and high heels for happy hour.  Would also be adorable under a cardigan with pants or a pencil skirt.  And again... a piece that takes a hot current trend
(animal prints, bow blouses)
but creates it in a  manner that is not only wallet-friendly, but will still be stylish for seasons to come.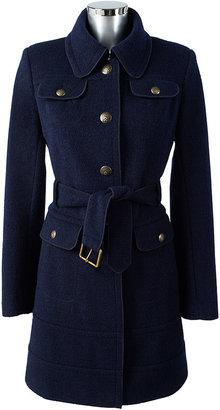 Military Boiled Wool Coat - $189
I am over black for winter coats, but am not sure if I want to drop money on a show-stopping color that I may tire of after a season.  I have been thinking of how navy, a dark purple or green would be a fresh alternative - just as versatile but a touch unique.  I hop over the
Vince Camuto site
, and see this very coat!  I have always loved a military-inspired winter coat, but find they often are too bulky with flaps, epaulets, and double breasting.  This one would flatter a woman's figure nicely while still embracing the military trend!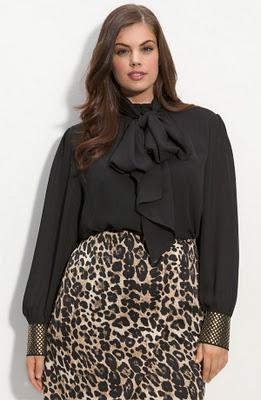 Tie Neck Studded Blouse - $109
While the Vince Camuto site doesn't feature their plus size line, retailers such as
Nordstrom carry it
and it is fabulous.  Many retailers have a weird variation of their apparel for plus sizes - less shape, less style, more matronly.  The Vince Camuto line maintains all the style and substance.  This blouse
(available in black and camel)
is extremely versatile
(tie the bow and tuck it in for a prim look, wear untucked with jeans and just casually knot the ties for a casual rocker look)
and the details
(keyhole neckline, long ties, the awesome cuffs)
make it look far more expensive than its price.  While this blouse is a bit more trendy than the pieces above, I still feel it can be a classic if you are like me and wish the studded trend was available in stores every year!
***
I have tried a few pieces from the Vince Camuto apparel line
(none of the pieces above - a chiffon midi skirt and pair of leggings with leather patches)
and while none were quite right for my figure or personal style, I was impressed with the quality and style of the pieces in real life.
Have you checked out the Vince Camuto apparel line?  What do you think?
Note: Vince Camuto and his company have no clue I am writing this post.  I am not being compensated in any way for this post.  Information about Vince Camuto and his company via Camuto Group Site and Wikipedia.

Vince Camuto

Follow Me | Twitter | Facebook